They made the Ultimate Sacrifice
Alfred Smedley Kettle

Chief Petty Officer Torpedo Cox'n, A2382, RCNR

Born: 14 May 1910, Petrolia, Ontario

Died: 10 Feb 1942 at sea

Book of Remembrance
KETTLE, Alfred Smedley, CPO, A2382, RCNR, MPK - 10 Feb 1942, HMCS SPIKENARD - So of Alfred Smedley and Edith May Kettle, Mandaumin, Ontario.
CPO Kettle died when his ship, HMCS SPIKENARD, was torpedoed and sunk by U-136, about 465 nautical miles west of Malin Head, Ireland while escorting convoy SC-67. Of her crew of 65, there were only 8 survivors.
Alfred Kettle was born at Petrolia, Ontario, on May 14, 1908, and was educated at High School there. He Joined the Navy in August, 1940, and was a Torpedo Coxwain. He was a Chief Petty Officer on HMCS Spikenard, a corvette which was sunk by enemy action. It was announced that it was believed the ship was torpedoed by a German submarine while she was on convoy escort work in the North Atlantic. The fact that only eight men survived suggests that the corvette broke up and sank within minutes after the believed torpedoing. CPO Kettle was widower and is survived by his twelve-year-old son, Alfred, and his mother Mrs. Edith M. Kettle of Mandaumin, Ontario, where Kettle latterly made his home.
Alfred's brother, CPO Robert Kettle served in the RCN during and after the Second World War.
Ships served in:
RCNVR DIVISION LONDON - Enlisted 29 Jul 1940. Commenced Active Service 05 Aug 1940 as an AB, RCNR
HMCS STADACONA - Drafted to STADACONA 08 Aug 1940 as an AB, RCNR
* Rated LS 03 Jan 1941
* Rated PO 04 Jun 1941
* Rated Torpedo Cox'n 21 Jun 1941
HMCS SPIKENARD - Drafted to SPIKENARD 29 Jun 1941 as a PO, RCNR
* Rated CPO 15 Aug 1941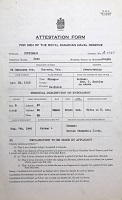 Documents from the Service File of Alfred Kettle
---
Second World War Casualty Index