They made the Ultimate Sacrifice
Cyril Frederick Kitchen, M.I.D.

Leading stoker, A1571, RCNR

Born: 19 Jun 1918

Died: 10 Feb 1942 at sea

Book of Remembrance
KITCHEN, Cyril Frederick, Leading Stoker, A1571, RCNR, MPK - 10 Feb 1942, HMCS SPIKENARD - Son of William Richard and Rebecca Kitchen; husband of Vera Marie Kitchen, Dundas, Ontario.
Leading Stoker Kitchen died when his ship, HMCS SPIKENARD, was torpedoed and sunk by U-136, about 465 nautical miles west of Malin Head, Ireland while escorting convoy SC-67. Of her crew of 65, there were only 8 survivors.
A telegram received yesterday by Mrs. Cyril Kitchen, 51 York road, Dundas, from the ministry of national defence announced that her husband, A.1. Leading Stoker Cyril Kitchen, RCNVR, is missing, believed lost on active service. Mrs. Kitchen, who was married two years ago this month, lives with her mother, Mrs. Maude White, who is O.C. the W.W.A.C. Her father, Chief Petty Officer Frank White, is serving with the RCNVR and recently returned to his duties after being on leave. He served with the Royal Navy in the last war. Several other relatives are on active service. Leading Stoker Kitchen, who was 23 years of age, has been with the RCNVR on service since October, 1939. Before his enlistment he was prominent in amateur athletics, especially as a cyclist and swimmer. An aunt, Mrs. J. Hall, lives on Canon street east, Hamilton. He was employed by the Wentworth Radio company, Hamilton.
---
Citation for Mentioned in Despatches:
KITCHEN, Cyril Frederick, Acting Leading Stoker, A-1571, Mention in Despatches (Posthumous), RCNR, HMCS SPIKENARD - Awarded as per London Gazette of 15 September 1942
"For bravery while serving in Defensively Equipped Merchant Ships."
---
Ships served in:
RCNVR DIVISION HAMILTON - Enlisted 21 Sep 1939. Commenced Active Service 19 Oct 1939 as an OS, RCNVR
HMCS STADACONA - Drafted to STADACONA 15 Jan 1940 as an O/Tel, RCNVR
* Discharged 17 May 1940 - transferred to RCNR
HMCS STADACONA - Drafted to STADACONA 17 May 1940 as a Sto 1c, RCNR
HMCS OTTER - Drafted to OTTER 11 Jun 1940 as a Sto 1c, RCNVR
HMCS STADACONA - Drafted to STADACONA 31 Oct 1940
HMCS ST ELOI - Drafted to ST ELOI 01 Nov 1940 as a Sto 1c, RCNR
HMCS STADACONA - Drafted to STADACONA 21 Jan 1941 as a Sto 1c, RCNR
HMCS PRINCE HENRY - Drafted to PRINCE HENRY 14 Feb 1941 as a Sto 1c, RCNR
* Rated A/L/Sto 01 Aug 1941
HMCS STADACONA - Drafted to STADACONA 04 Nov 1941 as an A/L/Sto, RCNR
HMCS COMOX - Drafted to COMOX 13 Nov 1941 as an A/L/Sto, RCNR
HMCS SPIKENARD - Drafted to SPIKENARD 06 Dec 1941 as an A/L/Sto, RCNR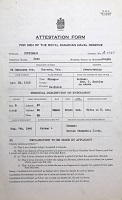 Documents from the Service File of Cyril Kitchen
---
Second World War Casualty Index