They made the Ultimate Sacrifice
William Arthur Meacoe

Coder, V5988, RCNVR

Born: 05 Apr 1912,Montreal, Quebec

Died: 10 Feb 1942 at sea

Book of Remembrance
MEACOE, William Arthur, Coder, V5988, RCNVR, MPK - 10 Feb 1942, HMCS SPIKENARD - Son of William and Grace meacoe, St. Lambert, QC; husband of Elizabeth Meacoe, Outremont, QC.
Coder Meacoe died when his ship, HMCS SPIKENARD, was torpedoed and sunk by U-136, about 465 nautical miles west of Malin Head, Ireland while escorting convoy SC-67. Of her crew of 65, there were only 8 survivors.
Coder Patrick William Arthur Meacoe, age 29 wireless telegrapher with coder's rank, whose wife Mrs. Florence Elizabeth Meacoe, lives at 1125 Lajoie Ave., Outremont. He was born in Montréal, son of Mr. and Mrs. William and Grace Meacoe, who now live in St. Lambert. He enlisted two years ago. There are a brother, Laurie and a Sister, Doreen.
Ships served in:
MONTREAL DIVISION RCNVR - Enlisted 20 Aug 1940. Commenced Active Service 18 Nov 1940
HMCS STADACONA - Drafted to STADACONA 25 Nov 1940
* Admitted to Camp Hill Hospital 12 Dec 1940 - 04 Jan 1941
* Rated Ord. Coder 21 Jun 1941
HMCS SPIKENARD - Drafted to SPIKENARD 27 Jun 1941 as an O/Coder, RCNVR
* Rated CODER 17 Aug 1941
(WM01) Coder William Meacoe // Courtesy of Larry Meacoe
(WM02) Documents from the Service File of William Meacoe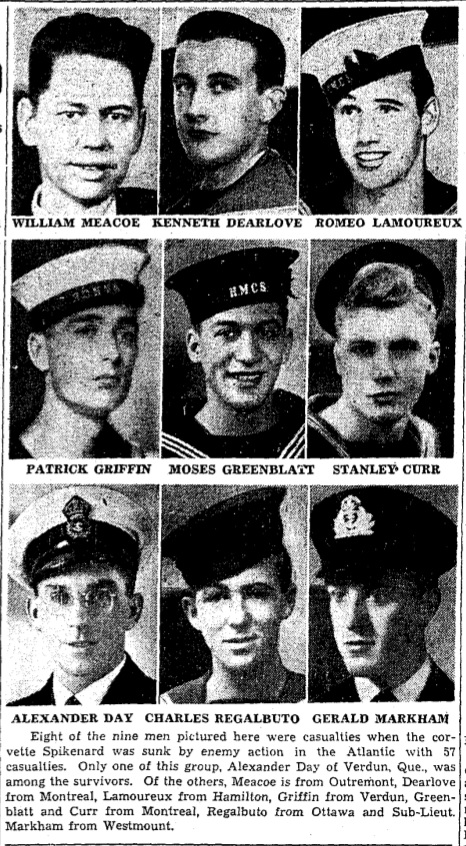 Article on casualties and one survivor of HMCS SPIKENARD - Toronto Star Feb 1942
---
Second World War Casualty Index