They made the Ultimate Sacrifice
Lloyd George Campbell

Leading Seaman, V17138, RCNVR

Born: 01 Aug 1921, Hilton, ontario

Died: 12 Oct 1942, Berlin, Germany

Book of Remembrance
CAMPBELL, Lloyd George, Leading Seaman, V17138, RCNVR - Died 21 Oct 1942, HMS QUEBEC (as a POW in Germany) - Son of Thomas and Made Campbell. Brother of Harry, Percy, Godfrey, Madeline (Rollins) and Susie (Young) Campbell.
Leading Seaman Campbell served aboard the Corvette HMCS Eyebright before joining Combined Operations at HMS QUEBEC, a training station near Inverary, Scotland. He was Coxswain on the plywood Higgins boat #R45 ordered to carry troops to Dieppe on August 19, 1942. He was seriously wounded in the upper legs, by heavy calibre machine guns during the raid and taken prisoner. He was given medical attention and endured amputation but died in Berlin, on October 21, 1942, age 21.
LS Campbell is buried in the Berlin 1939-45 War Cemetery, Berlin, German.
Ships served in:
LONDON DIVISION RCNVR - Enlisted 08 Jul 1940. Commenced Active Service 22 Aug 1940.
HMCS STADACONA - Drafted to STADACONA 22 Aug 1940 as an OS, RCNVR
HMCS EYEBRIGHT - Drafted to EYEBRIGHT as an OS, RCNVR
* Rated AB 22 May 1941
HMCS STADACONA - Drafted to STADACONA 23 Jan 1942 as an AB, RCNVR
HMS QUEBEC (Combined Operations Training Base, Scotland) - Drafted to QUEBEC 25 Jan 1942 an an AB, RCNVR
* Rated A/LS 04 Aug 1942
HMCS BYTOWN - Drafted to BYTOWN 20 Aug 1942 as an A/LS, RCNVR (administrative transfer as LS Campbell was a POW in Germany)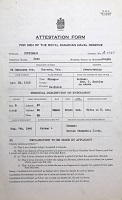 Documents from the Service File of Lloyd Campbell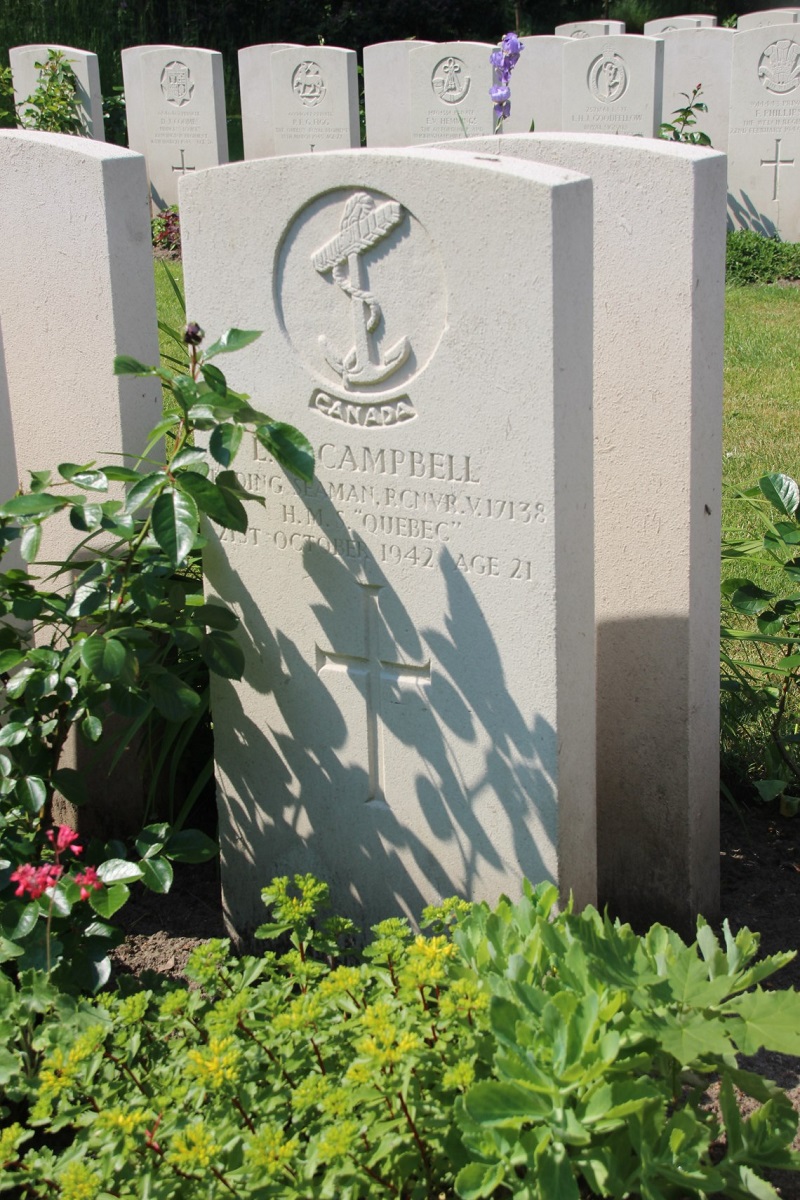 The grave of Leading Seaman Lloyd George Campbell in the Berlin War Cemetery
Photographer A.J. Vine Commander Royal Australian Navy
---
Second World War Casualty Index