They made the Ultimate Sacrifice
Harold Wesley Smith

Able Seaman A2780, RCNR

Born: 10 Aug 1922, Port Hood Island, Inverness Co., Nova Scotia

Died: 10 Feb 1942 at sea

Book of Remembrance
SMITH, Harold Wesley, AB, A2780, RCNR, MPK - 10 Feb 1942, HMCS SPIKENARD - Son of Bert Tremaine and Ada Myrtle Smith, of Port Hood Island, Nova Scotia.
AB Smith died when his ship, HMCS SPIKENARD, was torpedoed and sunk by U-136, about 465 nautical miles west of Malin Head, Ireland while escorting convoy SC-67. Of her crew of 65, there were only 8 survivors.
Harold Wesley Smith was born at port Hood Island N.S., on August 02, 1922, where he lived before joining the Navy on October 01 1940, at Halifax. Harold Smith was educated at Margaret Ann Memorial School at Port Hood Island, N.S., and was a member of the United Church there. He was unmarried and is survived by his mother, Mrs. Myrtle Smith.
Ships served in:
HMCS STADACONA - Enlisted 02 Oct 1940 as an AB, RCNR
HMCS SPIKENARD - Drafted to SPIKENARD 04 Oct 1940 as an AB, RCNR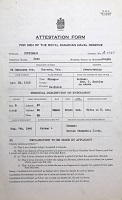 Documents from the Service File of Harold Smith
---
Second World War Casualty Index