They made the Ultimate Sacrifice
Samuel Charles Walker

Telegraphist, V22378, RCNVR

Born: 08 Mar 1922, Toronto, Ontario

Died: 10 Feb 1942 at sea

Book of Remembrance
WALKER, Samuel Charles, Telegraphist, V22378, RCNVR, MPK - 10 Feb 1942, HMCS SPIKENARD - Son of Samuel Robert and Nellie Walker, Toronto, ON.
Tel Walker died when his ship, HMCS SPIKENARD, was torpedoed and sunk by U-136, about 465 nautical miles west of Malin Head, Ireland while escorting convoy SC-67. Of her crew of 65, there were only 8 survivors.
Telegraphist Samuel Charles Walker, age 30, word was received by the family that Sam Walker of Lappin Ave., is reported missing at sea. He is a former Canadian Champion Swimmer and diver. Telegraphist Walker, an accountant with the C.P.R., made radio a hobby in peacetime and joined the navy in 1940 as a wireless operator. He left Toronto in November, 1940, and since has been almost constantly on convoy duty. He was in Plymouth during the heaviest "blitz" raids. A well-known sprint swimmer and diving star, Walker was once Canadian high tower champion. He placed second to Alfie Phillips in diving competitions at the British Empire Games in Hamilton.
Ships served in:
TORONTO DIVISION RCNVR - Enlisted 23 Oct 1940. Commenced Active Service 11 Nov 1940 as an OS, RCNVR
HMCS STADACONA - Drafted to STADACONA 25 Nov 1940 as an OS, RCNVR
* Rated Ord. Tel 27 Dec 1940
HMCS NIOBE - Drafted to NIOBE 05 Mar 1941 as an Ord. Tel, RCNVR
HMCS SPIKENARD - Drafted to SPIKENARD 25 Apr 1941 as an Ord. Tel, RCNVR
(CW01) Article from the Toronto Telegram Feb 1942
(CW02) Documents from the Service File of Charles Walker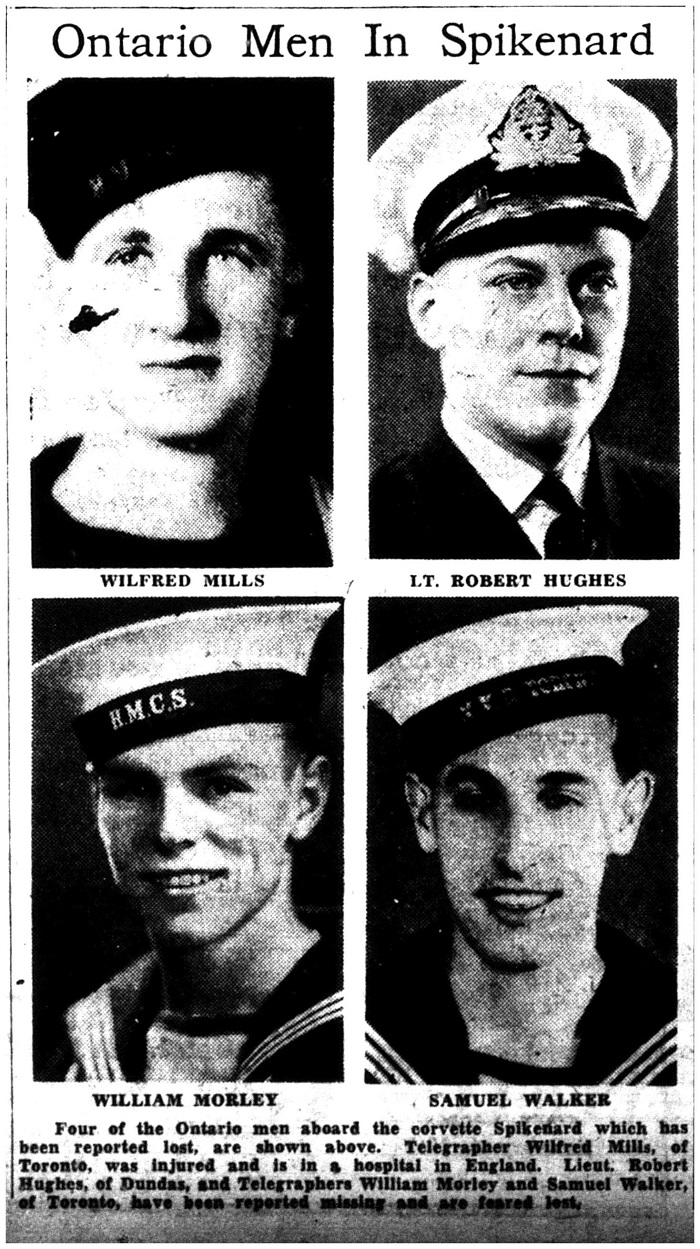 Article from the Toronto Telegram Feb 1942 on SPIKENARD casualties
---
Second World War Casualty Index