They made the Ultimate Sacrifice
Edwin George Whittemore

Cook (S), V23517, RCNVR

Born: 11 Dec 1910, London, England

Died: 10 Feb 1942 at sea

Book of Remembrance
WHITTEMORE, Edwin George, Cook (S), V23517, RCNVR, MPK - 10 Feb 1942, HMCS SPIKENARD - Son of Frederick and Mary Whiteemore, Westboro, Ontario; husband of Louisa May Whittemore, Westmount, Quebec.
Cook Whittemore died when his ship, HMCS SPIKENARD, was torpedoed and sunk by U-136, about 465 nautical miles west of Malin Head, Ireland while escorting convoy SC-67. Of her crew of 65, there were only 8 survivors.
Cook Edwin George Whittemore, age 29, whose wife, Mrs. Louise May Whittemore (nee Mulligan), and three children, Edwin, Lynn and Shirley live at 299-A Grosvenor Ave., Westmount, was serving as a cook on. HMCS Spikenard. A native of London, England was the son of Mr. and Mrs. Frederick and Mary Whittemore, of Westboro, Ontario. He was educated in Ottawa and came to Montréal two years ago, joining the Navy service at Montréal in January, 1941. He was home on leave at Christmas.
Ships served in:
MONTREAL DIVISION RCNVR - Enlisted 18 Jan 1941. Commenced Active Service 20 Jan 1941
HMCS STADACONA - Drafted to STADACONA 27 Feb 1941 as a Cook (S), RCNVR
UNIT 15 - Drafted to UNIT 15 21 May 1941 as a Cook (S), RCNVR
HMCS BUCTOUCHE - Drafted to BUCTOUCHE 05 Jun 1941 as a Cook (S), RCNVR
HMCS STADACONA - Drafted to STADACONA 27 Oct 1941 as a Cook (S), RCNVR
HMCS SPIKENARD - Drafted to SPIKENARD 11 Dec 1941 as a Cook (S), RCNVR
(EW01) Article on Edwin Whittemore Missing
(EW02) Documents from the Service File of Edwin Whittemore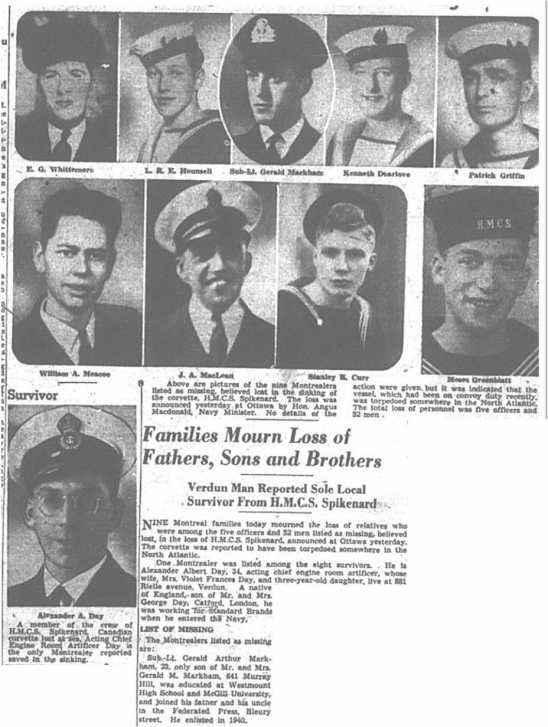 ---
Second World War Casualty Index