They made the Ultimate Sacrifice
Russell Harold Wilcox

Stoker 1st Class, V16140, RCNVR

Born: 16 Mar 1920, Fort William, Ontario

Died: 10 Feb 1942 at sea

Book of Remembrance
WILCOX, Russell Harold, Stoker 1c, V16140, RCNVR, MPK - 10 Feb 1942, HMCS SPIKENARD - Son of Doris Agnes Bole, Fort William, Ontario.
Stoker Wilcox died when his ship, HMCS SPIKENARD, was torpedoed and sunk by U-136, about 465 nautical miles west of Malin Head, Ireland while escorting convoy SC-67. Of her crew of 65, there were only 8 survivors.
Stoker Russell Harold Wilcox was the son of Mrs. D. L. Bole of Fort William. Born and educated in Fort William, Stoker Wilcox was taking a course at vocational School prior to enlistment in the navy. He was a well-known football and hockey player. He joined the navy in May, 1940, and in December, 1940 went on convoy duty.
Ships served in:
PORT ARTHUR DIVISION RCNVR - Enlisted 12 Jun 1940. Commenced Active Service 12 Aug 1940 as a Sto 2c, RCNVR
HMCS STADACONA - Drafted to STADACONA 20 Aug 1920 as a Sto 2c, RCNVR
HMCS HEPATICA - Drafted to HEPATICA 17 Oct 1940 as a Sto 2c, RCNVR
* Rated Sto 1c 12 May 1941
HMCS AVALON Drafted to AVALON 03 Aug 1941 as a Sto 1c, RCNVR
HMCS SPIKENARD - Drafted to SPIKENARD 02 Feb 1942 as a Sto 1c, RCNVR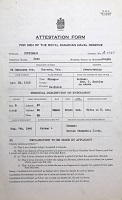 Documents from the Service File of Russell Wilcox
---
Second World War Casualty Index