---
The Sacrifice We Will Not Forget
DIEPPE RAID
by Robert P. "Bob" D'Aoust
---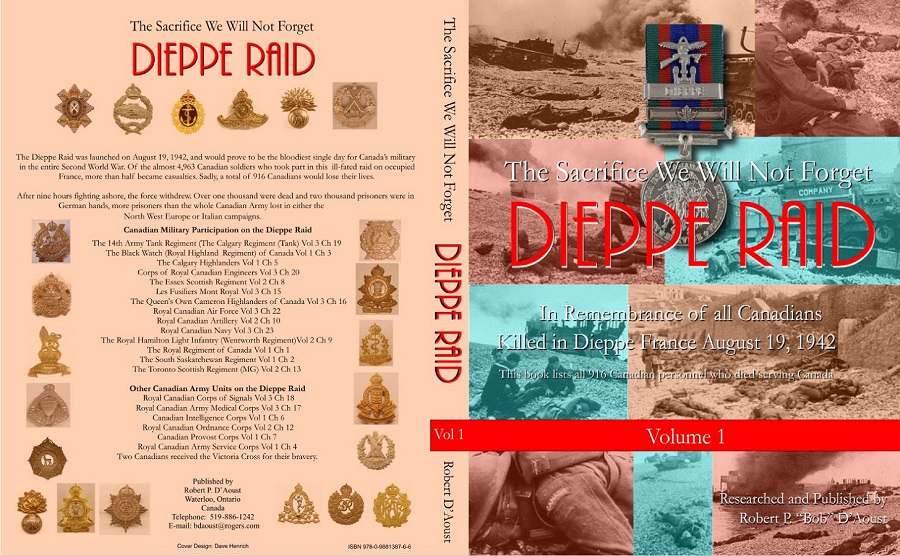 Preface
The Dieppe Raid has been part of Canadian history for over 75 years and we are about to see the passing of all but a few veteran soldiers. Within the next five years we will lose almost all our Dieppe Raid veterans who served in the Canadian Army. These men served with the 4,963 Canadian troops who participated in the August 19, 1942 Raid. A total of 916 made the ultimate sacrifice serving with the 23 military groups.
About the books
These books have been carefully researched and written as a tribute to Canadian Servicemen who died while on the Dieppe Raid and as POWs in the Second World War.
Volume #1
The Royal Regiment of Canada (Chapter #1)
South Saskatchewan Regiment, R.C.I.C. (Chapter #2)
Black Watch (Royal Highland Regiment) of Canada (Chapter #3)
Royal Canadian Army Service Corps (Chapter #4)
Calgary Highlanders, R.C.I.C. (Chapter #5)
Canadian Intelligence Corps (Chapter #6)
Canadian Provost Corps (Chapter #7)
Volume #2
Essex Scottish Regiment, R.C.I.C. (Chapter #8)
Royal Hamilton Light Infantry (Chapter #9)
Royal Canadian Artillery (Chapter #10)
Cameron Highlanders of Ottawa (Chapter #11)
Royal Canadian Ordnance Corps (Chapter #12)
Toronto Scottish Regiment M.G., R.C.I.C. (Chapter #13)
PMC Data (Chapter #14)
Volume #3
Les Fusiliers Mont-Royal, R.C.I.C. (Chapter #15)
The Queen's Own Cameron Highlanders of Canada (Chapter #16)
Elements of Royal Canadian Army Medical Corps (Chapter #17)
Royal Canadian Corps of Signals (Chapter #18)
Calgary Regiment, R.C.A.C. - 14th Army Tank Regiment (Chapter #19)
Royal Canadian Engineers R.C.E. (Chapter #20)
Headquarters and Miscellaneous Detachments (Chapter #21)
- Lorne Rifles Scottish
- First Hussars
- Essex Fusiliers
- The Scottish Fusiliers of Canada
- 11th Field Ambulance Corp
- Canadian Grenadier Guards
- Stormont, Dundas and Glengarry Highlanders
- 9th Airship Company
- Cameron Highlanders of Ottawa
- Royal Rifles of Canada
- The Royal Canadian Regiment
- The Essex Regiment (Tank)
- #4 Anti-Tank Company, 4th Canadian Infantry Brigade
- Divisional Headquarters
Royal Canadian Air Force (Chapter #22)
Royal Canadian Navy (Chapter #23)
Number 3 Commando (Chapter #24)
Number 4 Commando (Chapter #25)

About the author
Robert "Bob" D'Aoust was born in St. John's, Newfoundland, raised in Ottawa, Ontario. He joined NCR Canada in 1963 and retired after 45 years as a Solution Engineer. Bob is a Genealogy Researcher & Book Author. He is the husband to a wonderful wife "Marg, proud dad to Lee-Anne, Jason & Vicky. Grandpa to Max & Anna.
Book Printer

Book Printed and Bound by Lehmann Bookbinding, Kitchener, ON., Canada

Where to buy the book set
Lehmann Bookbinding Ltd.

1-800-463-3573

info@lehmannbookbinding.com

or

Library Services Centre Library Bound

1-800-265-3360 // 1-519-885-3233

skeller@lsc.on.ca lisa@librarybound.com

(Libraries Only)
Book Cost:

Complete 3 Vol. set - $152.00 CDN (plus shipping and taxes *)
Purchased individually
Volume #1 - $52.25 CDN (plus shipping and taxes *)

Volume #2 - $51.40 CDN (plus shipping and taxes *)

Volume #3 - $52.05 CDN (plus shipping and taxes *)
* Shipping and sales tax will vary based on the shipping destination and applicable provincial / federal sales taxes.
---