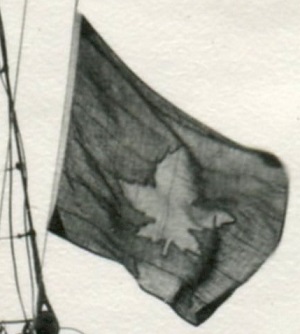 "Cock of the Walk" - Flown by ships of the RCN when they are winner, as in a regatta, sports meet, or combination of these or other events. The winning ship hoists it at her yardarm. It is a common practice, if the winning ship has won every single event as well, to hoist a broom at her masthead commemorating a clean sweep of the seas in the manner of the Dutch admiral Tromp.
This version of the flag was flown by HMCS STANDARD COASTER in Oct 1943 when she was leading in donations for the 5th Victory Loan Drive during the Second World War.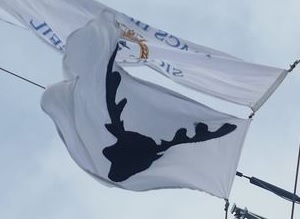 The "Moose is Loose" flag - While the look of the flag varies from ship to ship its meaning is clear to all sailors. It is most commonly flown on ships of the RCN when in port during a NATO deployment to invite the crew of the other NATO ships over for Moose Milk. This version of the flag was flown on HMCS HALIFAX
Many versions of the recipe for this elixir are floating about the web.