---
HMCS CARLPLACE K664
River Class Frigate
---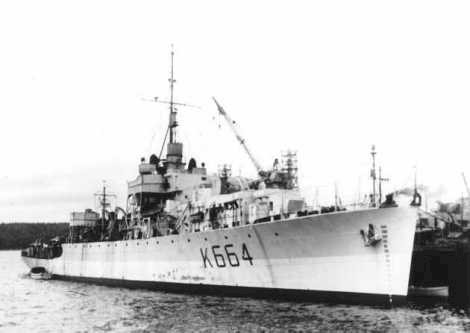 HMCS CARLPLACE K664
Battle honours and awards: Atlantic 1945
Laid down: 30 Nov 1943

Launched: 06 July 1944

Commissioned: 13 Dec 1944

Paid off: 13 Nov 1945

Fate: Sold in 1946. Her final disposition is unknown.
CARLPLACE was commissioned on 13 Dec 1944, at Quebec City, the last RCN frigate to enter service. En route to Halifax, she suffered serious ice damage to her hull, necessitating several weeks' repairs at Halifax and Philadelphia. She then proceeded to Bermuda to work up, returning to Halifax on 24 Mar 1945. In Apr 1945 she was allocated to EG 16, Londonderry, and sailed for the Clyde via the Azores, escorting and RN submarine homeward bound from refit in the U.S. She finally arrived at Londonderry on 23 Apr 1945 and left on 05 May 1945 to escort convoys to and from Gibraltar. Late that month she returned to Canada from tropicalization refit at Saint John, N.B. Begun on 02 Jun 1945 and continued at Shelburne, N.S., on 10 Jul 1945. The work was called off on 20 Aug 1945, and on 13 Nov 1945, the ship was paid off at Halifax and laid up at Shelburne. Sold to the Dominican Republic in 1946 for conversion to a presidential yacht, she was renamed Presidente Trujillo after the President of the Dominican Republic. In 1962 after the family Trujillo lost there grip of power on the country, she was renamed Mella and used as a yacht-training vessel by the navy of the Dominican Republic. Armed with 1x76.2mm, 2x40mm and 4x20mm guns, she was also fitted out with American radar equipment, she was based at Santo Domingo. In 2003 she was offered free of charge by the Dominican Republic to Carleton Place, but they had to bring the vessel on their own account to Canada. But she was in a bad shape and not much was left of the original vessel and the offer was not accepted. Her final disposition is unknown.
---
Photos and Documents The Ship's Bell
---
Commanding Officers
A/LCdr Charles Edmond Wright, RCNVR - 13 Dec 1944 - 02 Sep 1945
---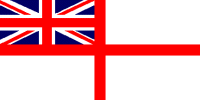 In memory of those who have crossed the bar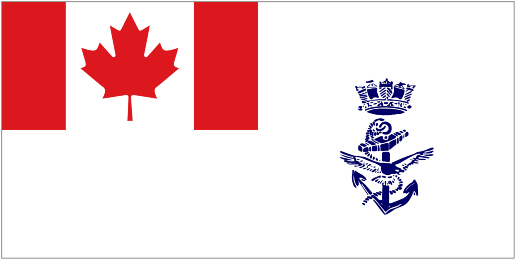 They shall not be forgotten
---
Former Crew Members
Mackin, Gerard Francis, Lt (E), RCNVR - 16 May 1945
Shave, John Gildea, A/Lt (S), RCNVR - 25 Jun 1945
---
Photos and Documents
HMCS CARLPLACE K664
DND / RCN Photo
---
(OW01) Omer White on HMCS CARLPLACE K664 (OW02) Omer White (left) and shipmates on HMCS CARLPLACE K664
From the collection of Omer White, RCNVR
Courtesy of Benjamin Lavigne
---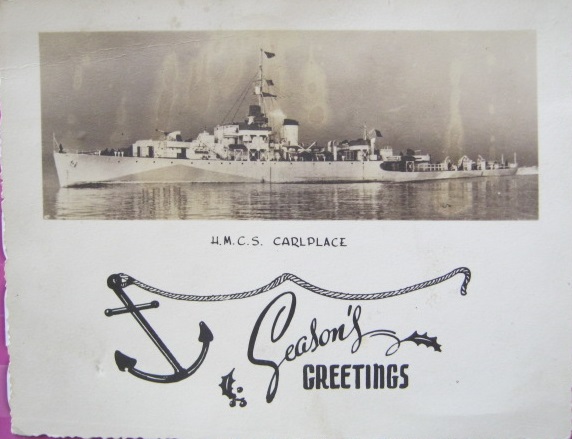 HMCS CARLPLACE Christmas Card
The back of the card is signed by "Harry"
Courtesy of Dave Upright
---