---
HMCS DUNDURN Z41
CNAV / CFAV DUNDURN AO / AOC / AOTL-502
---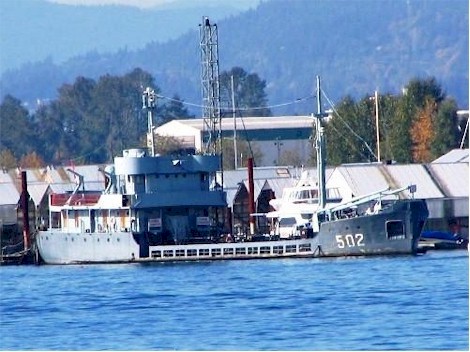 CNAV DUNDURN 502
Source: Flickr photo collection of Don Gorham
As the ship appeared on 13 Oct 2007 in North Vancouver. DUNDURN appears to be berthed at the jetty, however, she is actually being used as a floating breakwater.
Built: 1943

Commissioned: 25 Nov 1943 as HMCS DUNDURN Z41

Paid off: 09 Apr 1946

Re-commissioned: 1946

Transferred to Esquimalt: 1946

Paid off: 02 Jan 1947

Re-designated: CNAV

Re-designated: CFAV

Removed from service: 16 Sep 1994

Fate: Declared surplus on 17 Nov 1995, she became a floating breakwater in 1996. Last seen in July 2016, she was tied up on the Pitt River, near Surrey, BC, waiting to be broken up.
Commissioned on 25 Nov 1943, at Walkerville, Ont., DUNDURN provided warships, patrol craft and coastal outposts on the east coast with fuel. Here specifications were: Displacement: 950 tons, Length: 178 ft 9 in Beam: 33 ft 2 in, Draught: 13 ft, Speed: 10 kts, Complement: 12-24. In the later part of 1945 and most of 1946 she was used to off-load fuel from the escort vessels that were being mothballed. After this job was completed, in November 1946, she was transferred to Esquimalt with the tug Clifton. She arrived in Esquimalt on 29 Dec 1946 and was paid off on 02 Jan 1947 from the RCN to serve as a CNAV. Her duties were various, though primarily used as a inner harbour fuel ship, she sailed in company with the west coast fleet to San Diego on one occasion and on others took supplies up to removed governments outposts on the BC coast. Removed from service on 16 Sep 1996, she was declared surplus on 17 Nov 1995. After a short period of time, she was sold to the Burrard Yacht Club in Vancouver on 08 May 1996 to be used as a floating breakwater.
---
---
Commanding Officers
Skpr/Lt A.J. Porter, RCNR - 25 Nov 1943 - 02 Apr 1944
LCdr Roy Milton Mosher, RCNR - 03 Apr 1944 - 10 Jun 1945
Skpr/Lt Jacob Blackmore, RCNR - 11 June 1945 - unk
---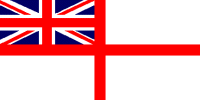 In memory of those who have crossed the bar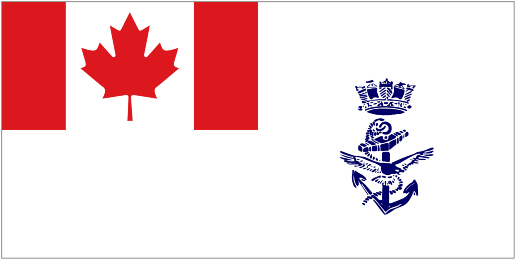 They shall not be forgotten
---
Former Crew Members
Baggs, Sidney, Skpr, RCNVR - 28 Apr 1944
Schleen, Donald C.

---
Photos and Documents
The launching of DUNDURN at the yards of the Canadian Bridge Company

Source: Library and Archives of Canada / MIKAN 3196932

HMCS DUNDURN in her wartime configuration

DND / RCN Photo

CNAV DUNDURN in 1970

Source: A History of the West Coast Canadian Forces Auxiliary Fleet

Photo Credit: CFB Esquimalt Naval and Military Museum

Photo No. VR994.51.8

CFAV DUNDURN

Original source unknown

---

Former CFAV DUNDURN tied up at Surrey, BC, waiting to be broken up - 07 Jun 2015

© / Courtesy of Dave Shirlaw 2015

Former CFAV DUNDURN tied up on the Pitt River, Surrey, BC, Jul 2016

Courtesy of Rodney Dick

Former CFAV DUNDURN at Surrey moorage, Fraser River

© / Courtesy of Matthew McBride 2021

Former CFAV DUNDURN at Surrey moorage, Fraser River

© / Courtesy of Matthew McBride 2021
---