---
LCI(L) 135
Landing Craft Infantry - Large
---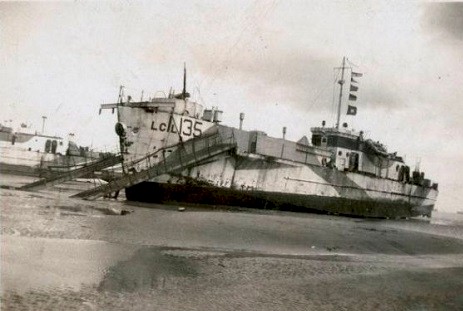 LCI(L) 135 on Juno Beach
LCI(L) 135, like most of the landing craft of the Canadian 262nd Flotilla, was damaged by submerged obstacles as it approached the beach. Robert Marsh, a gunner on one of LCI(L) 135's Oerlikon cannons, photographed his vessel high and dry on the shore west of Bernières-sur-Mer after it had to be beached to prevent it from sinking. The twin ramps that allowed close to 200 Canadians of the North Nova Scotia Highlanders to disembark quickly (centre left) are still down. After hasty repairs, 135 pushed off the beach when the tide came in later that day.
George Metcalf Archival Collection CWM 19990143-002
Courtesy of the Canadian War Museum
Laid down: 22 Dec 1942

Launched: 13 Jan 1943

Transferred to RCN: 29 Jan 1944

Paid off: 02 Sep 1944

Fate: Unknown
LCI(L)-135 was built in the USA and transferred to the RN on completion. She was transferred to the RCN on 29 Jan 1944. During the D-Day landing, LCI(L)-135 was damaged by submerged obstacles and had to be repaired on the Normandy beaches so she could leave with the tide and return to England. On 02 Sep 1944 she was paid off and returned to the RN, being returned to the USN on 14 Mar 1946.
---
RCN Memories: A Sailor's Tale: From Ansell to Infinity
Photos and Documents Ship's company photos
---
Commanding Officers
Lt John Douglas Kell, RCNVR (was CO on 06 Jun 1944 for D-Day Landings)
---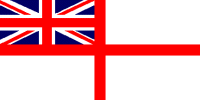 In memory of those who have crossed the bar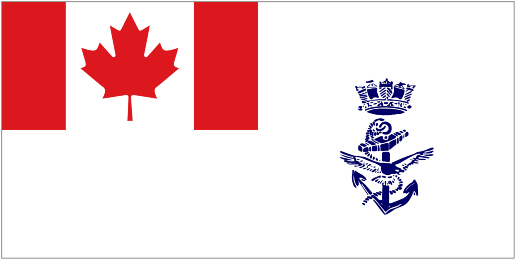 They shall not be forgotten
---
Former Crew Members
Elliott, John - 1944

Marsh, Robert, Gunner - 1944

Michelin, R.B., RCNR (FR), RCNVR

Smith, James Douglas, SLt, RCNVR - 01 Feb 1944
---
Photos and Documents
Infantrymen of The North Nova Scotia Highlanders landing from LCI(L) 135 of the 2nd Canadian (262nd RN) Flotilla during Exercise FABIUS III, Bracklesham Bay, England, 04 May 1944

Credit: Glen M. Frankfurter / Canada. Dept. of National Defence / Library and Archives Canada / PA-137005

LCI(L) 135

RCN Press Release photo

From the collection of Laurence (Larry) Fricke

Courtesy of Linda Carleton

LCI(L) 135

From the collection of Frank Tucker

Courtesy of Joe Phelan
---
HOME PAGE
SHIP INDEX
CONTACT