---
HMCS RESTIGOUCHE 257
SHIP'S COMPANY PHOTOS
If you can identify anyone in these photos, please send me an EMAIL
---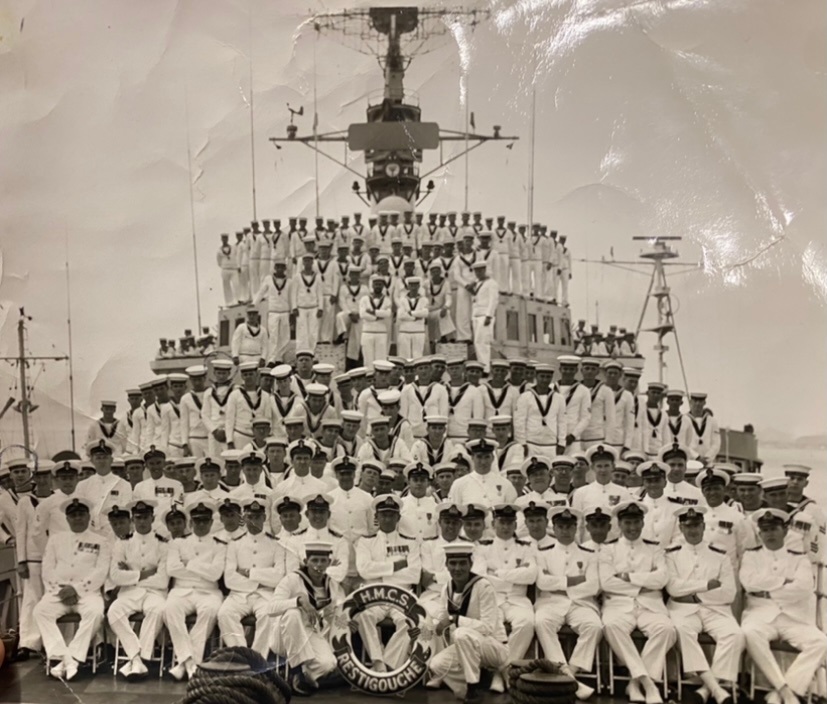 HMCS RESTIGOUCHE
date unknown
From the collection of Harold Kenneth Van Wyngaarden, LM, RCN
---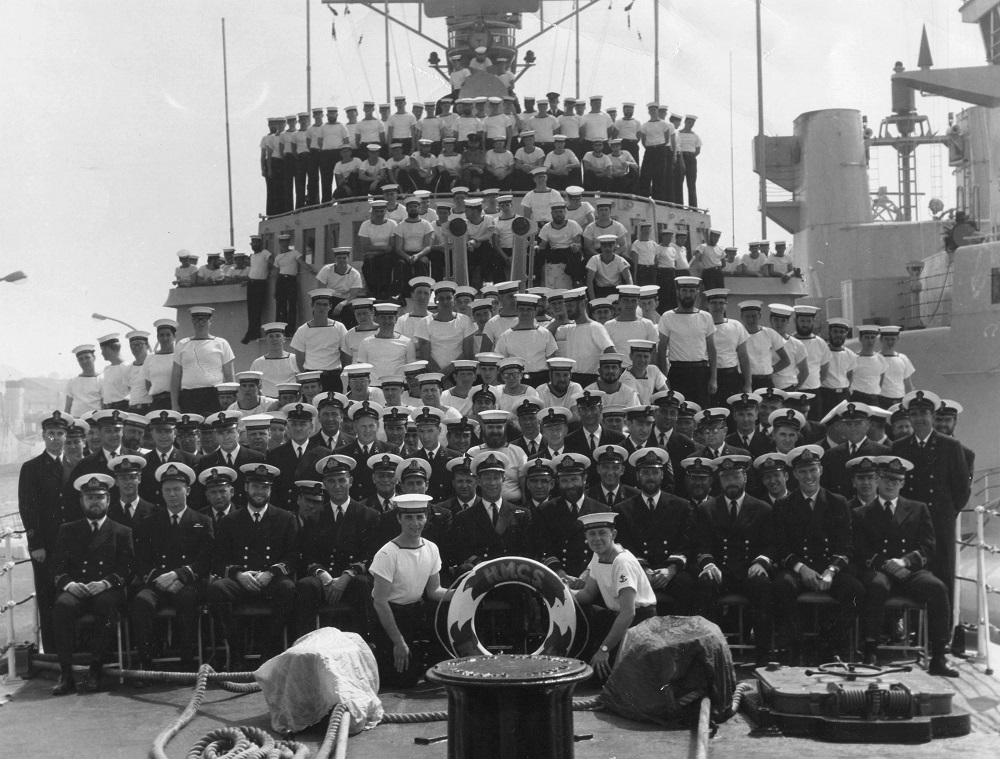 HMCS RESTIGOUCHE 257
Lisbon, Portugal, 31 May 1970
Click on the above photo to view a larger image
Courtesy of Michael Young
Click here to view the photo with crew numbered for identification
"We are all looking happy because we have just finished a stint of almost six months as the Flagship of STANAVFORLANT under Commodore Boyle. Nipigon, alongside us on our port side, has just taken over and we were a private ship again! We got back to Halifax in late June."
(3) Woolner, Wayne, Slt (4) Christenson, Will, Cmd O, DeckO (5) MacDougall, Dave?, Lt, NavO (6) Young, Michael, Lt, Weapons O (7) Smythe, Dick, Lcdr, XO (8) McCullough, Paul, Cdr, CO (9) Davies, Hal, LCdr, OpsO (10) Legaarden, John, Lt (11) Burlett, Jim, Slt (12) Coates, Bruce, Slt (13) Parker, Ian (14) Tennant, Bruce, Slt (22) Reddy, Jim, Slt (23) Lajeunesse, Gary, Slt (82) LaChance, Yvon, Stoker (87) Baird (?poss) (92) ____, René (99) dOUCET
---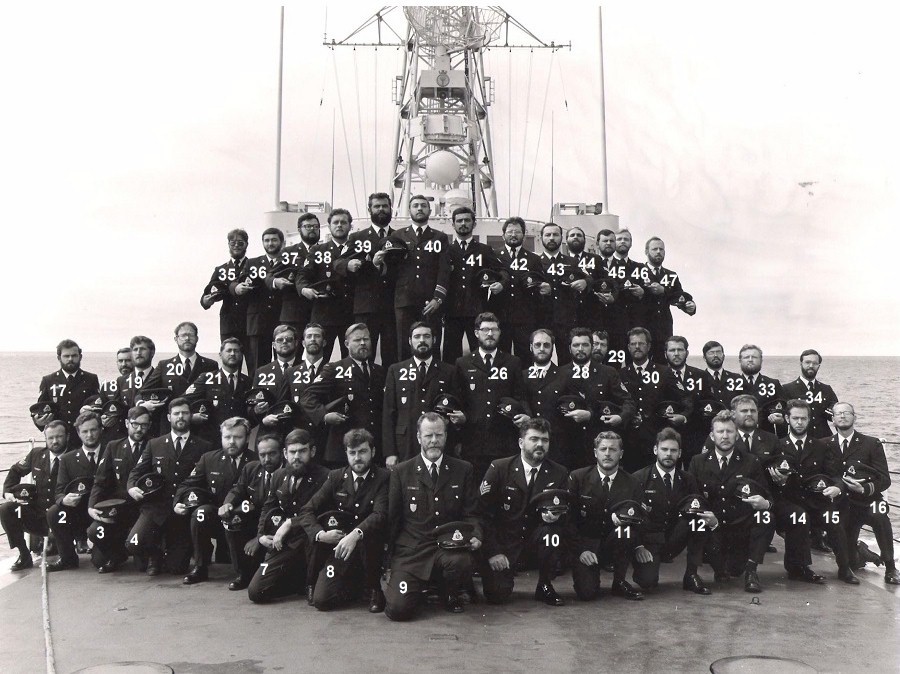 Beards are back on HMCS RESTIGOUCHE 257
1978
Click on the above photo to view a larger image
When the three service unified in 1968, sailors were no longer allowed to have beards. In 1978, after one month at sea, this picture was taken and published in the Sentinel Magazine. NDHQ Ottawa's response - Make It So!
Courtesy of Jim Johnston
(1) PO2 Sutherland (2) AB B. Stuart (5) MS L. Gjesdale (6) PO2 Flack (7) LS B. Bouvet (9) PO R. Falk (10) SGT W. Bradshaw (11) AB D. Shipalesky (12) AB R Johnston (13) PO D. McCoy (14) MS E. Davis (15) LS Zimmer (17) LS J. Osbourne (18) PO2 Griffiths (20) Lt Stewart (21) PO E. Lee (22) PO2 Parker (23) PO W. Harkness (24) MS Gale (25) MS G Johnston (28) PO P. Hill (29) MS Brown (30) PO M. Wierenga (31) PO R. Dallin (33) AB Flavelle (34) LS Taylor (36) LS P. Peachey (39) PO2 Francis (40) LCdr Foldesi
---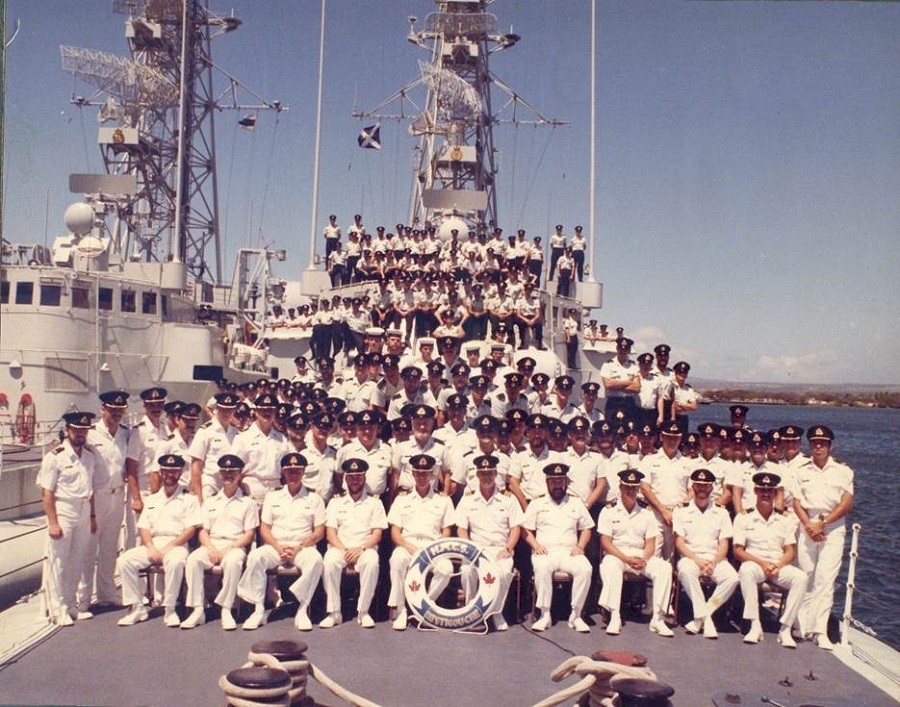 HMCS RESTIGOUCHE 257
Pearl Harbor, Hawaii, 1979
Courtesy of Ronald J. MacDonald
---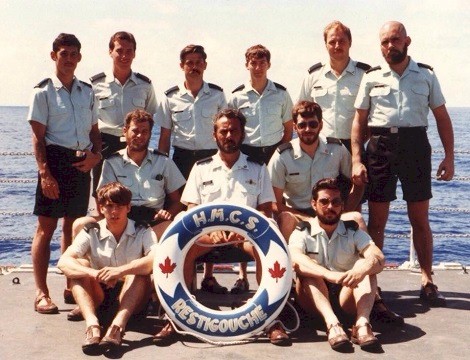 HMCS RESTIGOUCHE 257
Electrical Dept. 1983
Click on the above photo to view a larger image
Courtesy of Colin Mackie
---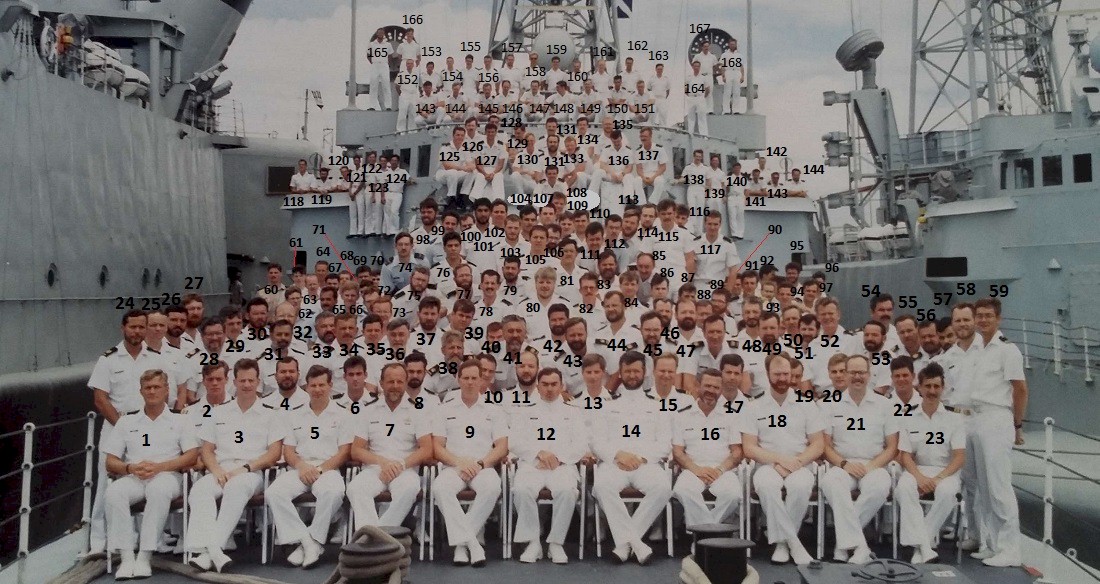 HMCS RESTIGOUCHE 257
circa 1988/89
Click on the above photo to view a larger image
Courtesy of Brian Forsyth
---
Click here for more information on HMCS RESTIGOUCHE
---