In memory of those who have Crossed the Bar
John Ronald Dingwall

Engine Room Artificer 4th Class, RCNVR

Born: 23 Jul 1923, Creighton, Ontario

Died: 05 Jan 2022, Sudbury, Ontario
DINGWALL, John - It is with great sadness that we announce the peaceful passing of our dear father John Dingwall, age 98. Son of Jack and Edith (nee Ball) Dingwall, brother of Jean Parkin (predeceased, England), husband of Sally Velma (nee Rauhala, predeceased 2016), beloved father of John Scott (Susan McRae) Blind River, Meribeth Hart (Julian Hart) Barrie, cherished Grandpa to Loren, his only grandchild (fiancť Michael Rattray), Toronto, dear Uncle to Trisha (Parkin) McKinney (England) and Joanna Parkin (British Columbia). John was brother-in-law to Sallyís siblings Laura Jacobson, Esko, Bertha Laine, Nancy Jacobson, Kay Stos, Lisa Dumencu, Alice Lahti, Jack (all predeceased), Eva Kallio, and Marietta Kosovsky, and Uncle to their numerous children.
Dad was born in Sudbury and raised in Creighton, Ontario. Dadís early years, (5 to15) were spent living with an English aunt and uncle after his British mother died when he was 4, and she wished her two children to have a British education.
A few years after returning home, he signed up to defend Canadian democracy in WWII in the Royal Canadian Navy Volunteer Reserve (1939-45). This true patriot risked all to defend Canada and Britain in the Battle of the Atlantic, making two crossings from Newfoundland. His ship the HMCS OUTREMONT provided armed escort for merchant / supply vessels headed for England, where Nazi invasion was always imminent. His ship helped capture German submarine U1006 off the Faroe Islands. After the war, Dad started a 4-decade career at Vale INCO becoming a highly respected Machinist.
John was a gentle, kind, and loving father, the adored uncle among many nieces and nephews; he was also a favourite among nursing home staff. He was happiest just being with loved ones. He was known as a gentleman, with a warm, supportive, respectful curiosity in others, a wonderful sense of humor, and a Ďweíll make the best of ití resilience and optimism. Like Mom, Dadís curiosity energized his continuous learning, and he followed news and discoveries with enthusiasm.
John had a passion for 1940ís big band music of his youth, along with the crooners and The Beatles. He took great pleasure in travelling with Sally, racquet sports, and quality snacks. He was a natural storyteller.
We would like to express our deep appreciation to the Royal Canadian Legion Branch 76, for their care and kindness to John in recent years.
The family would especially like to thank the staff of Pine Wing, Pioneer Manor, for their excellent care over the last 7 years. Our brave sailor and cherished father has departed, but his inspiring love for Canada and his fellow citizens will always be with us.
Cremation has taken place. If COVID rules permit, a celebration of life and internment of Sally & Johnís ashes will occur in the late spring of 2022. If you wish, donations may be made to the Pioneer Manor Forever Caring Tree 705-566-4282 ext.3225 or the Heart and Stroke Foundation 705-673-2228. Arrangements entrusted to the Lougheed Funeral Homes. (The Sudbury Star 28 Jan 2022)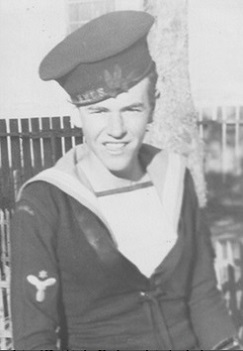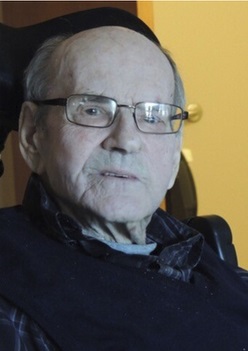 ---
Wartime Memories: John was in Halifax when the war ended and witnessed many of the events of the V.E. Day riot in Halifax. He saw a streetcar set on fire, and when the fire department arrived to put the fire out, rioters grabbed an axe and cut the fire hoses, then released the brakes on the streetcar and set it rolling down the hill towards the dockyard. One of the sailors off John's ship went into the old brewery and took a case of beer (quarts). Shortly afterwards he got into a fight and was arrested - and never even got to enjoy any of his beer. Another group of rioters stole a couch from Eatons, put it on the curb and sat down and drank while watching the riots.
---
Ships served in:
---