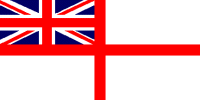 For Posterity's Sake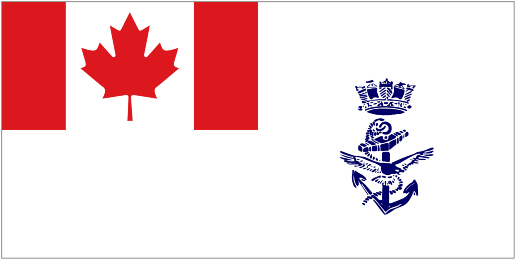 A Royal Canadian Navy Historical Project
In memory of those who have Crossed the Bar
David William Hurl, M.I.D., C.D.

Lieutenant, O-35175, RCN

Born: 14 Nov 1922

Died: 10 Sep 2009, Winnipeg, Manitoba
David joined the RCN as an Ordinary Seaman. He was Commissioned from the Ranks and appointed A/Commissioned Gunner 04 Nov 1949. He was released from the RCN on 14 Aug 1956 as a Lt, RCN.
Mentioned in Despatches: HURL, David William, Commissioned Gunner, RCN, HMCS Athabaskan - Awarded as per Canada Gazette of 13 July 1951.
Ships served in:
(as an officer)
HMCS ATHABASKAN - Appointed to Athabaskan 15 Apr 1950 as A/Commissioned Gunner, RCN. (Navy List Jul 1950/Oct 1952). Served in Athabaskan during her 1st and 2nd Korean War tours.
HMCS STADACONA - Appointed to Stadacona (Educational Course) 31 Oct 1952 as Cd Gunner, RCN (Navy List Jan 1953)
HMCS STADACONA - Appointed to Stadacona (JOTL Course) 13 Feb 1953 as Lt, RCN (seniority 25 Jul 1952) (Navy List Jul/Oct 1953)
HMCS STADACONA - Appointed to Stadacona 08 Dec 1953 as Lt, RCN Add'l for HMCS Chignecto (Navy List Jan 1954)
HMCS DISCOVERY - Appointed to Discovery 24 Feb 1954 as a Lt, RCN Staff Officer (Training) (Navy List Jul 1954)
HMCS CORDOVA - Appointed to Cordova 28 Aug 1954 as Lt, RCN, Commanding Officer (Navy List Oct 1954)
HMCS CHIPPAWA - Appointed to Chippawa 13 May 1955 as Lt, RCN, Add'l (Navy List Jul 1955)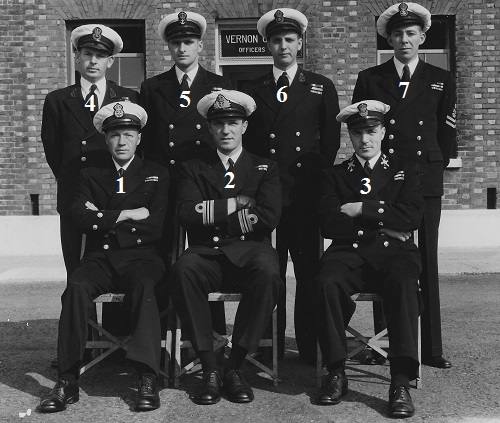 Officers training course at HMS Vernon, UK – 1949
Click on the above photo to view a larger image
(1) Frederick Webb, RCN (2) Unknown (3) Jim Tovell, RN (4) Bob Middleton, RCN (5) Dave Hurl, RCN (6) Butch Butchart , RCN (7) unknown
---