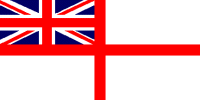 For Posterity's Sake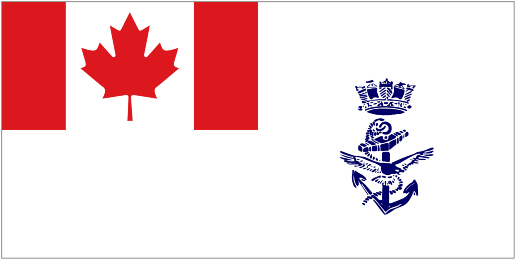 A Royal Canadian Navy Historical Project
In memory of those who have Crossed the Bar
Robert James Bushby

Telegraphist, RCNVR

Died: 20 Apr 1975, Port Coquitlam, British Columbia
BUSHBY, Robert James - On April 20, 1975, Robert James Bushby of 3062 Oxford St., Port Coquitlam, aged 51 years. Survived by 1 son, Robert; 2 daughters, Colleen and Rhonda; his mother, Mrs. Margaret Millsted, stepfather, George Millsted; 1 brother, Roy. Funeral service will be conducted on Wednesday April 23 at 11 a.m. in teh Chapel of Forest Lawn Mortuary, Royal Oak at Canada Way, followed by cremation.
Ships served in:
HMCS DISCOVERY - Commenced active service 14 Mar 1942. Served in Discovery for W/T training 14 Mar 1942 - 09 May 1942 as an OS
HMCS QUATSINO - Served in Quatsino 18 Oct 1942 - 27 Sep 1943 as an O/Tel and Tel, RCNVR. Rated Tel 14 Mar 1943
HMCS MALASPINA - Served in Malaspina 22 Oct 1943 - 08 Jan 1945 as a Tel, RCNVR
HMCS STORMONT -Served in Stormont 14 Apr 1945 - 17 Aug 1945 as a Tel, RCNVR
HMCS DISCOVERY - Served in Discovery 23 Aug 1945 - 18 Sep 1945. Demobilized 18 Sep 1945
(RB01) Tel Bushby (RB02) Article of Robert Bushby completing his Telegraphist course (RB03) Training and Active Service page from Certificate of Service (RB04) Roy and Robert Bushby (RB05) Robert Bushby and unidentified friend
(RB06) L-R: Robert (left) and Roy Bushby, with their step-father George Millsted (RB07) Robert and Roy Bushby with their mother Margaret (RB08) L-R: Margaret, George, H.H. Alward (Robert's grandmother) and Robert (crouching)
---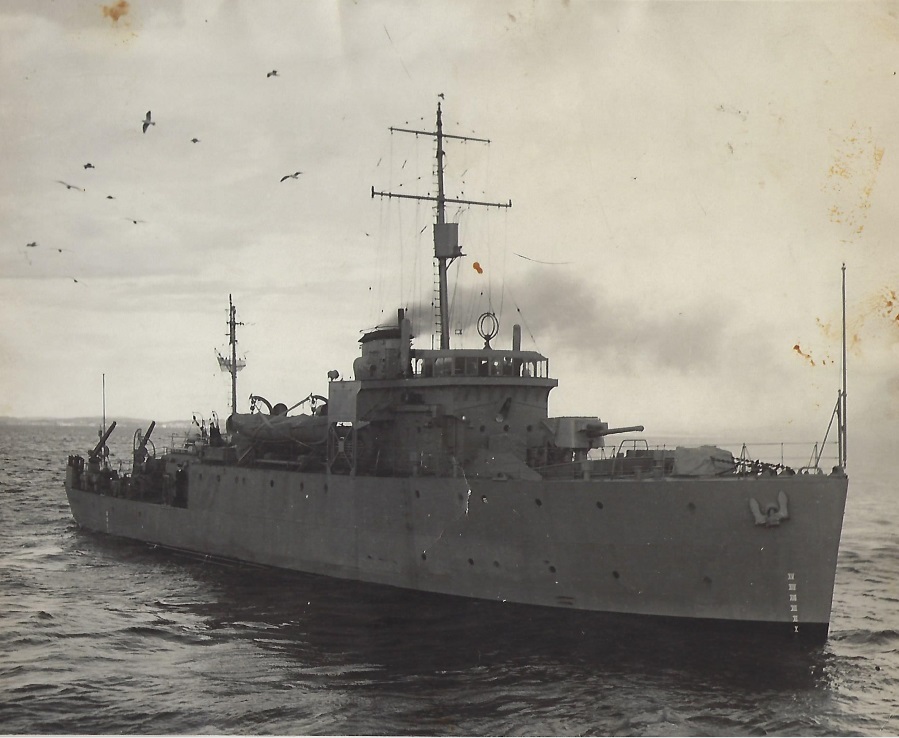 HMCS QUATSINO
---
L-R: Tel Robert Bushby (groomsman), Sig Robert Laing (groom), Patricia (Burkmar) Laing (bride), Jean Laing (maid of honor), unknown
Laing-Burkmar Wedding - Times Colonist, Nov, 7, 1944
atricia Florence, third daughter of Mr and Mrs. T.S. Burkmar, 3861 Douglas Street, was united in marriage Saturday evening in North Douglas Tabernacle, Signalman Robert B. Laing R.C.N.V.R., son of Mr. and Mrs. R. Laing, Vancouver. Pastor Cairns performed the ceremony.
Given away by her father, the bride wore a gown of Ivory Satin, slightly entrained with a colonial headdress holding her fingertip embroidered veil. She carried a bouquet of white Chrysanthemums and carnations and her only jewelry was a strand of pearls, a gift of the groom. Miss Jean Laing was a maid of honour wearing a long waisted frock of pale green taffeta with a matching chapel veil and a bouquet of yellow Chrysanthemums.
Wireless Telegrapher Robert Bushby, R.C.N.V.R., was groomsman and Ed Burkmar ushered.
A reception was held at the home of Mrs. W.A. Kelly, 55 Cadillac Ave, sister of the bride, where mothers of the couple received guests. Mr. and Mrs. Laing will reside on Russell Street after a honeymoon on the mainland, the bride traveling in a two-piece rose frock, beige topcoat and navy blue accessories.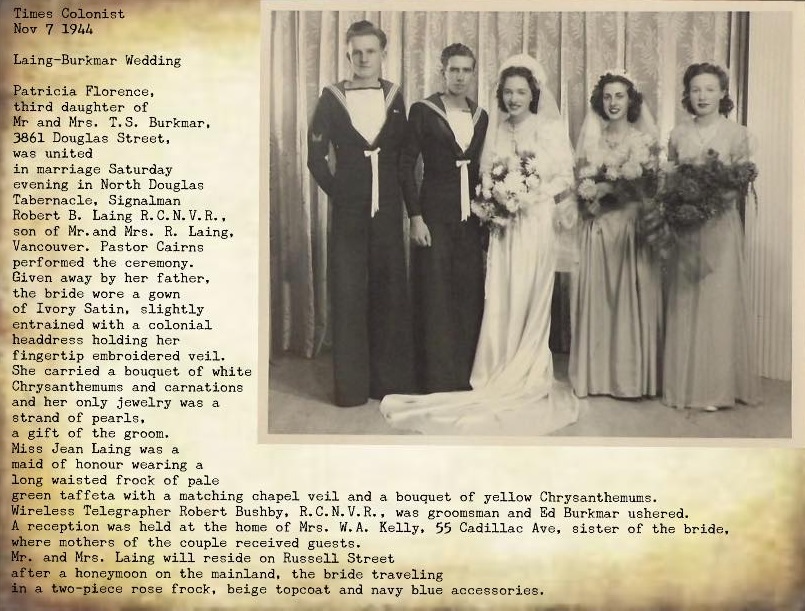 ---