In memory of those who have Crossed the Bar
Charles Thomas Burgess, LS&GM

Chief Petty Officer, Electrician, 2438, RCN

Born: 11 Mar 1913, Silton, Saskatchewan

Died: 21 Jan 1981, Halifax, Nova Scotia
BURGESS, Charles Thomas - Noted mason C. T. Burgess dies Charles Thomas Burgess, 67 years of Halifax died in Victoria General Hospital Wednesday. Born in Silton, Sask., he served in the Royal Canadian Navy during the Second World War and Korean War and worked at HMC Dockyard until his retirement in 1978. He was an elder of Bethany United Church and was raised in the Royal Sussex No. 6 Lodge in 1955 and served as worshipful master from 1962. He was past deputy grandmaster for the First Halifax City District in 1970. He was exalted in Royal Union Chapter No. 1 in 1957 and served as high priest in 1963. In 1975 and 1976 he served the grand chapter of Royal Arch Masons of Nova Scotia as the most excellent grand high priest. He was a member of Chebucto and Adoniarm Council of the Royal Select Masters, and was a member of Antiquity Preceptory No. 5 of Knights Temple. In 1978 he was installed as a Knight of the York Cross of Honour. He was a 32-degree Scottish Rite Mason and member of Philae Temple AAONMS. He was installed in Royal Edward Conclave No. 8 of the Knights of the Red Cross of Constantine in 1967. He was treasurer of this body at the time of his death. He was survived by his wife Jean (Urquhart) Burgess. The body is in Snow's Funeral Home. Funeral will be 2 p.m. Saturday in Bethany United Church, Rev. Robert Crooks officiating, with spring burial in Hillcrest Memorial Gardens. (Halifax Chronicle-Herald Friday, 23 Jan 1981)
---
BURGESS, Charles Thomas - was born on 11 Mar 1913 in Silton, SK to Levi and Joan (Martin) Burgess. Charles' father passed away in 1918 and is buried the Bulyea, SK. Charles is listed with his mother Joan in the 1921 Canadian Census in the RM of Duffernin, MB. Joan's employment is listed as domestic.
Charles joined the RCN on 25 Nov 1929 and retired as a Chief Petty Officer on 24 Nov 1955.
Charles married Edith Helen Willott on 21 Nov 1938 at the RCN Barracks in Esquimalt. Edith is listed in the 1921 Canadian Census as 2 years of age, with her mother Helen Willott, older sister and brother, Audrey and Frank, in Golden, BC. Their marriage record lists Edith's father as James Willott. Edith's father James passed away in 1921.
Ships served in:
HMS MARLBOROUGH
HMCS ATHABASKAN - Survived the sinking of Athabaskan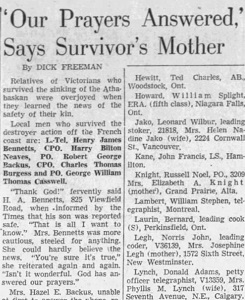 Article on survivors of the sinking of HMCS ATHABASKAN G07
CPO Charles Burgess is listed as a survivor
Victoria Times Colonist - 02 May 1944
Kootenay crew members take ship boat along west coast of Korean

CPO Burgess was one of the boat's crew

Crowsnest magazine - 1954

HMCS Kootenay crossed the Equator - 26 Sep 1954

CPO Burgess plays King Neptune

Crowsnest magazine - 1954

Article on the retirement of CPO Charles T. Burgess, C1ET4, RCN from the Crowsnest magazine
---