In memory of those who have Crossed the Bar
WELSH, William - Our dear father passed away July 21, 2007 to join his late, beloved wife of 61 years. Margaret predeceased him in April 2006 and he has longed for her every day since. Bill was devoted to his family. He and Margaret are survived by their children, Lynda (Jim), Maureen, and Bruce (Kim), and grandchildren, Jennifer, Kyle (Caryn), Jared, Meredith (Darryl), Aynsley (Stephen) and Andrea. He took great pleasure in watching them grow to maturity and become established in their family lives and careers. He was always interested in their activities and was proud of them all. We were blessed to have him watching over us and caring for us all, and we especially treasure the last few weeks of final visits and loving goodbyes. Born in 1921 in Winnipeg to William and Elizabeth Welsh, he was educated at Greenway, General Wolfe, and Daniel Macintyre schools in the West End. Immediately after graduation he enlisted in the navy at the beginning of the Second World War, and served through 1945 as a signalman on HMCS CAMROSE, PRINCE DAVID and PRINCE HENRY during the North Atlantic, D Day, and Mediterranean campaigns. After the war Dad attended two years of university and then joined the Winnipeg City Police Department in 1947. He worked in a number of districts around the city as a uniformed officer, concluding his career as the Superintendent of District 2 (St. James). He enjoyed his police life, especially those with whom he worked, and felt extremely fortunate to have held a job dedicated to helping others. Nevertheless, in 1981 he was pleased to retire to his favourite place the cottage he built with Mum at Caddy Lake. Dad was blessed to enjoy many friendships; some going back to school days and the war, while others were made at his last home, Metropolitan Kiwanis Courts. He treasured these relationships and was always interested, aware and thoughtful of others. His family, friends, and colleagues particularly cherished his gentle kindness and irrepressible humour. We are thankful to have had such a wonderful dad and will always hold him and Mum together in our hearts. Thanks you to the staff at MKC for making his last residence such a warm and welcoming home, and to the Home Care team who supported him throughout his illness. We are also grateful to the staff at the Grace Hospice Unit where he was cared for so well and where his family were able to surround him with the love, respect, care and peace he so richly deserved. Memorial service will be held on Thursday, July 26, 2007 at 10:30 a.m. in Thomson Funeral Home, 669 Broadway with Rev. Bob Galston officiating. Interment will follow in Chapel Lawn Memorial Gardens. Dad would be pleased to be remembered, if friends so wish, by donations to the Salvation Army, 100-55 Donald St. Winnipeg, Manitoba, R3C-1L8.
Ships served in:
---
HMCS CAMROSE
(WW01) William Welsh aiming a bren gun on HMCS CAMROSE (WW02) William Welsh on a signal lamp on HMCS CAMROSE (WW03) William Welsh on the bridge of HMCS CAMROSE (WW04) William Welsh "on the bridge of CAMROSE late 1941, original issue convoy coat and winter cap, holding our original WW1 telescope. Note the awning bars ... and us in the North Atlantic (WW05) "On the bridge of CAMROSE in the North Atlantic and fresh salt water 'inboard' bound, fortunately nobody in the way."
(WW06-WW07) Communications Branch on HMCS CAMROSE - and names on back of photo (WW09) L/Tel "Dusty" and Alan Dickie (right) on HMCS CAMROSE (WW09) Sailors on HMCS CAMROSE. Alan Dickie on left (WW10) Unknown officer on HMCS CAMROSE - possibly Lt McIsaac, CO of HMCS PRESCOTT
(WW11-WW12) William Welsh. On back of photo - "What 'well dressed' Ldg Sig people used in North Atlantic 1942, etc. On CAMROSE with free rum" (WW13) William Welsh on HMCS CAMROSE (WW14) Unknown sailor on HMCS CAMROSE (WW15) Written on back of photo - "On Camrose: Mortimore (stoker) was unofficial barber: haircuts $0.25 or a drink of rum. He wanted to serve with his brother on St. Croix and got the draft: but both were lost when St. Croix torpedoed."
Photo WW15 note: There were two brothers lost on St. Croix, but not with the name "Mortimore." (No crewman with that name.) The two brothers that died were Carmen Ernest Stephenson (Leading Seaman, RCNVR) and Francis Woodrow Stephenson (Petty Officer, RCN) - however, neither were stokers.
---
HMCS PRINCE DAVID
(WW16) Airing the signal flag on HMCS PRINCE DAVID - LAC PA211364 (WW17) Capt T.D. Kelly, RCNR, CO, HMCS PRINCE DAVID - LAC PA211365 (WW18) Capt. Norris, RN Combined Ops. Specialist. Sailed on PRINCE DAVID as CO of a group LSI (M) Invasion of South/France July '44 later killed in mine explosion on beach Yugoslavia." - LAC PA143812 (WW19) Communications Staff HMCS PRINCE DAVID - Sigs/Tels/Coders and Lt. Stewart. William Welsh back row, middle. Neg # PD271 (WW20) Bob Hicks, PO Tel and PO Sig William Welsh, HMCS PRINCE DAVID 29 Oct 1944 - LAC PA211360
(WW21) Crowded jetty at Ajaccio [sic]." "Loading Senegalese troops in Adjaccio [sic] for S/France invasion July '44." - LAC PA143834 (WW22) July/44 PRINCE DAVID Med officer works on German "E" boat crew who were sunk and taken prisoner during S/France invasion; prisoners brought to PRINCE DAVID for medical treatment." (WW23) "PRINCE DAVID landing craft exercising S/France" - LAC PA211357 (WW24) PRINCE DAVID and PRINCE HENRY in Adjacco [sic.] - LAC PA211359 (WW25) Executive Petty Officers on HMCS PRINCE DAVID. PO Sig William Welsh front, centre; PO Tel Bob Hick, front, right - LAC PA211360
(WW26-WW28) HMCS PRINCE DAVID in dry dock at Ferryville, North Africa for repairs after striking a mine - LAC PA142894, PA211363, PA211363 (WW29) Sailors on HMCS PRINCE DAVID - Aug 1944 - LAC PA211358 (WW30) Looking forward from the signal bridge on HMCS PRINCE DAVID - LAC PA211350
(WW31) William Welsh (centre) having birthday cake in mess aboard HMCS PRINCE DAVID, Portsmouth Harbour before D-Day on 05 Jun 1944 (WW32) Capt. Kelly addresses ship's company on HMCS PRINCE DAVID on D-Day - LAC PA211353 (WW33) HMCS PRINCE DAVID'S battle ensign on D-Day - LAC PA143815 (WW34) HMCS PRINCE DAVID anchored off Omaha Beach. There is a signalman on the flag deck holding on to a halyard - LAC PA211354 (WW35) LCT loaded with troops on D-Day - LAC PA211352
(WW36) "D-Day, after initial landings, this LCT came along side PRINCE DAVID with badly wounded cases and requested that we take them back with us to U. K." - LAC PA141521 (WW37) Communications Branch, HMCS PRINCE DAVID - undated - PA211361
---
An "End of the War" bet - story below the photo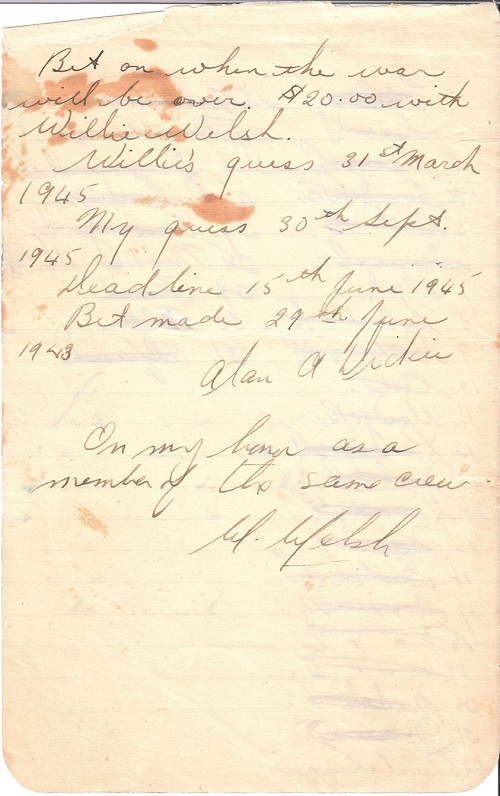 While serving in HMCS Camrose, friends and shipmates, William Welsh and Alan Dickie, made a bet on when the war would end. It reads: "Bet on when the war will be over. $20.00 with Willie Welsh. Willie's guess 31st March 1945. My guess 30th Sept. 1945. Deadline 15th June 1945. Bet made 29th June 1943. (Signed) Alan A. Dickie. (Signed) On my honor as a member of the same crew. W Welsh."
52 years later - In 1997 Alan Dickie sent a letter to William Welsh and included the original copy of the bet and $20. The letter read, in part: "it's time to pay up. The note doesn't say anything about interest, so you'll have to settle for the original debit."
Courtesy of Kyle Duan
---