In memory of those who have Crossed the Bar
Harold Hague

Signalman, RCNVR

Born: 13 Jun 192, Earl Grey, Saskatchewan

Died: 26 Nov 2020, Regina, Saskatchewan
HAGUE, Harold - was born in Earl Grey, SK and grew up in Regina. He signed up for the active service in the Royal Canadian Navy after high school and served during the Battle of the Atlantic and on D-Day. Following WW2, Harold joined the staff at Loggie's Shoes where he became a partner in 1966 and owner in 1978. Instrumental in the development of Regina's downtown, Harold was a founder of the Regina Downtown Business Improvement District (RDBID) in 1981. He also played a leading role in the establishment of the Douglas Park Track and Field facility and the YWCA. Harold's volunteerism included serving on the boards of the Chamber of Commerce, the Canadian Cancer Society, the Queen City Kinsmen as well as serving as President/Chair of the Family Service Bureau, Wascana Winter Club, Regina Exhibition Association, RDBID, The Royal Canadian Legion Regina Branch 001and the Saskatchewan Command and Corps of Commissionaires. He also co-produced the Remembrance Day Service at the Brandt Centre for many years. Recognized for his service to the community and country, Harold received the Legion's Meritorious Medal, the Commissionaire's Distinguished Service Medal, the Ministry of Veterans Affairs Commendation Award, the Caring Canadian Award, the Lieutenant Governor's Military Service Medal, the Chamber of Commerce Paragon award for lifetime achievement and the highest honour from France, the rank of Knight of the National Order of Legion. Harold was predeceased by his parents, Albert and Gladys Hague. He is survived by his wife Jan; his children Kelly, Colleen and Maureen; Jan's children Marina, Dana, Marc and Andre; and numerous grandchildren. Harold will be remembered for his kindness, generosity, friendship and service in our community. There will be no service at this time due to COVID-19. Any donations could be made in Harold's name to the Royal Canadian Legion Regina Branch 001, 1820 Cornwall Street, Regina, SK S4P 2K2.
A Sailor Died Today
He won't be mourned by many,
Just a few who knew him well,
For his war has long been over,
Though its tales are left to tell.
He had a job and raised a family,
Going his quiet way…
And the world won't note his passing,
Though a sailor died today.
If we cannot do him honour,
While he's here to hear the praise,
Then at least let's give homage,
At the end of his days.
Perhaps just a tiny headline,
Just a simple note to say,
Our hearts are filled with Sadness
For a sailor died today.
Ships served in: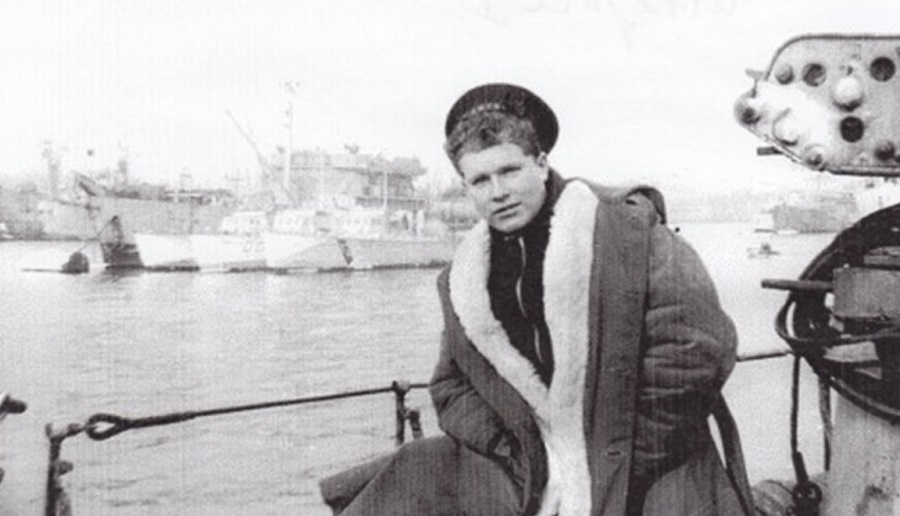 Harold Hague at St John's, Newfoundland. HMCS PRESERVER F94, a Fairmile motor launch support ship, in the background with Fairmiles alongside her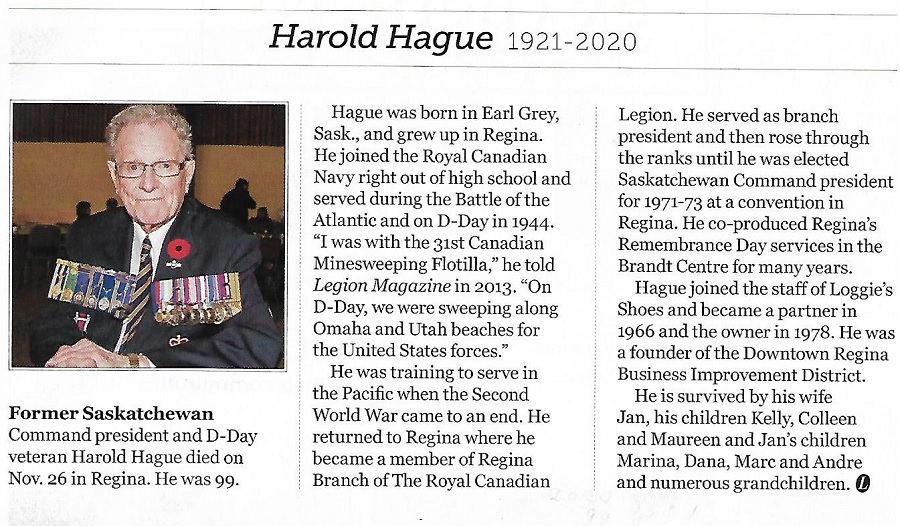 ---