In memory of those who have Crossed the Bar
George Frederick Kinch

Able Seaman, Torpedoman (Second World War)

Chief Petty Officer 2nd Class

Physical Training and Recreational Instructor, 4003-E, RCN

Born: 25 Jul 1923, Esquimalt, British Columbia

Died: 13 Dec 2020, Victoria, British Columbia
KINCH, George Frederick - With great sadness we announce the passing of George - husband, dad and grandpa, who, at 97, passed away peacefully in his sleep.
Married for 71 years, George is survived by his loving wife, Bette, daughters Judy (Louis, deceased) Erdman, Debbie (Gerhard) Mueller, and beloved grandson, Ryan. George also leaves behind several nieces and his dear friend, Doug Popejoy, who brought much happiness to his life.
George was born in Esquimalt to George and Ellen Kinch, and grew up with his 3 sisters who predeceased him: Margery (Scanlon), Ruth (Power), and Jean (Foyer). Throughout his life, George enjoyed many sports, especially softball, and was known to be a talented pitcher. He contributed his skills to many teams over the years, and became an avid golfer in retirement.
Following in the footsteps of his father and grandfather, George joined the Navy on November 18th 1940 as a Boy Seaman. He trained at HMCS NADEN became a PT instructor and CPO serving on several ships. In 1960, following 20 years of naval service, George then worked at the Armed Services Centre on Broad Street. In 1967 he became a Driver's Examiner and entertained his friends and family with many stories.
We want to thank our "Broadmead Family", the staff of A3. We entrusted you with our precious George, and your love, care and patience over the past 17 years has been exceptional. Words cannot express our gratitude.
George, Dad, Grandpa - we love you and we miss you. XOXO (Victoria Times Colonist 18 Dec 2020)
Ships served in:
---
Article from the Crowsnest Magazine on George Kinch and his family's naval history
Click on the pages below to view larger images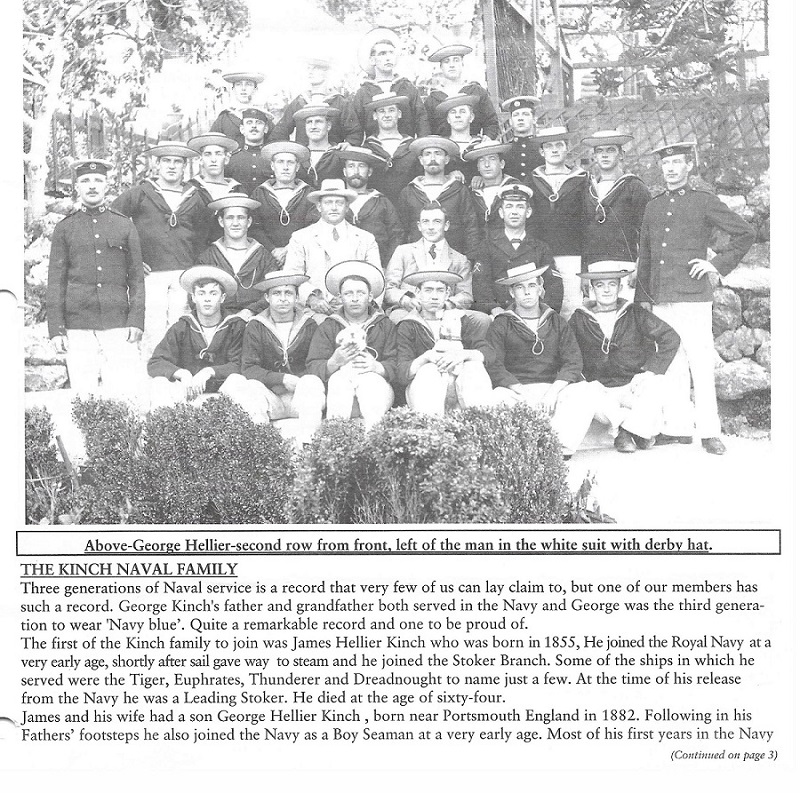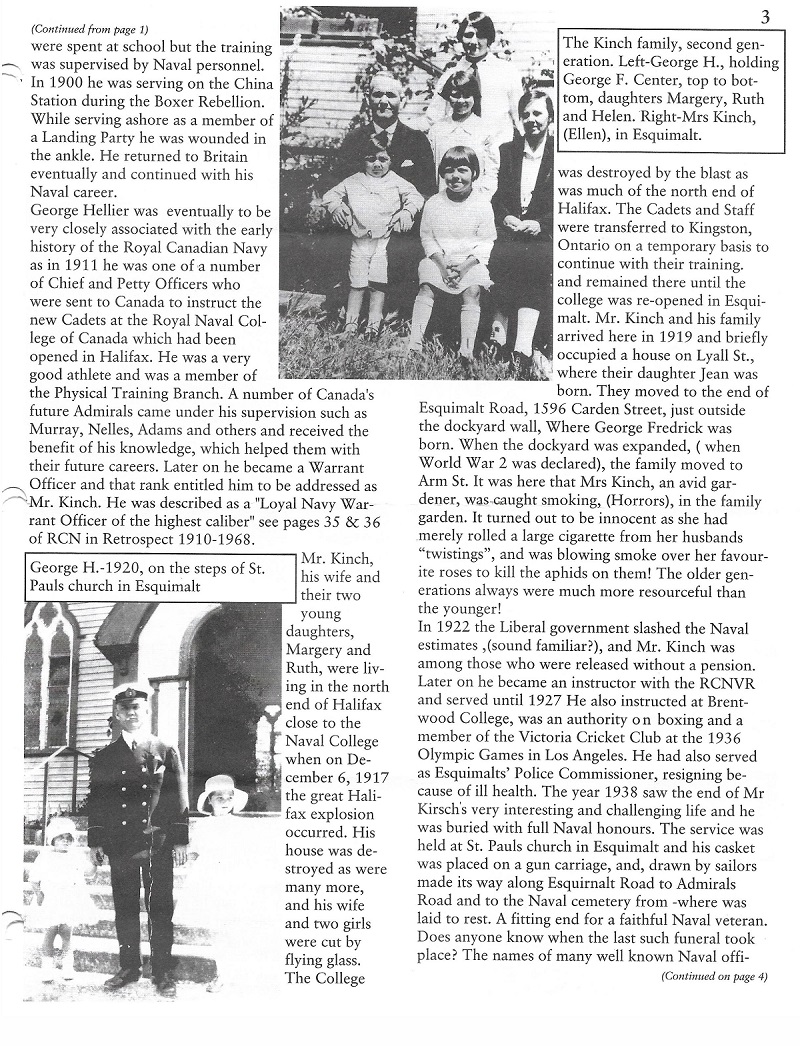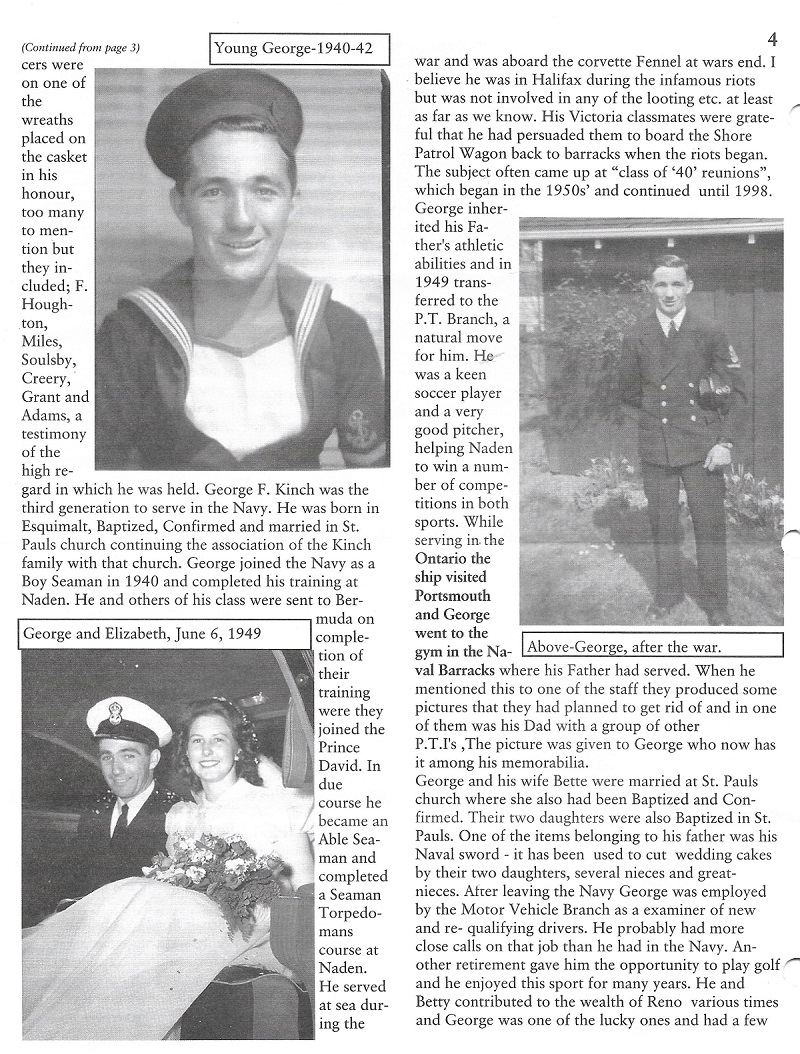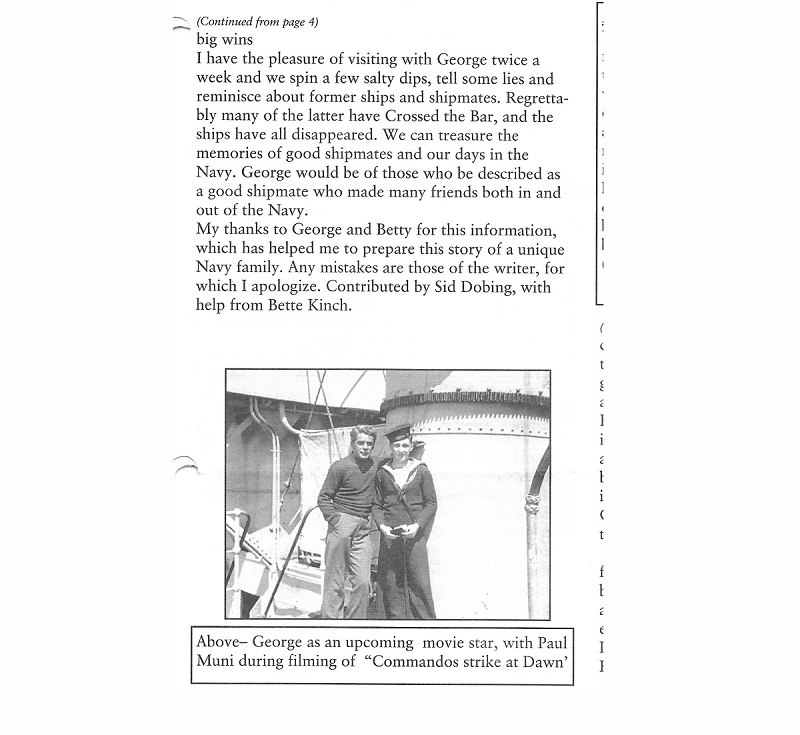 ---