They made the Ultimate Sacrifice
Joseph Frederic Andre Blais

Leading Seaman Anti-Aircraft Rate 3rd Class, V4777, RCNVR

Born: 12 Jun 1924, Montreal, Quebec

Died: 25 Oct 1944 at sea

Book of Remembrance
BLAIS, Joseph Frederic Andre, LS, V4777, RCNVR, MPK - 25 Oct 1944, HMCS SKEENA - Son of Aime and Stella Blais, of Montreal, QC.
Leading Seaman Andre J. F. Blais, age 20, R.C.N.V.R., son of Mr. and Mrs. Aime Blais, 4062 Lafontaine, Montréal, Québec, was reported to have lost his life at sea during operations by a well-known Canadian warship. He had served on the same ship for 25 months, having joined the naval service in 1942. Leading Seaman Blais attended Oiler School, and was on the office staff of the Gurney Foundry when he enlisted. Besides his parents, he is survived by two brothers LS Marcel Blais, R.C.N.V.R. with four years' service and LAC Gilles Blais, three years in the R.C.A.F. A memorial service will be held in St. Jean Baptiste Church, at 9 a.m.
LS Blais died when HMCS SKEENA was wrecked during a storm at Videy, Iceland. His body was not recovered.
LS Blais' brother Marcel Blais served in the RCNVR and his brother Gilles Blais served in the RCAF during the Second World War.
Ships served in:
HMCS CARTIER - Enlisted 09 Mar 1942 as a VS, RCNVR. Commenced Active Service 23 Mar 1942
HMCS ST HYACINTHE - Drafted to ST HYACINTHE 30 Jul 1942 as an OSVS for training.
* Transferred to Seaman Branch 07 Oct 1942
HMCS CORNWALLIS - Drafted to CORNWALLIS 14 Oct 1942 for training as an OS, RCNVR
* Rated AA III 03 Nov 1943
HMCS STADACONA - Drafted to STADACONA 14 Dec 1942 as an OS AA III, RCNVR
HMCS SKEENA - Drafted to SKEENA 21 Jan 1943 as an OS AA III, RCNVR. Rated A/AB 23 Mar 1943. Rated A/LS 15 Apr 1944
(AB01-AB03) Certificate of Service - pages 1 -3
(AB04-AB05) Letters to LS Blais' mother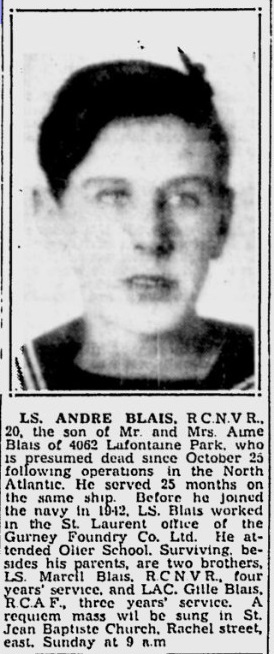 (AB06) Article on the death of LS Andre Blais, RCNVR
---
Second World War Casualty Index