They made the Ultimate Sacrifice
Joseph Neil Johnston

Able Seaman Submarine Detector, V44249, RCNVR

Born: 14 Feb 1922, Rivers, Manitoba

Died: 25 Oct 1944 at sea

Book of Remembrance
JOHNSTON, Joseph Neil, AB, V44249, RCNVR, died - 25 Oct 1944, HMCS SKEENA - Son of Mr. and Mrs. J.N. Johnston, Transcona, MB; husband of Mrs. J.N. Johnston, Winnipeg, MB.
Able Seaman Joseph Neil Johnston son of Mr. and Mrs. J. S. Johnston, 140 Rosseau avenue, Transcona, who has been officially reported to have drowned while on active service, according to information received by his wife, Mrs. J. N. Johnston, 191 Ethelbert street, Winnipeg. This was his second time overseas, and he took part in the invasion of France. He is also survived by a sister, Nora, and a brother, Lawrence, at home and two brothers, William and James, in the R.C.A.F. overseas. He received his education in Transcona, and prior to enlistment was employed in the C.N.R. shops at Transcona.
AB Johnston drowned while trying to get a safety line ashore so that the remaining crew could be safely removed from SKEENA. His body later recovered near Reykjavik Harbour. He is buried in the Fossvogur Cemetery, Reykjavik, Iceland.
Ships served in:
HMCS CHIPPAWA - Enlisted 28 Jul 1942. Commenced Active Service 02 Aug 1942
HMCS NADEN - Drafted to NADEN 27 Sep 1942 as an OS, RCNVR
* Rated SD 23 Jan 1943
HMCS STADACONA - Drafted to STADACONA 27 Jan 1943 as an OS, RCNVR
HMCS NIOBE - Drafted to NIOBE 21 Mar 1943 as an OS, RCNVR
* Rated AB 02 Aug 1943
HMCS SKEENA - Drafted to SKEENA 05 Sep 1943 as an AB, RCNVR
(JJ01) Joseph Johnston
(JJ02-JJ03) Certificate of Service - pages 1 and 2
(JJ04) Casualty report
(JJ05) Letter to AB Johnston's wife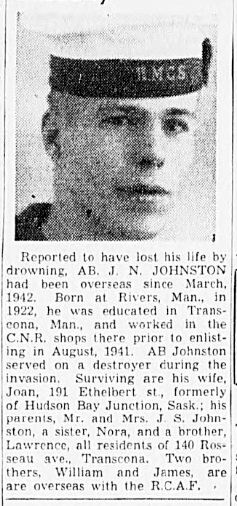 ---
Second World War Casualty Index