They made the Ultimate Sacrifice
Robert David Jamieson

Ordinary Seaman, V6370, RCNVR

Leading Seaman, 3838, RCN

Born: 02 Feb 1922, Montreal, Quebec

Died: 10 Feb 1942 at sea

Book of Remembrance
JAMIESON, Robert David, LS, 3838, RCN, MPK - 10 Feb 1942, HMCS SPIKENARD - Son of Robert James and Rose Jamieson, Westboro, Ontario.
LS Jamieson enlisted in the RCNVR on 07 Mar 1939 and commenced Active Service 02 Feb 1940. He transferred to the RCN on 25 Jun 1940.
LS Jamieson died when his ship, HMCS SPIKENARD, was torpedoed and sunk by U-136, about 465 nautical miles west of Malin Head, Ireland while escorting convoy SC-67. Of her crew of 65, there were only 8 survivors.
Ships served in:
OTTAWA DIVISION RCNVR - Enlisted 07 Mar 1939
HMCS STADACONA - Served in STADACONA 24 Jun 1949 - 23 Jul 1939 for training as an OS, RCNVR
HMCS GASPE - Served in GASPE 11-12 Jul 1939 for training while at STADACONA
HMCS SAGUENAY - Served in SAGUENAY 12-22 Jul 1939 for training while at STADACONA
OTTAWA DIVISION RCNVR - Commenced Active Service 19 Nov 1939
HMCS STADACONA - Drafted to STADACONA 01 Jun 1940 as an OS, RCNVR
* Discharged 24 Jun 1940
* Transferred to the RCN
HMCS STADACONA - Drafted to STADACONA 25 Jun 1940 as an OS, RCN
* Rated QR III 10 Aug 1940
HMS RANPURA - Drafted to RANPURA 06 Sep 1940 as an OS, RCN
HMCS STADACONA - Drafted to STADACONA 24 Sep 1940 as an OS, RCN
HMCS ST CROIX - Drafted to ST CROIX 26 Sep 1940 as an OS, RCN
* Rated A/AB 23 Oct 1940
HMCS STADACONA - Drafted to STADACONA 13 Mar 1941 as an AB, RCN
* Rated AB 07 Jan 1941
HMCS NOOTKA - Drafted to NOOTKA 20 Mar 1941 as an AB, RCN
HMCS STADACONA - Drafted to STADACONA 04 Apr 1941 as an AB, RCN
* Rated QR II 14 Jun 1941
HMCS SPIKENARD - Drafted to SPIKENARD 04 Jul 1941 as an AB, RCN
* Rated A/LS 01 Aug 1941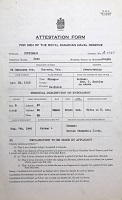 Documents from the Service File of Robert Jamieson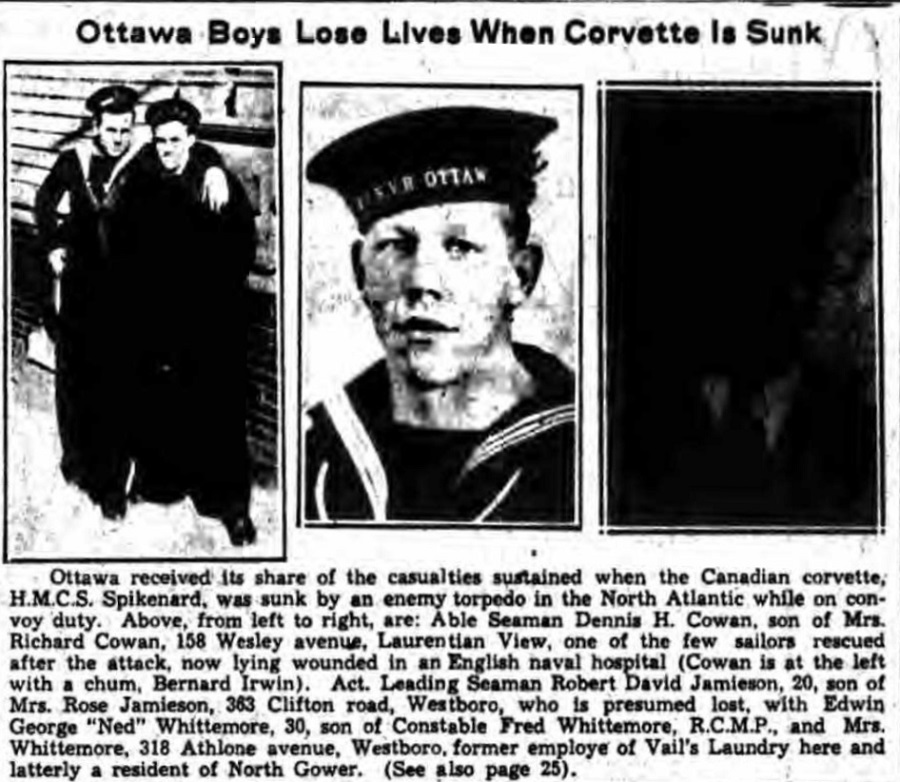 ---
Second World War Casualty Index