In memory of those who have Crossed the Bar
McCORMICK, Peter Kenneth - Surrounded by family, as Johnny Cash played, (Retired CPO2) Peter Kenneth McCormick of Irondale, comfortably passed away at Highland Wood on Friday, June 23, 2017 in his 72nd year.
Peter was born in Medicine Hat, Alberta on March 19, 1946 to Ken and Ann McCormick. He was the adored older brother of Susan, Sheila, Debbie, Jeanette and Alison. He was their protector and hero. When he was 17 he joined the Navy and proudly served his country for nearly 30 years. He was a Prairie kid sailing the Seven Seas. At 45 he suffered a sudden and debilitating illness. Despite losing most of his memories and abilities, he never lost his sense of humour and always wanted to make people laugh. He found enjoyment in his family, his books, country music, The Far Side comics and assassinating dandelions.
His became a difficult life. But he had the unending love and support of his dedicated wife Donna who cared for him daily for 25 years. He walked his only child Jennifer down the aisle to see her marry a good man and have a beautiful family. He held both grandbabies, Avery and Justin, and watched them grow and played games with them right up until the end. To them he was the best Grampa in the world! He had a best friend in Graham Shaw, who was there daily during his first illness in Victoria, BC.
He was admired and respected by those he sailed with and was chosen to play King Neptune in the Navy's traditional Crossing the Line ceremony. Pete was described by his nephew Jono as "a great man that all of his family were proud of and respected. A character of rarity in these modern times!" And remembered by his niece Terry, as always kicking ass at Trivial Pursuit.
Despite poor health that impacted his quality of life by most standards, he was still called "a lucky man" because he had the love and time of his family who saw him daily.
He was respected. He was admired. He was loved. He will always be loved. And by those standards, his was a good life!
With one final salute, Donna, Jennifer, Brian, "Angel Girl" Avery and one last kiss from Justin.
Peter's family would like to thank Dr. Conway and the staff at Acute Care and Highland Wood that cared for him, as well as the private PSW's who helped care for him daily. For everyone who showed Peter kindness and compassion and who helped us in any way this past year, we thank you.
It was Peter's wish for cremation and Private Family Arrangements.
Memorial Donations to The Royal Canadian Sea Cadets/Edmonton Branch, In care of The Navy League of Canada, Suite 201, 1505 Laperriere Ave, Ottawa, Ontario K1Z 7T1 would be appreciated by the family
---
Crossing the Bar by Alfred, Lord Tennyson
Sunset and evening star
And one clear call for me!
And may there be no moaning of the bar,
When I put out to sea.
But such a tide as moving seems asleep,
Too full for sound and foam,
When that which drew from out the Boundless deep
Turns again home.
Twilight and evening bell,
And after that the dark!
And may there be no sadness of farewell,
When I embark;
For though from out our bourne of Time and Place
The flood may bear me far,
I hope to see my Pilot face to face
When I have crossed the bar.
---
Ships served in:
HMCS NONSUCH - Enlisted 11 Sep 1963
HMCS CORNWALLIS - Served in CORNWALLIS Sep 1963 - Jan 1964 for New Entry training
HMCS SKEENA - Served in SKEENA Jan 1964 - May 1964
HMCS FRASER - Served in FRASER May 1964 - Dec 1964
HMCS STETTLER - Served in STETTLER Dec 19654 - May 1966
HMCS NEW GLASGOW - Served in NEW GLASGOW May 1966 - June 1966
CRESCENT Group (HMCS ALGONQUIN / HMCS BEACON HILL) - Jan 1967 - Nov 1967
HMCS ST CROIX - Served in ST CROIX Jan 1968 - Dec 1970
HMCS GRIFFON - Served in GRIFFON Jan 1971 - Jun 1974
HMCS TERRA NOVA - Served in TERRA NOVA Jun 1974 - Jan 1976
HMCS MACKENZIE - Served in MACKENZIE May 1985 - Jul 1988
HMCS PROVIDER - Served in PROVIDER Jan 1990 - Dec 1991
HMCS QU'APPELLE -Served in QU'APPELLE Dec 1991 - Jan 1992
(PMc01) HMC Dockyard, Esquimalt (PMc02) HMCS GATINEAU H61 (PMc03) HMCS FORT ERIE - 1949 (PMc04) FORT FRANCIS at the gun wharf in Dartmouth, NS 08 Sep 1949. HMCS FORT FRANCIS was paid off and transferred to the Department of Mines and Technical Surveys in 1948 (PMc05) HMCS ANTIGONISH 301 transiting the Panama Canal
(PMc06) HMCS CAPE BRETON 100 in Esquimalt 02 Jan 1960 (PMc07) HMCS CLAYOQUOT J174 in the Halifax approaches 09 Jul 1941 (PMc08) HMCS HURON 216 (PMc09) HMCS MICMAC 214 - 20 Dec 1962 (PMc10) HMCS MICMAC - 1945
(PMc11) HMCS MIRAMICHI 163 (PMc012) HMCS OUTREMONT 310 (PMc13) HMCS RESTIGOUCHE 257 (PMc14) HMCS SASKATOON K158 (PMc15) HMCS WALLACEBURG 172
(PMc16) HMCS STETTLER 311 (PMc17) HMCS ALGONQUIN 224 (PMc18) HMCS MACKENZIE 261 crew list 11 Jul 1987 (PMc19-PMc20) HMCS OJIBWA
(PMc21) HMCS TERRA NOVA 259 alongside with HMCS ARK ROYAL R07 sailing past in the harbour (PMc22) 50TH Anniversary of the RCN collage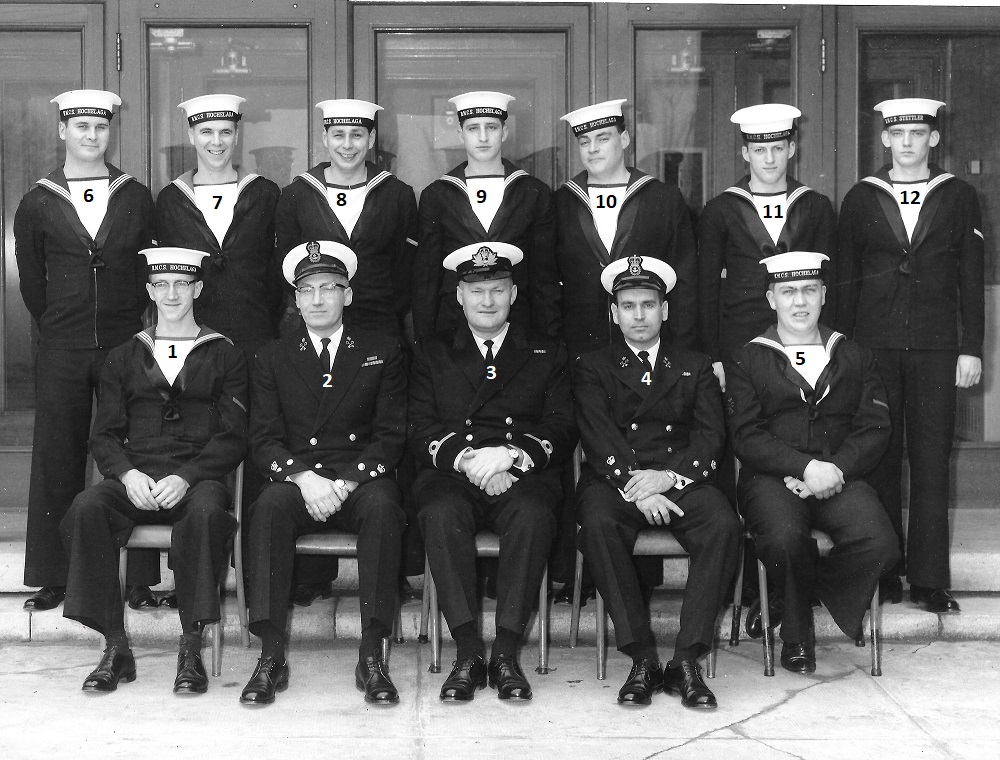 (PMc23) Ship's Storesman Course
HMCS HOCHELAGA
Montreal, QC
---