They made the Ultimate Sacrifice
Joseph Cannon Dwyer

Lieutenant, O-21430, RCNVR

Born: 16 Jan 1907, Toronto, Ontario

Died: 26 Sep 1942 at sea

Book of Remembrance
DWYER, Joseph Cannon, Lt, RCNVR, MPK - 26 Sep 1942, HMS VETERAN / HMCS IROQUOIS - Son of Patrick Joseph and Celia C. Dwyer, of Toronto, ON.
Lt Dwyer has been appointed to HMCS IROQUOIS which was under construction in the UK. He was taking passage on HMS VETERAN which was escorting convoy RB-1 from St John's, Newfoundland to Liverpool, England. On 26 Sep 1942, VETERAN came across survivors of the SS New York. After picking up survivors, she was hit by two torpedoes from U-404, and sank with all hands.
Lieutenant Joseph Cannon Dwyer, RCNVR was a former sports editor of the Edmonton Journal and well-known in sports circles throughout Canada, is missing and believed killed in action according to word received by his father, P. J. Dwyer, Kingston Road. He was a native of Toronto and educated at St. Cecilia's School and De La Salle. After graduation he went to Oshawa Times and later moved west where he was with the Regina Leader-Post and the Edmonton Journal. He was appointed sports editor of the Journal in 1928. Early in 1941 he enlisted in the R.C.N.V.R. For some time he was engaged as examination officer for ships entering eastern ports, later being posted overseas for a six week tour of observation in the British Isles. He was then posted to another Canadian port as examination officer. He had been back on duty only three weeks when his father received notification of his missing status. Lieutenant Dwyer has one brother, Flight Lieut. Rev. Paul M. Dwyer, Roman Catholic chaplain at the R.C.A.F. training base at Calgary; and five sisters, Mrs. Cecile Annette, Isabelle, Ethel and Rita, all of Toronto and Sister M. Gratia of Stratford Loretto community.
Joseph's sister, Lt Rita K. Dwyer served in the WRCNS during the Second World War and the RCN post-war
Joseph's brother, Ray Michael Dwyer was killed in action during the First World War
Ships served in:
RCNVR DIVISION EDMONTON - Enlisted 07 Oct 1940. Commenced Active Service 07 Jan 1941
HMCS STADACONA - Appointed to STADACONA 12 Jan 1941 "for travelling time"
HMCS STADACONA - Appointed to STADACONA 16 Jan 1941 as a Lt, RCNVR "for training and disposal"
HMCS STADACONA - Appointed to STADACONA, NCS HALIFAX 15 May 1941 as a Lt, RCNVR
HMCS PROTECTOR II - Appointed to PROTECTOR II, NCSO SYDNEY 15 May 1942.
HMCS STADACONA - Appointed to STADACONA 20 May 1942 for leave and passage to the UK
HMCS NIOBE - Appointed to NIOBE for HMCS IROQUOIS 01 Oct 1942
HMCS IROQUOIS - Died 6 Sep 1942 while taking passage to the UK for appointment to IROQUOIS aboard HMS VETERAN
(JD01-JD02) Record of Service (JD03) Report of Death (JD04) Letter to Lt Dwyer's sister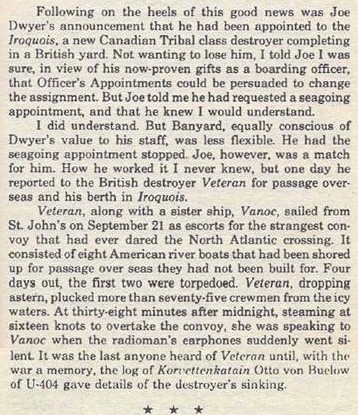 Except from "In all Respects Ready" by Cdr Frederick B. Watt pg 173-174
---
Second World War Casualty Index