In memory of those who have Crossed the Bar
Paul-Andre Bernard

Chief Petty Officer 2nd Class

Torpedo Anti-Submarine / Weapons Underwater, 6772-E

RCN / C.A.F.

Born: 18 Mar 1929, Debden, Saskatchewan

Died: 18 Jan 2021, Westbank, British Columbia
BERNARD, Paul-Andre - We are sad to announce the passing of Paul but rejoice at his life well lived. Paul was born in Debden, Sask. passed away in Westbank, B.C. He was the fifth child in a family that grew to ten. Life was not easy for the Bernard family, but the hardships instilled in Paul the meaning of hard work, perseverance, and honesty. He always told the story of what his father told him early on, "Whatever you do in life, do it to the best of your ability. Your name and reputation is on whatever you do and it will follow you the rest of your life".
Circumstances dictated that the Bernard family had to leave the farm and move to Prince Albert, Sask. in mid-1930. Paul joined the Royal Canadian Navy on July 18, 1947. The Navy was Paul and Paul was the Navy. He served in the Korean campaign aboard HMCS Crusader. He served proudly and honorably for 25 years, retiring in 1972. The Navy taught Paul so many things. There wasn't much he couldn't accomplish when he put his hands to it. He always said our Mother should have called him "Paul Modifieure" as he was always modifying thing because he thought there was a better way.
Paul then joined BC Ferries and stayed there for almost twenty years. He worked mainly on the Queen of the North and Queen of Prince Rupert. On a memory trip to Korea he met up with Esther Mills, another passenger on the trip. Love at first sight? Not sure, but they were married 22 October 1988. Esther was the best thing that ever happened to him according to his own words. Sadly Esther passed away in 2013. He never stopped talking about her or showing anyone, anywhere, her picture that he always carried in his wallet.
Paul had started losing his eyesight prior to Esther's passing but this did not slow him down. He stayed in the house by himself and persevered. He amazed his neighbors by all the things they saw him do though he has limited visibility.
He was predeceased by his parents, Ernest and Rose-Alma (Jean) Bernard. His brothers, Joseph (in infancy), Francis (WW2), Delphis (Pearl), Jean-Marie (Betty), Emery (Dolores).His sisters, Lucie, Bernadette (Gerard) Grenier, Esther Pilon. He is survived and truly missed by his daughter Leanne, and her three boys, Bruce, Nathan, and Lucas and great granddaughters Jamie and Nevaeh. Estranged sons Gene and Richard. Brother, Rosaire (Darlene) Bernard, brother-in-law Louis Pilon, step-son Regan (Evie) Mills, step-daughter Ronda (Jim) Williams. Many, many nieces and nephews.
No service at this time but perhaps later in the summer due to Covid- 19 restrictions. No flowers please. If you wish, donations to a charity of your choice in Paul's name or to Lady of Lourdes church in Westbank, B.C.
Ships served in:
HMCS CRUSADER - Served in CRUSADER during her 1952-1953 Korean War tour as an LSTD1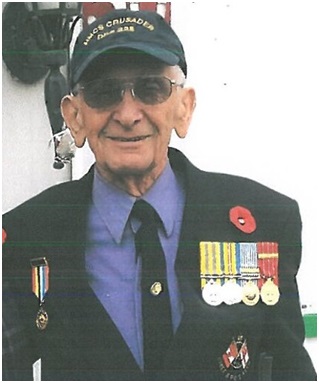 ---