In memory of those who have Crossed the Bar
MacLAUCHLAN, John Seeton, Tel, V5423, RCNVR, died 25 Aug 1943, HMCS HOCHELAGA II - Son of John H. W. MacLauchlan and Meta L. MacLauchlan, of Westmount, QC. Tel MacLauchlan is buried in the Methodist Cemetery, Woodstock, NB.
Medals awarded: 1939-45 Star, Atlantic Star, Africa Star & Clasp, C.V.S.M. & Clasp, War Medal.
John's brother Grant MacLauchlan also served in the RCNVR. His two sisters Margaret MacLauchlan and Elizabeth MacLauchlan served in the WRCNS
Ships served in:
MONTREAL DIVISION RCNVR - Enlisted 22 Nov 1937. Commenced Active Service 07 Sep 1939
HMCS STADACONA - Served in STADACONA 07 Sep 1939 - 30 Nov 1939 as an O/Tel, RCNVR
NCSO SAINT JOHN (HMCS CAPTOR II) - Served at NCSO SAINT JOHN - 01 Dec 1939 - 27 May 1941 as an O/Tel, RCNVR
HMS PARRSBORO - Served in PARRSBORO 20 Nov 1941 - 22 Dec 1941 as a Tel, RCNVR
HMCS CHARLOTTETOWN - Served in CHARLOTTETOWN 23 Dec 1941 - 10 Jun 1942
HMCS ALBERNI - Served in ALBERNI 01 Aug 1942 - 11 Aug 1943 *
* Tel MacLauchlan served in ALBERNI until 15 Dec 1942 when he was transferred ashore to a hospital in Algiers after becoming ill. He remained there until 04 Feb 1943 when he was transferred to a hospital in England. During his time in hospital he remained as part of ALBERNI'S crew until his transfer to Ste Anne Hospital, Saint Anne de Bellevue, Quebec, having returned on the hospital ship Lady Nelson. On arrival at hospital in Quebec he was placed on strength at HMCS HOCHELAGA II on 12 Aug 1943. He died on 23 Aug 1943 from Tuberculosis.
(JM10) John MacLauchlan (JM02) Obituary for John MacLauchlan (JM03) Headstone for Tel John S. MacLauchlan, RCNVR
(JM04-JM11) two Certificates of Service for John MacLauchlan. The 1st one - JM04-JM07, appears to be a corrected copy of the following ones. (JM12) Report of Death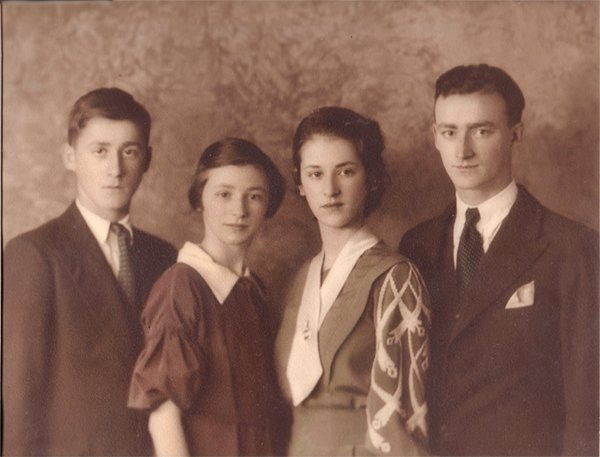 (JM12) Grant, Margaret, Elizabeth, and John MacLauchlin. All served their country in the Royal Canadian Navy
---