In memory of those who have Crossed the Bar
Horace Walter Edwin (Swanee) Swonnell

Telegraphist, RCNVR

Chief Petty Officer, Radio Technician, RCN

Born: 19 Apr 1912, Winnipeg, Manitoba

Died: 14 Nov 2000, Victoria, British Columbia
SWONNELL, Horace Walter Edwin - passed away peacefully November 14, 2000 at Victoria General. Horace was born April 19, 1912 in Winnipeg, Man. and was raised in Sturgeon Creek/St. James. He joined Drum and Fife Band in 1930 in the naval reserves, the 2nd Motors Machine Gun Corps in 1931, and formed his own Astorians, band group in 1934. Horace worked for Eatons Mail Order 1928-38. He was an amateur Ham radio operator 1936 (VE4 AFD). "Swanee" served in the Second World War as a telegrapher on both coasts and on the corvette HMCS QUESNEL. He re-enlisted in the Navy (radio communications) until 1962 retiring as CPO. During that time he did shore work on both coasts (Naden, Matsqui to Newport Corner, Stadacona), as well as sea trips on HMCS ONTARIO, CAYUGA, ATHABASKAN and SAGUENAY. He then worked for Yarrows, V.M.D., and Dockyard as a marine wireman until he retired in 1976. Predeceased by his wife Beth in 1998; his sister Phylis (Jack) Pattie; step brother Walter (Irene) Wiggin; step sisters, Hilda (Reg) Bamford, Dorothy (Bev) Simpson, Gladys (Jerry) Tweedie. He is survived by his brothers, Frank (Vi) and Ed (Ann) son Dennis (Wendy) daughter Darlene (Alan Penner) grandchildren, Lori-Anne, Jennifer (George) White and Steve and great-granddaughters, Belle and Emerald. A memorial service will be held at 11:00 a.m., Saturday, November 18 at Sands Funeral Chapel, 1803 Quadra St., Victoria, B.C. In lieu of flowers, please make a donation to the charity of your choice.
Ships served in: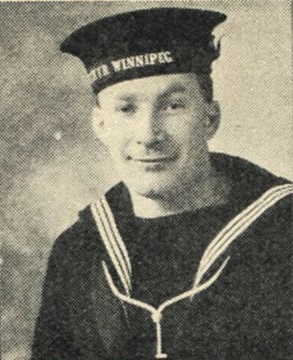 Photo of Horace Swonnell
Source: T. Eatons Co. Ltd Newsletter "Contact"
Vol. 12 No. 5 dated 31 Dec 1940
For Winnipeg and Western Branches
(Winnipeg Branch)
---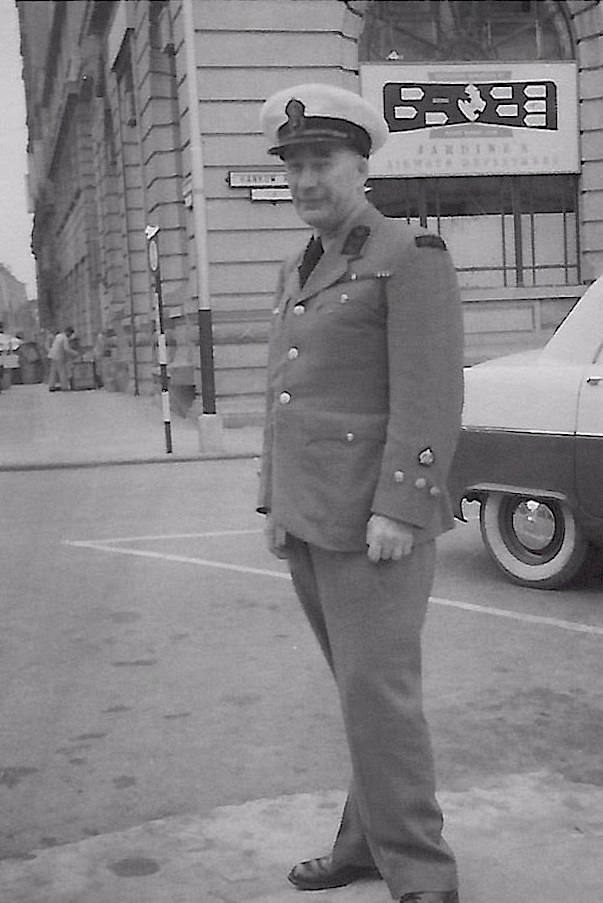 C1RT4 Horace Swonnell, Kowloon, 1960
---