In memory of those who have Crossed the Bar
Victor W.S. Chan, C.D., KStG

Sonarman, Hull Tech, RCN

Constructor Lieutenant-Commander, RCN / C.A.F.

Died: 18 Mar 2021
CHAN, Victor W.S. - On 18 March 2021, Victor W.S. Chan passed from this world into the next. He was proud member of RCL Barrhaven Branch 641, who served on the Branch Executive in various capacities including 2nd Vice President, Veterans Service Officer, Leadership and Development Officer, (interim) Bar Manager, and a short stint as Community Liaison.
He is best known for his years as the VSO at Br 641, especially when looking for volunteers for the annual Christmas gift distribution at seniorsí homes and when it was the Branchís rotation to help with Bingo and Pub Nights at the Perley. As well, he was well known and respected by many Comrades as the Zone G5 Veterans Service Officer. Over the years Victor was a regular contributor to the Branch newsletter, The Advance, as well as providing information posted to the Branch website or emailed to the membership, including pieces on the Kandahar Cenotaph / Afghanistan memorial after it was opened to the public in August 2019, the downing of HMCS FREDERICTON'S Cyclone Helicopter when it crashed into the Ionian Sea off the Greek coast on 29 April 2020 just days before Battle of the Atlantic Sunday and VE Day in May, the Branchís 15thAnniversary of its Charter signing on 22 April 2005, the importance of recognizing volunteers not just during Aprilís Volunteer Appreciation Week but year round, and environmental and conservation pieces that came up with Earth Day observances. Victor was most grateful for the positive comments he received during the month long changing display he, with his wife, researched and set up on the pool table in Branch 641 during August 2020 in remembrance and and honour of various days significant to Canadaís military history occurring in August, regardless of the year. It allowed our military, constabulary and civilian peacekeepers and family members of military and veterans of WW2 to come together, share a few stories, and honour the event or family members who lived it. One of the few things Victor regretted was not being able to complete a longer article he and his wife were still researching for the 100 Year Anniversary of the Poppy taking place this year. One of his concerns was that we were slowly loosing our Living Memory of events such as WW2, Korea, and Canadaís early peacekeeping responsibilities with the passing and loss of our older veterans. He felt veteransí stories needed to be heard from those who lived the events, and honoured by those given the privilege to hear them out.
Above all, Victor Chan was and will always be a proud sailor commissioned from the ranks serving 35 years in the Canadian Armed Forces / Royal Canadian Navy, a staunch advocate for veterans and their families through the RCL and the Order of St George, someone who loved the outdoors, fishing and animals, someone who lived his life with as much dignity, integrity and grace as he could under good circumstances as well as trying ones even if his position was not the popular one. While not a saint, Victor, the man, tried to treat all of Godís beings with kindness and with respect.
Victor did not want to burden anyone with his problems - he wanted to maintain his privacy during his time in hospital, first in the Cardiac Ward and then in ICU. His concern in ICU was for the doctors and nursing staff who took care of him until the end, often asking in his last two day how they were holding up.
With his passing, he would want those who cared about him, not to mourn his death, but to celebrate his life and what he and the uniform he proudly wore stood for, and to remember the strength and honour of those who serve and served in Canadaís military and RCMP on our behalf.
Victor W.S. Chan will be remembered in the hearts and souls of those he held dear.
Respectfully, Victorís wife, Laura
Ships served in:
HMCS PROVIDER - Served in PROVIDER as LCO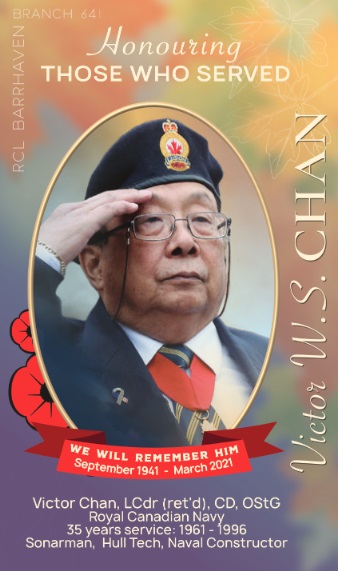 ---