Service information for:
Charles P. (Chuck) O'Dale

Radioman Special, RCN / C.A.F.

Chief Petty Officer 2nd Class, Boatswain, C.A.F. (Nav Res)
Chuck served in the RCN from 1964-1970. After his time in the RCN, Chuck served in the C.A.F. (Naval Reserve) while working at Nortel for 33 years as an Electronic Technologist.
Ships served in:
As a Sea Cadet:
RCN:
HMCS CORNWALLIS - TERRA NOVA DIV 1/64
CFS ALERT
Reserve:
HMS HUMBER
USS SHREVEPORT
Various RCN Reserve Training Vessels
(CH01) OS-RSS O'Dale, just turned 18, out of basic training (Terra Nova 1/64) (CH02) Weapons familiarization during basic training HMCS Cornwallis - 1964 (CH03-CH04) Morning Divisions, HMCS Cornwallis Parade Square where my "star studded career" began in 1964. WHAT A RIDE!!!! The next image in this album is the same spot, 50 years later - at HMCS ACADIA (CH05) CPO.BN Chuck O'Dale after serving 30 years in the regular and reserve navy, and still experiencing a ride of a lifetime.
(CH06) Welcome to Alert (CH07) Chuck O'Dale at CFS ALERT - age 19 (CH08) Moon-rise between Crystal Mountain and Mount Pullen, Alert NWT 1970 (CH09) CH ALERT shift - 1965: Standing L-R: Sam Simard, Frank Palmer-Stone, Hal Fraize, Chuck O'Dale, Andre Bureau, Bob Tone, Lynn Parry, Herb Coutour, Dave Bester, Dave Christmas, Dan Risebrough, Don Boden, Wilf Lynch, UNID. Sitting L-R - John Burke, Bob Hamilton, Frank Paulin, George Barkhouse, Doug Parker (CH10) 50 years later - George Barkhouse, Sam Simard and Chuck O'Dale
(CH11) A good landing is one in which everyone can walk away from the aircraft, this was a GOOD landing. Unfortunately, it was not an excellent landing as the aircraft was not re-usable. October 1952 - DC4 - USAF - Chuck O'Dale standing beside the aircraft remnants, Alert, Nunavut (CH12) On 31st July 1950 a RCAF Lancaster crashed due to a parachute entanglement during a supply drop. All nine crew perished and are buried at the northern approach of the Alert airport. Rest in peace gentlemen (CH13) Alert power house fire, summer 1965. Ops generator delivered by Herc within hours!
(CH14) Chuck O'Dale on the USS Shreveport, "somewhere", doing "nothing in particular", during "one period of time - or another" (CH15) Inuvik "in the good 0old days -spring 1966" where I was posted in the 1960's with the navy communications research branch (CH16) CPO Chuck O'Dale posted to the HMCS ORIOLE. The ship does not have a "Radio 4", so my duty was helmsman. Here I am playing the luff of the spinnaker with helm movements.
---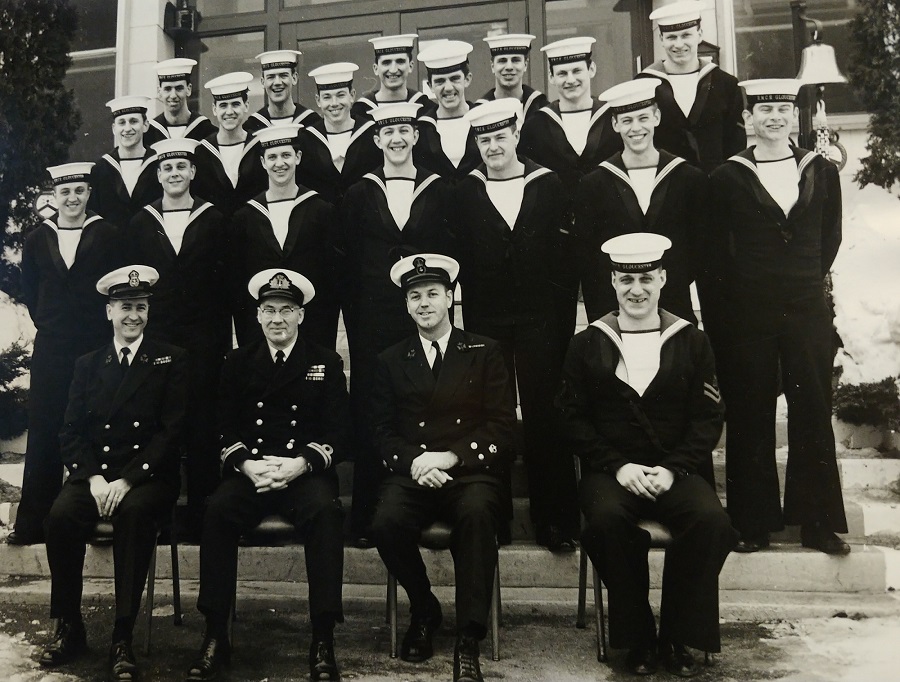 Radio Special - Trade Group 2 Course - 1966
HMCS GLOUCESTER
Chuck O'Dale, 3rd Row, 5th from left
This photo is also posted on the page for HMCS GLOUCESTER with all identified
---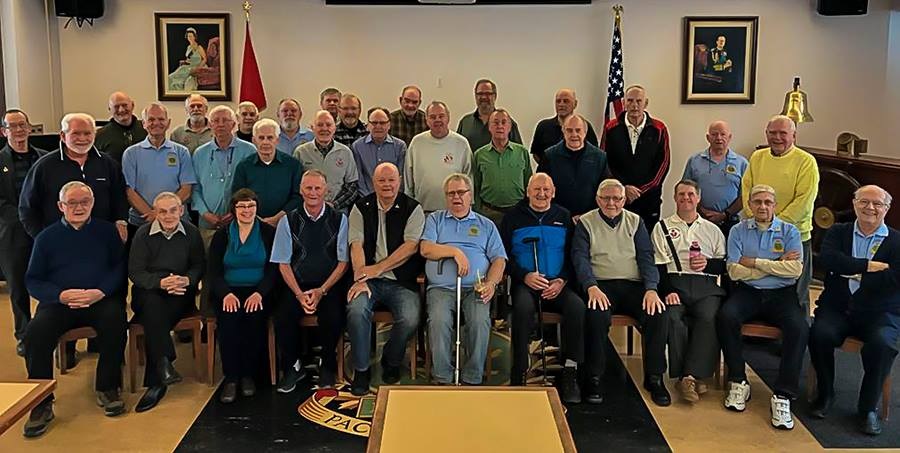 February 2018 meeting of the "Frozen Chosen", our veterans who at one time (or two or three) inhabited the northernmost community on Earth - ALERT NWT.
---