---
HMC NRS GLOUCESTER
---
HMCS GLOUCESTER was an HFDF station near Ottawa, Ontario. One of her roles was the radio detection and location of German U-boats. Opened in 1943 as No. 1 Station HMCS BYTOWN, it was re-named HMC NRS GLOUCESTER in 1950, then HMCS GLOUCESTER later the same year. In 1966 the station was re-named CFS GLOUCESTER. It was closed in 1972. During its years of operation, HMCS GLOUCESTER was the training base for Radioman Special/Comm Rsch 291.
---
Photos and Documents
---
(LK58) Invitation to farewell party for Commander Don Blackmore to be held in Wardroom of HMCS GLOUCESTER on 20 January 1961
(LK59) RS401 Course, completed Feb 1961. Front L-R: PO1 'Boots' Dunbar; Cdr Don Blackmore, CO; Lt. Lionel Kennedy, Ops Officer & Course Officer; and CPO Wood // 2nd Row L-R: Darowski, Cotterell, Ewen, Bursey // 3rd row L-R: Webb, Graham, Hillaby, Todd, Maclellan. ( Names on back of photo )
(LK60) RS Course 1961 - Front L-R: CPO John 'Boots' Dunbar; Lt. Lionel Kennedy, Ops Officer & Course Officer; unknown SLt; unknown PO. Front row, standing, 1st on right, Boyd (Spider) Webb
(LK61) HMCS GLOUCESTER sailors performing Sunset Ceremony at Parliament Hill on 1st of July 1961
(LK62) Lt Lionel Kennedy, Ops Officer, leading march past in front of the Administration/Training Building at HMCS GLOUCESTER.
(LK63) RS Course photo at HMCS GLOUCESTER - Summer 1961 - CPO John (Boots) Dunbar front left. Remainder unknown
From the collection of LCdr Lionel Kennedy, RCN
Courtesy of Barbara Holliday
---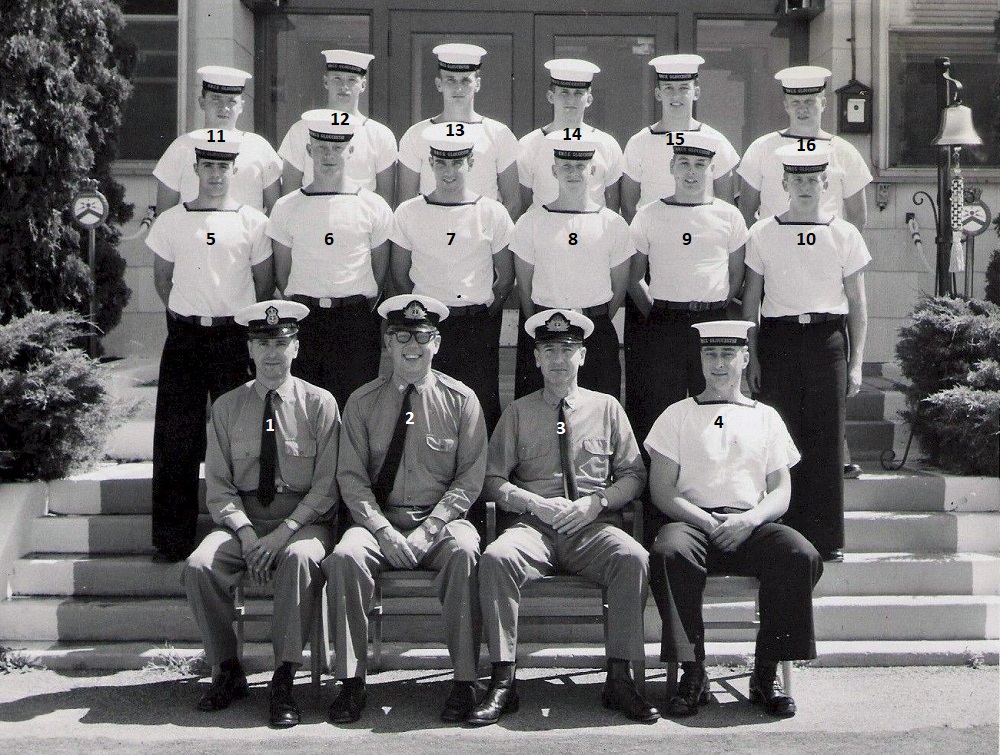 Radioman Special RS1210 Graduating Class 1966
HMCS GLOUCESTER
Click on the above photo to view a larger image
Courtesy of Jim Sedgwick
(7) Sedgwick, Jim (8) Teskey, Bill
---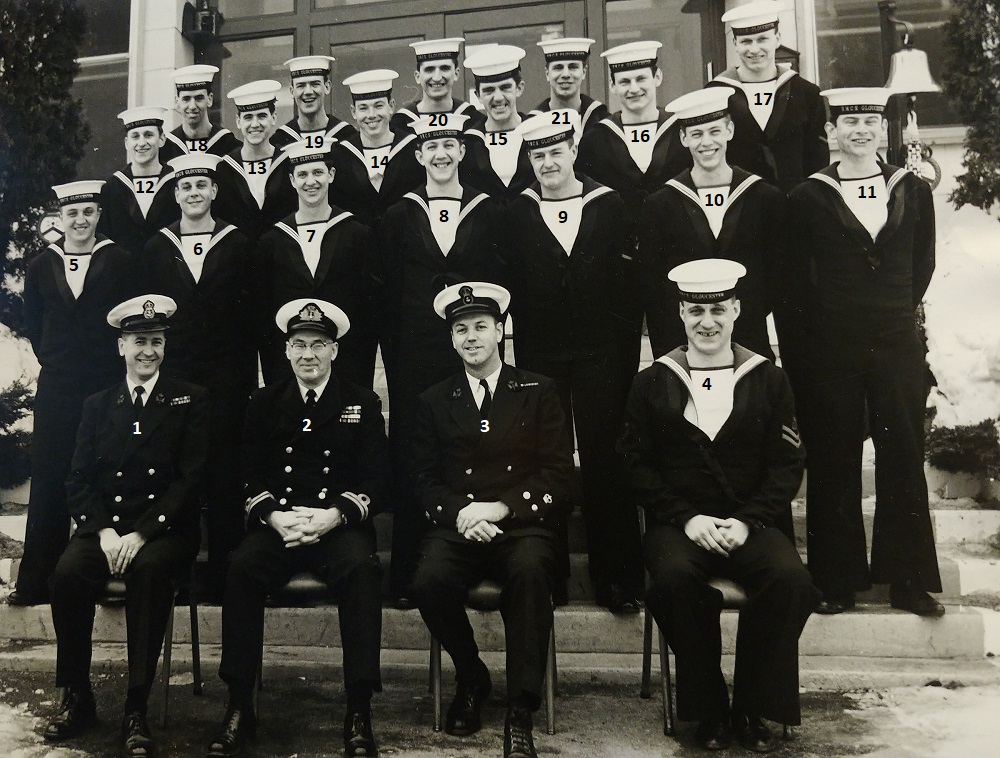 Radio Special - Trade Group 2 Course - 1966
HMCS GLOUCESTER
Click on the above photo to view a larger image
Courtesy of Chuck O'Dale, CPO2
(1) Gould, Norm (2) Potter, Doug (3) Cameron, Don (4) Kunkle, Ralph
(5) Ralph, Bill (6) Ditchfield (7) Meehan, Al (8) Dumoulin, Andy (9) Bell, Pat (10) Kilpatrick, Mike (11) Carefoot
(12) Mehadan (13) Marsh (14) Thompson (15) Bradford, Larry (16) O'Dale, Chuck (17) Christmas, Dave
(18) Bellanger (19) Matchett (20) Chabot, Gerry (21) Guthreau
---