In memory of those who have Crossed the Bar
WATTERS, John Clifford (Bud) - Bud died peacefully and with dignity in his 90th year at home at the Fox Run Retirement Residence on April 10, 2013, with his wife Betty and all his children around him. Bud is survived by Betty, the love of his life for 60 years and his five children, their partners and their families. Missing their wonderful Dad and Poppy are Kathleen and Steve Millen and Lee (Krista) and Kyle; Glenn and Carolyn Watters and Tabitha and Taylor; Susan and Gene Steacy and Natasha (Evan Poll) and Sheena (Jeremy Mosier); Barbara and Terry Ubdegrove and Bradley, Sean (Meagan) and Geoffrey; and Janet Ritchie and Alex. Bud also took great joy from spending time with his three great-grandchildren, Bella Mosier, Lily Poll and Bentley Ubdegrove.
Bud is also survived by several nieces and nephews including Maureen (Matti), Georgina, John, Tom and Roger. He was predeceased by his parents John and Jennie, his sisters Lillian and Marion and his brothers-in-law George, Alfred and Archie.
Respecting Bud's wishes, his funeral arrangements are being handled privately for the family by Tompkins Funeral Home in Gananoque, Ontario. A Celebration of Bud's life will be held on May 19, 2013 at Fox Run Retirement Residence in Gananoque. In Bud's memory, donations to the Salvation Army, or to the Lung Association, or to the charity of your choice can be made. Love You Forever.
Ships served in:
RCNVR DIVISION PORT ARTHUR - Commenced Active Service 03 Apr 1941. Served in PORT ARTHUR 03 Apr 1941 - 16 Jun 1941 as an OS, RCNVR
HMCS ST CLAIR - Served in ST CLAIR 27 Jul 1941 - 12 Sep 1941 as an OS, RCNVR
HMCS RED DEER - Served in RED DEER 25 Nov 1941 - 09 Jul 1942 as an OS, RCNVR
HMCS CHICOUTIMI - Served in CHICOUTIMI 05 Aug 1942 - 18 Dec 1942 as an OS, RCNVR
HMCS KAMSACK - Served in KAMSACK 19 Jan 1942 - 01 Aug 1942 as an OS, RCNVR
HMCS TRAIL - Served in TRAIL 08 Aug 1943 - 23 Sep 1943 as an AB, RCNVR
HMCS LUNENBURG - Served in LUNENBURG - 25 Sep 1943 - 07 Nov 1943 as an AB, RCNVR
HMCS TRAIL - Served in TRAIL - 01 Dec 1943 - 02 Mar 1944 as an AB, RCNVR
HMCS MAGOG - Served in MAGOG 03 Jun 1944 - 01 Nov 1944. Survived the torpedoing of MAGOG on 14 Oct 1944
HMCS GRIFFON - Served in GRIFFON 10 Sep 1945 - 17 Oct 1945 as an AB, RCNVR. Demobilized 17 Oct 1945
---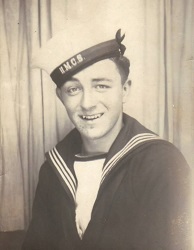 JW00
(JW00) Portrait of John Watters
(JW01-JW03) John Watters' Certificate of Service - pages 1-3 (JW04) Certificate of Discharge (JW05) Authorization to wear the War Service Badge
* John Watters' Certificate of Service gives his DOB as 19 Jul 1922. His actual DOB was 129 Jul 1923 as he lied about his age in order to enlist.
(JW06)Newspaper article on Bud Watters home on leave
---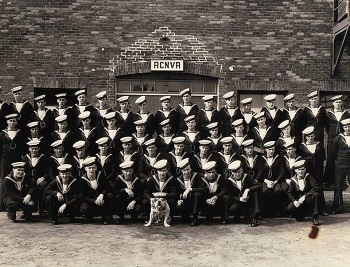 RCNVR DIVISION PORT ARTHUR New Entry photo
Bud Watters - rear low, left had side of the large wood door below the RCNVR sign
This photo has also been posted on the page for HMCS GRIFFON (former RCNVR DIV PORT ARTHUR)
---
These two photos have also been posted on the Ship's Company Photo page for HMCS RED DEER J255
---
---