In memory of those who have Crossed the Bar
Nelson Clifford Dow

Able Seaman, V16684, RCNVR

Born: 1917 Died: 1981
DOW, Nelson Clifford - was raised on a 100 acre mixed farming homestead in / near the Hibbert Township, where draft horses were the source of power. He had one brother and four sisters. In Apr 1941 at the age of 24, he travelled to Sudbury to work in the mines. In Oct 1941 he changed jobs and began working at the munitions plant in Nobel, ON.
In November 1941, enlisted in the RCNVR and moved to Port Arthur, ON where he joined HMCS GRIFFON. Nelson served in numerous ships and shore establishments during the war until Aug 1945 when he was drafted to HMCS CORNWALLIS to be demobilized.
From 1946 to 1981 Continued life as a bachelor, living with his mother, operating the 100-acre farm that his parents bought across the road from where he grew up. His younger brother bought the home farm after his return from service in the Canadian Army. Nelson raised beef cattle for a while, then changed to "cash crop" farming with edible (white pea) beans, soybeans and corn rotation. Upstairs in his shed was a box of dynamite sticks that he occasionally used to blow up tree stumps on the farm fields.
Ships served in:
HMCS GRIFFON - enlisted Nov 1941
HMCS PRINCE ROBERT - Drafted to PRINCE ROBERT in Jun 1942
HMCS ANDREE DUPRE - Drafted to ANDREE DUPRE in Jun 1943
HMCS TEME - Drafted to TEME in Feb 1944. Was serving in TEME when she was rammed and almost cut in two by British carrier HMS TRACKER
HMCS KAMLOOPS - Drafted to Kamloops in Jul 1944
HMCS CORNWALLIS - Drafted to CORNWALLIS for demobilization in Aug 1945
(CD01) Portrait of Seaman Nelson Dow (CD02) Nelson's medals - The 1939 - 1945 Star, The Atlantic Star with France and Germany clasp, The Pacific Star, Canadian Volunteer Service Medal and clasp, The War Medal 1939 - 1945 (CD03) Nelson standing beside a Hudson Coupe (CD04) Seaman Nelson Dow at HMCS NADEN (CD05) HMCS KAMLOOPS with an iceberg in the background
(CD06) Transcription of wartime correspondence between Nelson, his brother Norman and their parents. Transcribed by David Dow (CD07) Point form bio and service summary of AB Nelson Dow by David Dow
---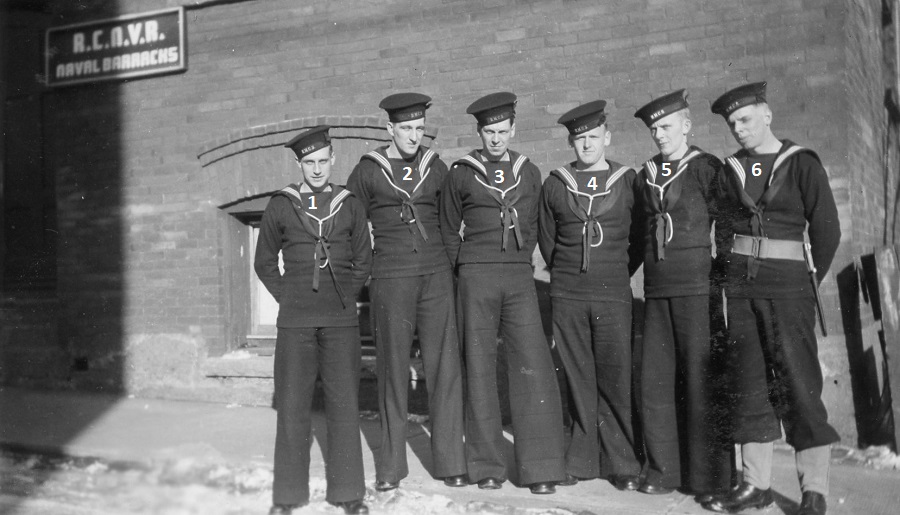 Sailors outside of RCNVR DIVISION GRIFFON
(4) Dow, Nelson, RCNVR
---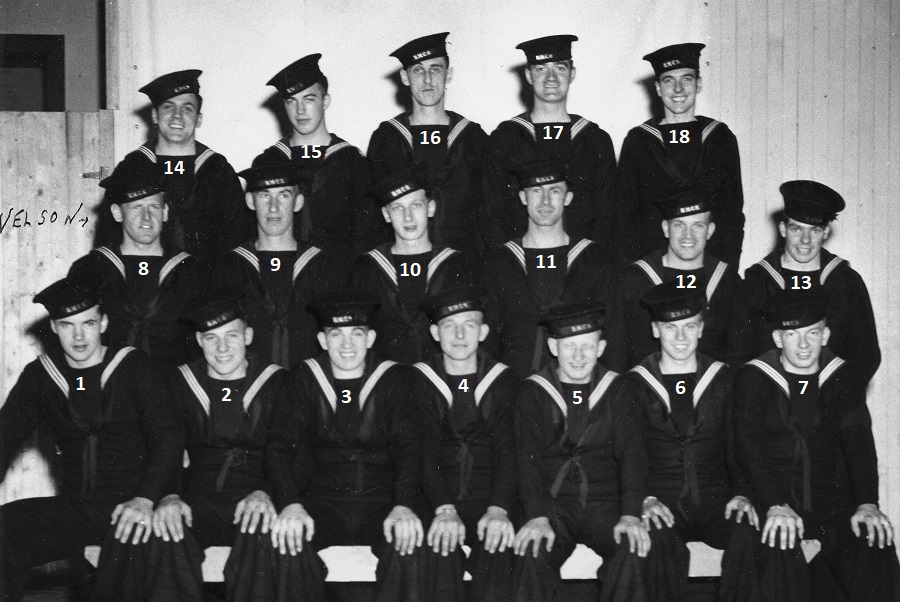 Training photo at RCNVR DIVISION GRIFFON
(8) Dow, Nelson, RCNVR
---
Sketch of HMCS PRINCE ROBERT by Lt Edwin (Ed) McNally, RCNVR
---