In memory of those who have Crossed the Bar
Cecil Ellwood (Lou) Spence

Lieutenant, O-69120, RCNVR

Lieutenant, O-69120, RCN(R)

Born: 25 Mar 1925, Fort William, Ontario

Died: 10 Apr 2014, Bracebridge, Ontario
Biography of Cecil Ellwood (Lou) Spence, Eng.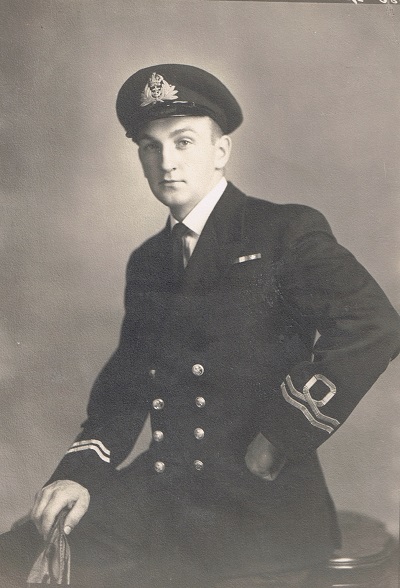 FAMILY IN FORT WILLIAM AND EARLY YEARS

Ellwood (Lou) Spence was born March 25, 1925 in Fort William, Ontario, the youngest of a family of four sons and one daughter of Dr. Cecil E. Spence, co-founder of the Fort William Spence Clinic and May Deacon Spence, a member of the Lakehead's pioneering McKellar family, after whom May Street in Thunder Bay was named. His earlier education was in Fort William, followed by St. Andrews College Preparatory School in Aurora, Ontario, 1939-42 and then the Royal Canadian Naval College at Royal Roads, B.C. where he graduated in July 1943.
NAVAL OFFICER AND DECORATED SECOND WORLD WAR VETERAN
Following graduation from Naval College at age 18, he was commissioned in the Royal Canadian Navy Volunteer Reserve as a Midshipman in August, 1943. At that time, the second great war was upon the world and he was appointed to HMCS OTTAWA H31, the Royal Canadian Navy River-class destroyer. HMCS OTTAWA was the former British Royal Navy G-class destroyer, HMS GRIFFIN. He completed his watch-keeping designation on HMCS OTTAWA and in February 1944 was promoted to Sub-Lieutenant. Later that year he was transferred to HMCS FENNEL, K194, a flower-class corvette, also on loan from the Royal Navy. FENNEL was one of 123 corvettes in the Royal Canadian Navy which had been built in Canada at shipyards across the country, or in the United Kingdom. FENNEL was built for the Royal Navy in Sorel, Quebec in 1940 and loaned to the RCN in 1941. FENNEL followed in the wake of other storied corvettes like HMCS SACKVILLE and HMCS WETASKIWIN which had entered service earlier in the war.
The well chronicled story of HMCS WETASKIWIN, named after the Alberta city of the same name, exemplifies the contribution made by the corvettes. She was built by the Burrard Ship-building company in Vancouver and became the first west coast-built corvette to enter service. She was commissioned at Esquimalt, B.C. on December 16, 1940, and conducted workups and patrols on the west coast. In March, 1941 she was transferred to Halifax to escort convoys across the North Atlantic and participate in the ongoing Battle of the Atlantic. The commanding officer of WETASKIWIN was an experienced Australian-born Naval officer, LCDR Guy Windeyer, who had served in the Royal Navy during the first World War, so it was not unusual for WETASKIWIN to be directed to take a leadership role on a variety of missions.
Shortly after arriving in Halifax, WETASKIWIN became a founding member of the Newfoundland Escort Force, also known as the Mid-Ocean Escort Force. During the remainder of the war in Europe, HMCS WETASKIWIN participated in 40 convoy escorts; initially through the difficult early years which saw the creation of the German U-Boat wolfpacks and heavy losses of allied merchant and navy ships, to the later years, when WETASKIWIN and other corvettes were able to escort up to 166 merchant ships safely to their destination without losses.
Corvettes and their crews were also effective at enemy sub hunting. On the morning of July 31, 1942, WETASKIWIN was directed to join HMCS SKEENA, a Canadian destroyer, to break off from westward sailing Convoy ON.115 which was sailing from Londonderry, Ireland, to St. Johns, Newfoundland, to engage a U-Boat which had been shadowing the convoy for days, waiting to strike. After a morning of cat and mouse and several attacks by SKEENA, WETASKIWIN took the lead for plotting the submarine on sonar, and directed SKEENA, which had used most of her depth-charges, to set the remaining charges at the deep setting (550 ft). She then directed SKEENA to a position over the U-Boat. Once SKEENA arrived over the submarine, WETASKIWIN gave the command to SKEENA to drop her last two depth charges. As they exploded, WETASKIWIN heard an extra explosion which confirmed that SKEENA had scored a direct hit, and U-Boat 588 sank with all hands, just east and north of St. Johns. Subsequently the crew of WETASKIWIN all received commendations for excellent sonar work and ship-handling. The news of this successful action by WETASKIWIN and SKEENA must have had a
significant positive impact on morale in the merchant marine service, the Navy, and with people at home.
Similarly, most corvettes like HMCS FENNEL were actively involved in escort and sub-hunting duty. Lou Spence served on HMCS FENNEL until the end of the war in 1945. He was promoted to Lieutenant in February, 1945.
A STORY AS WRITTEN BY LOU SPENCE ABOUT SEARCHING FOR SUBMARINES:
On December 24th, 1944, HMCS Fennel, a Royal Canadian Navy Flower Class corvette on loan from the Royal Navy, was engaged, along with two other Navy escort vessels, in a submarine search off Halifax harbour. I was a junior watchkeeping officer on "The Fennel", with the added responsibility, as you get on small ships, of being the ASDIC Officer – standing for Anti Submarine Detection.
We were normally engaged in convoy duty as a member of the "C5 Mid-Ocean Convoy Escort Group" which operated between St. John's, Newfoundland and Londonderry, Northern Ireland. For reasons I can't recall we had visited Halifax, and our return to regular duties was interrupted by instructions to join these two other ships in this special assignment. Presumably there had been a submarine sighting of sorts in the area, and it was suspected that a submarine may have been contemplating a surprise raid on Halifax harbour. The harbour contained much of the eastern Canadian Navy fleet, as well as an abundance of
merchant vessels.
At the front line of protection was the "Halifax Light Vessel", a ship anchored off the mouth of the harbour which kept its eyes, ears and detection equipment on the lookout for all vessels which approached the harbour. This Light Vessel was conveniently established as the reference point for the combined search.
Mid-afternoon on that day, although not on duty, I was on the bridge generally assisting in lookout duties, looking towards one of the two other assigned search vessels about half a mile away. Incredibly, it's stern quarter clearly exploded into the air, followed immediately by a thunderous noise. Obviously, the ship had been hit by an acoustic torpedo, and there was no longer any doubt that we had an enemy submarine in our midst. We immediately went into avoiding action, which meant we had to cut engines to cease making noise above the level which would attract another acoustic torpedo. We were already undertaking ASDIC search and listening, so we just continued that and slowly approached the torpedoed ship. We never heard any meaningful echoes back, except from the direction of the Halifax Light Ship, which we ignored.
It took roughly 15 minutes for us to reach the sinking ship, just in time to hear its Captain call out "Abandon Ship". The water temperature was in the 30 degree F range. It was so cold that even though the ship was sinking fast, several of the seamen clamoured back up on the ship, in spite of the known danger of being sucked under when it went down, as it did in a matter of minutes later.
Our Captain deliberately steered us right into the midst of the bobbing sailors. We had a rope ladder made up of roughly one foot stout rope squares which, as I recall, was about ten feet wide and long enough to reach the water from our afterdeck. Our men climbed down to water level, literally grabbing survivors off the surface and taking turns hauling them up to safety. Even though we probably picked up all survivors one way or another within a further fifteen minutes the hypothermia was so severe that they were all completely helpless. I don't recall if any did not survive, but I do recall that within a few hours or so the survivors had pretty well recovered.
We then carried on for two days searching the area for the submarine, but to no avail. It was a Christmas at sea the like of which none of us had ever expected to encounter, but an odd mix of joy and sadness.
You will all be aware that roughly five months later the European war was over and amongst other consequences, the submarine commanders were directed to surrender their vessels. During that interval the risks the German submarines faced in attempting to recross the Atlantic was excessive and increasingly futile as their war was essentially lost. The U-Boat commander who had decided to attack us was among those who surrendered his submarine. It turned out that after he had released his torpedo, he had cleverly manoeuvred his submarine under the Halifax Light Vessel, realizing that all Asdic detection would be ignored when the echoes seemed to come off our own Light Vessel.
By September, I was delighted to be a Veteran, enrolled in my first year of University.
Following the completion of the war, HMCS FENNEL was returned to the Royal Navy in England on June 12, 1945. There, Lou was able to meet up with brother Peter (MD) and his new wife Isobel who had both been in the medical corps and had been married just a few days earlier in Rome.
CAREER AS ELECTRICAL ENGINEER AND BROADCAST INDUSTRY PIONEER
After the war ended Lou Spence travelled to Toronto to complete a degree in electrical engineering at the University of Toronto. He graduated in the Class of 4T9 and joined Canadian General Electric beginning a 45 year career in the broadcast industry. He held a management role at CGE, including appointment to Vice-President, during a period of extraordinary growth for the company and explosive growth of manufacturing in Ontario. He was a pioneer in Canadian television broadcasting and manufacturing. He established CGE as a player in the manufacturing of broadcast equipment in Canada.
TV was first licensed in Canada to the CBC in five cities: Halifax, Montreal, Toronto, Winnipeg, and Vancouver. RCA equipped all stations except Toronto. TV licenses were issued by the CBC Board of Directors. When licenses were issued to other cities, Lou was the lead for CGE, selling stations in Calgary, Edmonton, and Regina. A regional support office was created in Calgary in 1955. CGE decided to invest in this business and manufacture the equipment in Canada. This allowed Lou to expand his sales force, and to expand the business, which was headquartered in the Royce Works offices at Dufferin and Lansdowne in Toronto. Lou had sales personnel in Ontario, Nova Scotia, Alberta, and B.C.
Through the 1950's and 1960's CGE invested in new products for television and AM radio. Lou was involved in the development of new transmitters and antennae for both television and radio, including 1 kw, 10 kw and 50 kw for AM radio, and modular television and ultra power antennae for television. GE in the U.S. was withdrawing from the television market, so Lou negotiated an exclusive distribution agreement with EMI, a UK television manufacturer, for their television broadcast equipment.
Lou took the lead in expanding the television and AM radio broadcast markets for CGE. Over the years CGE had been distributing Leblanc and Royle towers for its antennas. When Canadian General Electric made the decision to get out of the broadcast business in 1981, Lou spearheaded the creation of a new company, LARCAN Communications, which acquired the broadcast assets of CGE. With the financial backing of Leblanc and Royle, LARCAN was an employee-owned company and Lou was the founding President.
Other aspects of broadcasting were also growing and developing. Through the sale of broadcasting equipment, Lou met Bob Lamb, chief engineer of CFCN television station in Calgary and they became good friends as well as business associates. Bob became increasingly involved in the growing cable industry. Bob built a microwave system to Fort McMurray, and then a cable system. Individual cable systems in Canada had been built by a variety of separate individuals. Bob and a group of Calgary investors became aware of systems which were on the market in North Vancouver, Nanaimo, Trail, Nelson, Castlegar, and Red Deer. They acquired them and combined them into a company called Cable West. Cable West then merged with Capital Cable of Edmonton in 1982 and was
soon re-named Shaw Cable.
Lou continued to operate LARCAN as a major supplier of broadcast transmitters on the world market. Over the years he also recruited, trained, and mentored a group of very successful individuals known as Lou`s Boys who made significant contributions to the growing television broadcast industry, including: Peter Bowers, Harry Davis, Dereck Pugsley, Ed Gareau, and Ken Fowler.
FAMILY LIFE
During his time as a student at the University of Toronto, Lou Spence met Joan Bradfield of Toronto. They were introduced by their mutual friends Bud King and Deb Avery. Joan was attending the Boston School of Fashion and Design with her cousin and good friend Deb Avery. Bud King was a childhood friend of Lou's from Fort William. Lou and Joan were married in 1950 and spent 63 happy years together. Together they had three children, Laura, Jack, and Norie, and subsequently a number of grandchildren.
During their years in Toronto, they visited and vacationed at Lake Muskoka and fell in love with the lakes and the communities in the area. In the early 1950's, Lou's bachelor brother Donald purchased half of Hiawatha Island in Lake Muskoka and proceeded to build a boathouse cottage there. Joan and Lou participated the construction of this cottage and enjoyed many summers and winters with their growing family there. In the 1970's they purchased a nearby lot on the mainland and over many years, slowly and steadily building their dream retirement home.
A keen believer in 'work hard, play hard', Lou Spence became immersed in life and activities at the lake, including sailing with the Kettles Sailing Club, skiing at Curlew Ski Club in Huntsville, and membership and volunteer activities in organizations like Muskoka Literacy, Muskoka Field Naturalists and Seniors for Nature.
In the mid 1960's, Lou was approached by a family member, Dr. Victor Smith, (who ultimately became a professor of Forestry at the University of Toronto), who knew that Lou had a keen interest in sailing. Vic had built a Y-Flyer sailboat a few years earlier and sailed it on Ramsey Lake in the Sudbury area. As Vic was moving to the US for a while and could not take the boat with him, he asked Lou if he would like to buy the Y-Flyer for use on the Muskoka lakes. Lou didn't hesitate and that was the start of his active sailing on the lakes in the Y-Flyer. He spent many happy hours sailing in Muskoka and competing keenly in in races at the Kettles. The Y-Flyer would plane on reaches and downwind legs of the races where most other boats, predominantly Albacore's, were routinely passed, only to have them overtake "the Y" while tacking on the upwind legs.
Joan and Lou were very active in the social and sailing activities at the Kettles for many years. Lou had a stint as Commodore of the Kettles during this time, and attempted to get the races to start on time. He informed the membership that the 10 minute gun would go off promptly at 10 minutes before 9:00, the scheduled start time. When he fired off the 10 minute gun at the allotted time for his first race as Commodore, there were no sailboats on the lake. Activity developed very quickly at the surrounding docks. The next week there was a full fleet of boats out on the lake prior to the 10 minute warning!
While replacing the floor boards in the Y-Flyer in the mid 1970's, Lou discovered that the centreboard housing was slightly out of alignment. This helped explain why he was able to tack upwind one way better than the other. He vowed to buy a replacement fiberglass hull, a type that was becoming much more common and competitive. Rather than putting the boat away for the winter he got out his chainsaw and cut the hull into five large sections to take to the dump. When shopping for a replacement hull, he realized that his primary crew (children) had gone off to university and would not be around that much to sail with him. He became enamoured with a new single-handed sailboat that was becoming very popular and purchased a Laser. He had many years of enjoyment in the Laser that lasted for his remaining sailing years in Muskoka.
Lou lived life to the full and was widely regarded by family and friends as an intelligent, innovative, 'can do' individual with a warm and engaging personality. Lou passed away peacefully at the age of 89 in Muskoka in 2014.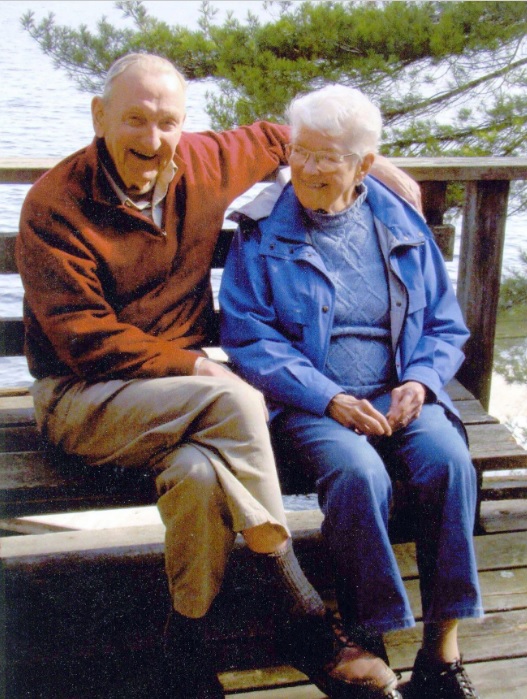 Lou and Joan on deck in Muskoka
---
Ships served in:
* Appointed Cadet, RCNVR (Navy List Mar 1943)
HMCS ROYAL ROADS - Class of 1943
* Appointed Midshipman Aug 1943 (Biography of Cecil Spence)
HMCS OTTAWA - Appointed to OTTAWA (08 Nov 1943) as a Midshipman for training (seniority 15 Aug 1943) (Navy List Mar - Oct 1943 / Feb 1944). Appointed SLt, RCNVR (seniority 15 Feb 1944) (Navy List Feb 1944)
HMCS FENNEL - Appointed to FENNEL 14 Apr 1944 as a SLt, RCNVR (Navy List Mar 1944). Appointed Lt, RCNVR (seniority 15 Feb 1945) (Navy List Mar 1945)
HMCS WALLACEBURG - Appointed to WALLACEBURG 16 Aug 1946 as a Lt, RCN(R) (seniority 15 Feb 1945) (Navy List Oct 1946)
HMCS GRIFFON - Appointed to GRIFFON 15 May 1947 as a Lt, RCN(R) (Navy List Jun 1947)
* Retired List as a Lt, RCN(R) (seniority 15 Feb 1945) (Navy List Jul 1948)
HMCS YORK (Retired List) - as a Lt, RCN(R) (seniority 15 Feb 1945) (Navy List Jul 1952)
* Last noted on the Retired List at HMCS YORK as a Lt, RCN(R) (Navy List Jan 1959)
---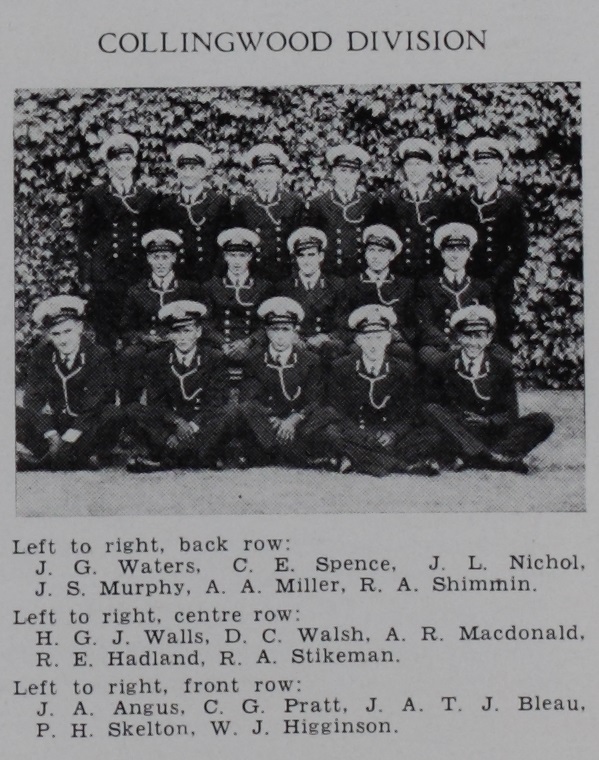 Collingwood Division
HMCS ROYAL ROADS
Credit: Royal Roads University Archives
This photo is also posted on the page for HMCS ROYAL ROADS
---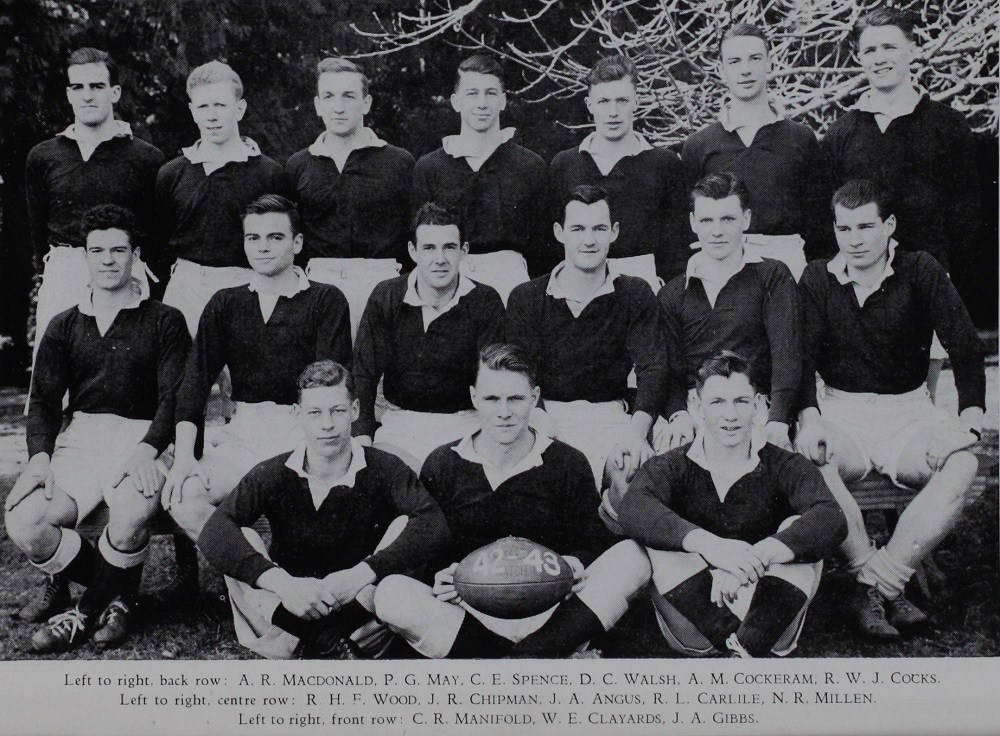 HMCS ROYAL ROADS
1942-1943 Rugby Team
Credit: Royal Roads University Archives
This photo is also posted on the page for Sports and the RCN
---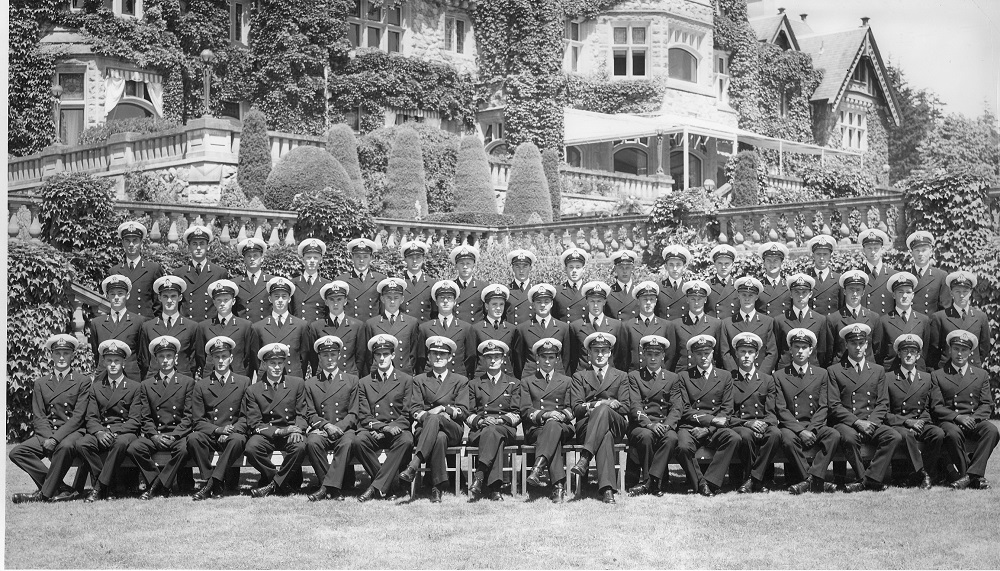 ]
Class of 1943
HMCS ROYAL ROADS
Credit: Royal Roads University Archives
This photo is also posted on the page for HMCS ROYAL ROADS with grads numbered for identification
---