They made the Ultimate Sacrifice
Calvin Douglas Grimmon, M.I.D.

Leading Seaman, Anti-Aircraft Gunner III, 4026, RCN

Born: 24 Jan 1922, Killam, Alberta

Died: 16 Nov 1942 at sea

Book of Remembrance
GRIMMON, Calvin Douglas, M.I.D., LS, 4026, RCN, MPK - 16 Nov 1942, SS CLAN MACTAGGART / HMS QUEBEC - Son of Ralph D. and Beatrice Kathleen Grimmon, Milford, ON.
Leading Seaman C. D. Grimmon, missing, presumed dead when the ship in which he was taking passage on the steamship SS CLAN MACTAGGART was sunk by U-92 of the coast of Cadiz. Two of his brothers Stirling Grimmon and Harry Grimmon were members of the Canadian Navy, while a Sister Kathleen served in the R.C.A.F. (Women's Division)
Ships served in:
HMCS NADEN - Enlisted 18 Nov 1940 as an OS, RCN
HMCS PRINCE ROBERT - Served in PRINCE ROBERT 14 Apr 1941 - 26 Feb 1942 as an OS and AB, RCN. Rated AB 19 Aug 1941
HMS QUEBEC (Royal Navy No. 1 Combined Training Centre, Inveraray, Scotland) - Drafted to HMCS QUEBEC 27 Jun 1942 as an AB, RCN. Rated A/LS, RCN (while on Combined Operations only).
(CG01-CG03) Certificate of Service - pages 1 - 3) (CG04-CG05) Record of Service
(CG06) Report of Death (CG07-CG08) Naval messages on the death of LS Grimmon (CG09) Letter to LS Grimmon's mother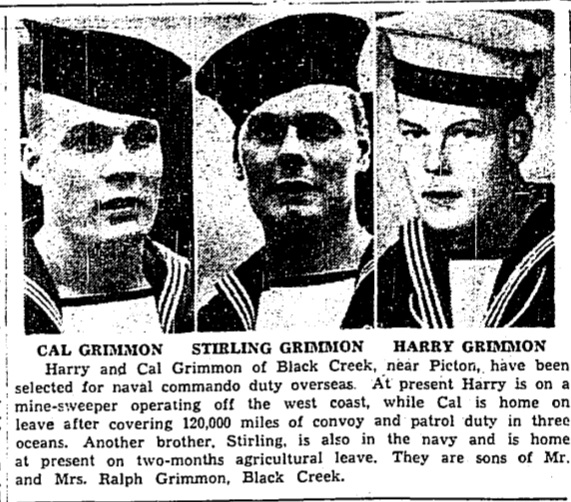 Article from the Toronto Star, May 1942
---
Second World War Casualty Index