They made the Ultimate Sacrifice
Joseph Clifford Urie

Leading Seaman Boatswain, 44457-H, RCN

Born: 05 Apr 1939, Grayson, Saskatchewan

Died: 11 Feb 1966 , Halifax, Nova Scotia

Book of Remembrance
URIE, Joseph Clifford, LS.BN, 44457-H, RCN, died - 11 Feb 1966, HMCS PROVIDER - Son of Charles and Mary Urie of Oshawa, ON. Husband of Sheila Urie. Father of Jody Lynn. Brother of Norman and Gary.
He is buried in the Resurrection Cemetery, Oshawa, Ontario.
Remembering Joe Urie - Submitted by Gord Senebald - This is what they thought happened after the inquiry in Joe's death was completed. Quitting time came along and we still had a forklift on the upper deck. Joe told all us young ODs and ABs to go below and shower and get ready to go to the Seaway Tavern (one of our favorite places to imbibe). Anyway, there was a 2 ton hatch cover amidships that housed a cargo elevator which we used to store most of the ship's non perishables in the decks below. They figured Joe opened that hatch and brought the elevator up to upper deck, put the forklift on the lift and proceeded to the lower decks to stow the elevator. When the lift gets down to a certain position it trips a switch that lowers the hatch cover and you can dog the hatch that would make it flush with deck. They figure that when Joe took the lift down, the hatch didn't come down all the way and stayed open about 2 feet. It appears Joe stood on the forklift and tried to crawl between the door and the deck instead of taking the long way around through the ship. The hatch closed, cutting Joe in half. We tried to rescue him but there was no hope. We were in the Halifax dry dock at the time. This is the saddest days of my 5 year term. That was over 50 years ago and I'll never forget that day. I think about Joe every day.
Ships served in: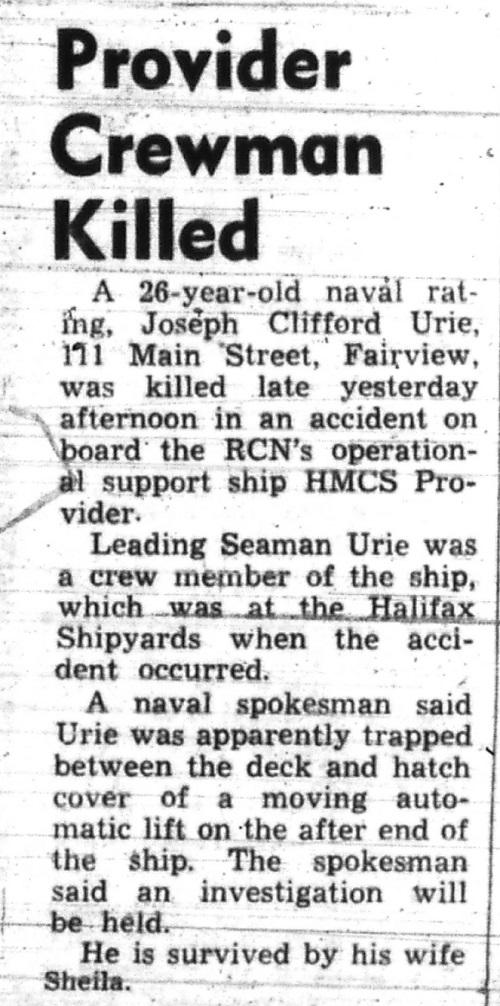 ---
In Service of Canada - RCN Peacetime Casualty Index