They made the Ultimate Sacrifice
John Ernest Paige

Stoker Petty Officer, 21402, RCN

Born: 10 Feb 1916, North Vancouver, British Columbia

Died: 31 Jan 1942 at sea

Book of Remembrance
PAIGE, John Ernest, Stoker Petty Officer, 21402, RCN, MPK - 31 Jan 1942, HMS BELMONT - Son of Ernest A. and Mabel L. Paige; husband of Lois Victoria Paige, Vancouver, BC.
Stoker Petty Officer John Ernest Paige of Vancouver was reported missing on active service on the Atlantic Naval service. He is presumed dead in the Royal Canadian Navy's 99th casualty list of the war. S.P.O. Paige was home on leave last December, a month before his first child, a daughter, was born to Mrs. Paige, who resides at 2873 Gravely Street. He was born in Vancouver and joined the Navy in 1936 after belonging to the Royal Canadian Naval Volunteer for some time. He saw plenty of service serving aboard the Armed Merchant Cruiser Prince Henry until he came home for Christmas leave. Stoker Paige attended Kitsilano High school and Fairview High School of Commerce, in Vancouver. His father was Ernest A. Paige who died a year ago, he was prominent in the WW1 returned soldiers circles and a well-known as a former British Columbia newspaper publisher. Besides his wife and daughter, a brother and sister in Vancouver and a sister in Australia survive.
John's brother, Leslie Arthur Page also served in the RCN.
Ships served in:
HMCS NADEN - Enlisted 01 Jun 1936 as a Sto 2c, RCN
HMCS SKEENA - Served in SKEENA 03 Oct 1936 - 27 Ma 1937 as a Sto 2c, RCN
HMCS FRASER - Served in FRASER 28 Mar 1937 - 16 Jan 1939 as a Sto 2c and Sto 1c, RCN. Rated Sto 1c 01 Jun 1937
HMS VICTORY - Served in VICTORY 26 Aug 1939 - 14 Dec 939 as a Sto 1c and A/L/Sto, RCN. Rated A/L/Sto 15 Oct 1939
HMCS PRINCE HENRY - Served in PRINCE HENRY 28 Mar 1940 - 05 Jan 1942 as a A/L/Sto, RCN, A/Sto Po, RCN and Sto PO, RCN. Rated Sto PO 16 Oct 1941
HMCS NIOBE - Drafted to NIOBE 25 Jan 1942 as a Sto PO, RCN
HMS BELMONT - for passage to HMCS NIOBE, Greenock, Scotland
(JP01-JP02) Certificate of Service - pages 1 and 2 (JP03) Report of Death (JP04) Letter to Sto PO Paige's widow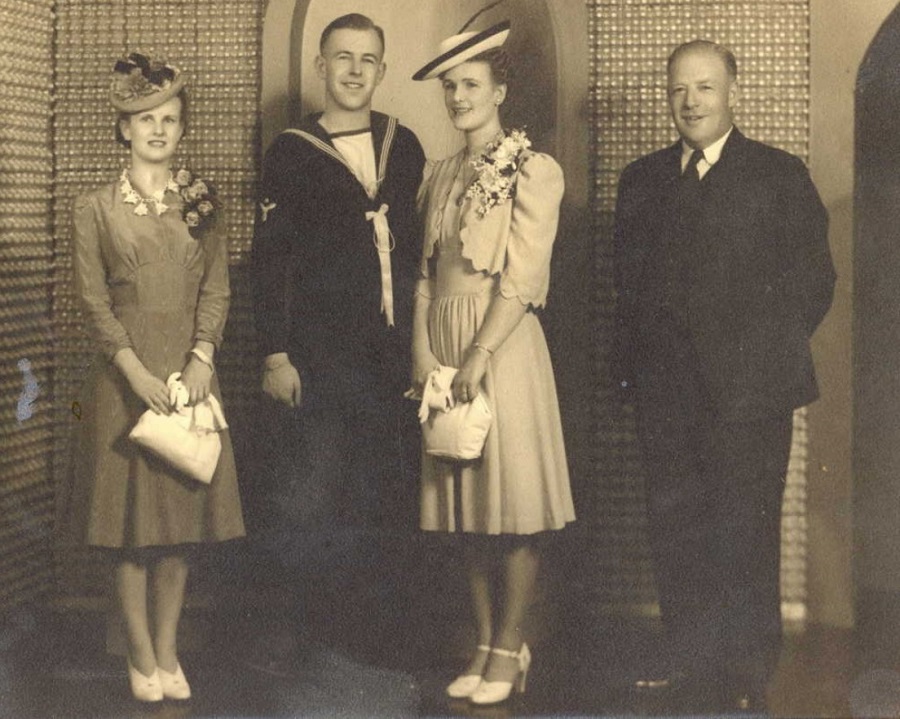 (JP05) John and Lois Paige's wedding day
---
Second World War Casualty Index