In memory of those who have Crossed the Bar
Steven Peter (Sonny) Robak

Petty Officer 1st Class Marine Engineer, C.A.F. (Navy) / RCN

Born: 25 Feb 1970, Edmonton, Alberta

Died: 11 May 2022, Ottawa, Ontario
ROBAK, Steven Peter (Sonny) - With heavy hearts, we mourn the loss of our beloved Steven (Sonny) Peter Robak, who passed away unexpectedly on
May 11, 2022. Born February 25, 1970 in Edmonton, Alberta to Willma and Steve Robak, Sonny grew up in Yellowknife, NWT. Along with his sisters Gwen and Jen, he was raised by their mother and learned the value of sacrifice and loyalty to family. In his later years, Sonny fondly recounted stories of his childhood in the North, where he made lifelong friends, excelled at hockey, and stirred up some trouble along the way.
In 1991, Steve joined the Royal Canadian Navy and proudly served our country for 21 years as a Marine Engineer. He sailed the world, made his home in Victoria, B.C., and later settled in Ottawa, Ontario. Petty Officer First Class Robak retired from the RCN, and continued his career in a civilian capacity for the Department of National Defence.
Sonny's true passion was a life centered around family, friends, and tradition. Happiest when spending time on family adventures, he exemplified the best in a father: loving, present, generous, dependable, involved. Larger than life, his warm laughter would often be the loudest in a room – everyone felt at ease in Sonny's welcoming presence. Hockey, cycling, craft beer, garlic and barbecuing year-round all brought Sonny extreme joy. Coach Steve devoted many years to minor hockey in Kanata, and was an impeccable manager of multiple Fantasy Hockey teams.
Sonny leaves behind his deeply loved wife of 20 years, Angela, and their two sons Alexander (21) and Spencer (17), who made him proud every day. He also fiercely loved his mother, Willma; sisters Gwen Robak, Jennifer Babits (Christopher) and nephews Jozsef, Laszlo and Oscar. He was devoted to his extended Robak family in Edmonton, Alberta.
Gone far too soon, never to be forgotten. Fair winds and following seas….
Please come celebrate how lucky we were to have known him, on May 22, 2022 at Beechwood Cemetery, 280 Beechwood Ave., Vanier, ON K1L 8A6. Visitation 11:00 am-1:30 pm. Service at 1:30 pm. Reception to follow. For livestream attendance and condolences, please visit www.beechwoodottawa.ca.
Donations gratefully accepted by Jumpstart (jumpstart.canadiantire.ca) in lieu of flowers.
Ships served in:
* Enlisted 14 Mar 1991
HMCS YUKON - Served in YUKON 23 Sep 1991 - 23 Aug 1993
HMCS CALGARY - Served in CALGARY 18 Mar 1997 - 01 Jul 2002
HMCS CALGARY - Served in CALGARY 26 Apr 2004 - 10 Apr 2005
HMCS REGINA - Served in REGINA 04 Jul 2006 - 13 Jan 2008
HMCS WINNIPEG - Served in WINNIPEG 11 Feb 2008 - 13 Jul 2008
HMCS OTTAWA - Dates unknown. not listed on retirement plaque, possibly on TD
* Retired 14 Mar 2012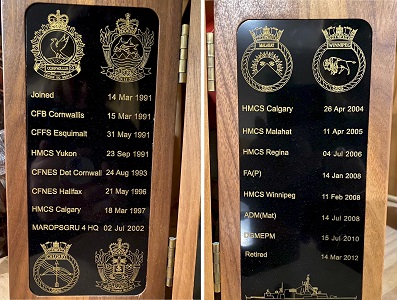 Sonny's retirement plaque
click on the above photo to view a larger image
---