They made the Ultimate Sacrifice
Stephen Blake McMurdo

Leading Signalman, V22602, RCNVR

Born: 18 Mar 1920, Weyburn, Saskatchewan

Died: 10 Jun 1944 at sea

Book of Remembrance
MCMURDO, Stephen Blake, L/Sig, V22602, RCNVR, MPK - 10 Jun 1944, HMCS TEME - Son of Stephen Blake McMurdo and Margaret McMurdo, of Red Jacket, Saskatchewan.
L/Sig McMurdo died as a result of a collision between HMCS TEME and HMS TRACKER on 10 Jun 1944. His body was never recovered.
L/Sig Stephen Blake McMurdo Jr. of Toronto, Ontario, was lost overboard when his ship was involved in a collision. He was the son of Stephen Blake and Margaret McMurdo who homesteaded northeast of Ceylon, farmed near Weyburn for many years and moved to the Red Jacket area near Moosomin after the war. Blake was born and raised at Weyburn and was working as a waiter when he enlisted on December 11, 1940 at Toronto, Ontario. His brothers Howard and Arthur served overseas with the Army.
Ships served in:
TORONTO DIVISION RCNVR - Enlisted 11 Dec 1940. Commenced Active Service 23 Dec 1940
HMCS FESTUBERT (Gate Vessel) - Served in FESTUBERT 19 Apr 1941 - 21 Nov 1941 as a O/Sig and Sig, RCNVR. Rated Sig 22 Sep 1941
HMCS VENTURE (Staff) - Served in VENTURE 07 Jan 1942 - 03 Feb 1943 as a Sig, RCNVR
HMCS SAGUENAY - Served in SAGUENAY 04 Feb 1942 - 02 Jul 1942 as a Sig, RCNVR
HMCS BRANDON - Served in BRANDON 18 Aug 1942 - 16 Nov 1942 as a Sig, RCNVR
HMCS ALGONQUIN - Served in ALGONQUIN 18 Feb 1944 - 24 Feb 1944 as an A/L/Sig, RCNVR
HMCS TEME - Drafted to TEME 28 Feb 1944 as an A/L/Sig, RCNVR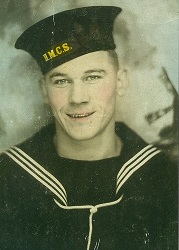 (SM00) Portrait of Stephen Blake McMurdo
(SM01-SM02) Certificate of Service - pages 1 and 2
(SM03) Report of Death
(SM04-SM05 - Letters to L/Sig McMurdo's mother
---
Second World War Casualty Index