They made the Ultimate Sacrifice
Harold Edward Dougan

Ordinary Seaman, V1271, RCNVR

Born: 29 Nov 1921, Charlottetown, Prince Edward Island

Died: 01 Dec 1940 at sea

Book of Remembrance
DOUGAN, Harold Edward, OS, V1271, RCNVR, killed - 01 Dec 1940, HMCS SAGUENAY - Son of Mary Martha and Weelan Edward. Brother of Blair, Roy and Keith.
Harold Edward Dougan was born at Charlottetown, P.E.I., on December 29, 1921. He was educated at Prince Street School and West Kent Boys' School in Charlottetown, P.E.I. He joined the R.C.N.V.R. at Charlottetown, P.E.I., in January, 1940. Previously he served in the 1st Battalion Prince Edward Island Highlanders, Non Permanent Active Militia from 12 Jul 1939 until December 29, 1939. When the King and Queen visited Charlottetown he was chosen as a member of the Guard of Honour.
OS Dougan was killed when HMCS SAGUENAY, while escorting convoy HG.47, was torpedoed by the Italian submarine Argo 300 miles west of Ireland. With her bows wrecked and 21 dead, SAGUENAY made Barrow-in-Furness largely under her own power, and was under repairs until 22 May 1941. His body was recovered and he was buried in Barrow, Lancashire, England on 14 Dec 1940.
Ships served in:
CHARLOTTETOWN DIVISION RCNVR - Enlisted 05 Jan 1940. Commenced Active Service 29 May 1940
HMCS STADACONA - Drafted to STADACONA 11 Jul 1940 as an OS, RCNVR
HMCS SAGUENAY - Drafted to SAGUENAY 04 Oct 1940 as an OS, RCNVR
(HD01-HD02) Certificate of Service - pages 1 and 2
(HD03) Report of Death
(HD04-HD05) Telegram and letter to OS Dougan's father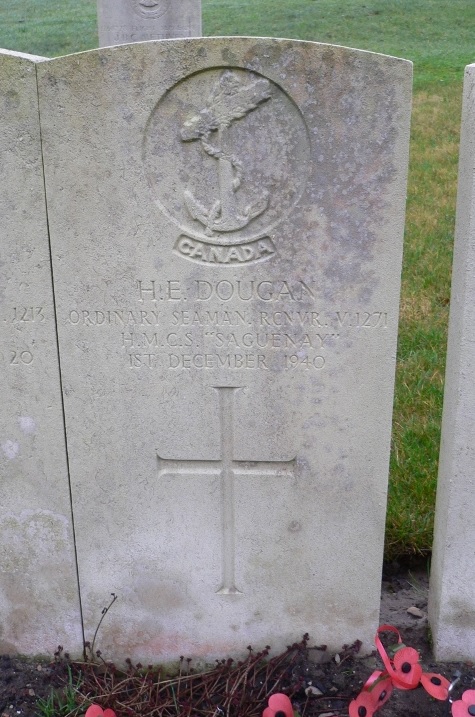 Headstone for OS Dougan in the Barrow-in-Furness Cemetery
---
Second World War Casualty Index