They made the Ultimate Sacrifice
Stanley Benjamin

Able Seaman, V2320, RCNVR

Born: 16 May 1921, Saint John, New Brunswick

Died: 06 Feb 1943 at sea

Book of Remembrance
BENJAMIN, Stanley, AB, V2320, RCNVR, MPK - 06 Feb 1943, HMCS LOUISBURG - Son of Irwine and Jennie Benjamin, of Saint John, New Brunswick. Husband of Frances L. Benjamin, of Saint John.
AB Benjamin died when his ship, HMCS LOUISBURG, which was on convoy duty in the Mediterranean, was sunk by bombs and torpedoes from Italian aircraft.
Stanley's brother, Joseph Benjamin, also served in the RCNVR during the Second World War.
Ships served in:
SAINT JOHN DIVISION RCNVR - Enlisted 04 Sep 1939. Commenced Service 05 Sep 1939
* Discharged 15 Jan 1940 - Joined Merchant Marine
SAINT JOHN DIVISION RCNVR - Enlisted 06 Jun 1941. Commenced Active Service 16 Jun 1941
HMCS STADACONA - Drafted to STADACONA 14 Aug 1941 as an OS, RCNVR
HMCS CAPTOR II - Drafted to CAPTOR II 24 Oct 1941
HMCS INVADER - Served in INVADER while drafted to CAPTOR II
* Rated A/AB 16 Jun 1941
HMCS STADACONA - Drafted to STADACONA 30 Aug 1942 as an AB, RCNVR
HMCS LOUISBURG - Drafted to LOUISBURG 01 Sep 1942 as an AB, RCNVR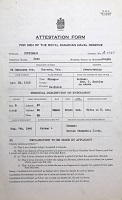 Service File for Benjamin Stanley
---
Second World War Casualty Index