---
HMCS LOUISBURG K143
Flower Class Corvette
---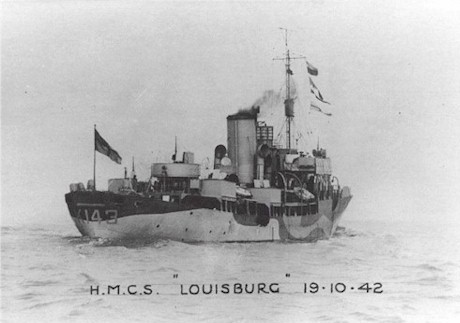 HMCS LOUISBURG K143 - 19 Oct 1942
From the collection of Thomas J. Simpson.
Laid down: 04 Oct 1940

Launched: 27 May 1941

Commissioned: 02 Oct 1941

Fate: Sunk on 06 Feb 1943
Built at Quebec City and commissioned there on 02 Oct 1941, LOUISBURG arrived at Halifax on 15 Oct 1941. She was assigned to Sydney Force until mid-Jan 1942, when she was transferred to Newfoundland Command. On 01 Feb 1942 she left St. John's for Londonderry as escort to convoy SC.67, another of whose escorts, HMCS SPIKENARD, was lost. After a long refit at Halifax, from 27 Mar 1942 to 27 Jun 1942, LOUISBURG made two more round trips to 'Derry before being assigned to duties in connection with Operation "Torch," the invasion of North Africa. She arrived at Londonderry on 23 Sep 1942, then proceeded to the Humber for fitting of extra AA armament. This work was completed on 18 Oct 1942. On 09 Dec 1942, while anchored at Londonderry, she was accidentally rammed by HMS BIDEFORD, necessitation five weeks' repairs at Belfast. LOUISBURG had scarcely commenced her "Torch" duties when, on the afternoon of 06 Feb 1943 near Cape Tenes, Algeria convoy KMF-8 (Gibraltar to Bone) was attacked by Italian Planes Savoia 79. HMCS LOUISBURG was hit by bombs and torpedoes and sank in position 36║15'N, 00║15'E. Forty-three of her crew were lost including several R.N. sailors and 2 Canadian sailors who died later of injuries received as a result of the sinking.
---
---
Commanding Officers
LCdr William Franklin Campbell, RCNVR - 02 Oct 1941 - 06 Feb 1943
---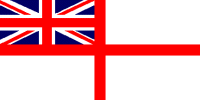 In memory of those who made the ultimate sacrifice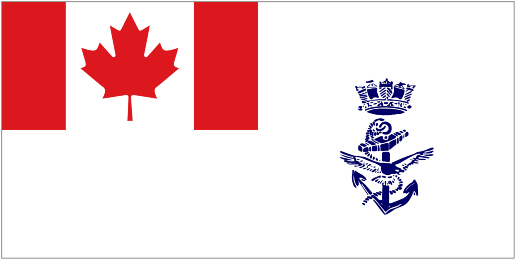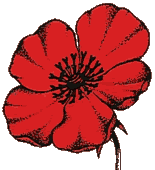 Lest We Forget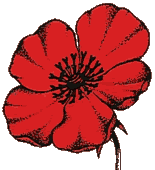 AB, RN

MPK - 06 Feb 1943

ALDRED, Leslie

AB, V22924, RCNVR

killed - 06 Feb 1943

ANDERSON, Archibald Frederick

Stoker, V14692, RCNVR

killed - 06 Feb 1943

ANDERSON, Cecil Floyd

L/Sig, V8276, RCNVR

DOW - 18 May 1943

ANNABLE, Grant Carl

OS, V33367, RCNVR

killed - 06 Feb 1943

BANKS, Merl Alexander

AB, A/4891, RCNR

killed - 06 Feb 1943

BENJAMIN, Stanley

AB, V2320, RCNVR

killed - 06 Feb 1943

BETTESS, Edward

AB, V24438, RCNVR

killed - 06 Feb 1943

LCdr, RCNVR

MPK - 06 Feb 1943

CARTWRIGHT, Kenneth

OS, P/JX 334566, RN

MPK - 06 Feb 1943

COURNOYER, Roland

Stoker, V4453, RCNVR

killed - 06 Feb 1943

DUNCAN, James

OS, D/FX 83112, RN

MPK - 06 Feb 1943

ERA, V33125, RCNVR

killed - 06 Feb 1943

ERA, V25691, RCNVR

MPK - 06 Feb 1943

GAUVIN, Joseph Magloire RenÚ

OS, V35564, RCNVR

killed - 06 Feb 194

GILBERT, William Mccombie

Tel, V13821, RCNVR

killed - 06 Feb 1943

GRAVES, Carleton Scott

AB, A/1369, RCNR

killed - 06 Feb 1943

AB, V22559, RCNVR

killed - 06 Feb 1943

HALL, James

AB, V18600, RCNVR

killed - 06 Feb 1943

HANCOCK, Archibald

L/Radio Mech, P/MX 117624, RN

MPK - 06 Feb 1943

LEWIS, William Erskine

AB, V1595, RCNVR

killed - 06 Feb 1943

LIDDLE, Eric

OS, P/JX 334632, RN

MPK - 06 Feb 1943

MACDONALD, Donald Malcolm

LS, V6251, RCNVR

DOW - 08 Feb 1943

MACGREGOR, Duncan

Stoker, V19596, RCNVR

killed - 06 Feb 1943

Sig, V319, RCNVR

killed - 06 Feb 1943

Coder, V1588, RCNVR

killed - 06 Feb 1943

MACPHAIL, Sidney John

Stoker, V456, RCNVR

killed - 06 Feb 1943

AB, 4612, RCN

killed - 06 Feb 1943

MCDONALD, Ronald Joseph

AB, V11491, RCNVR

killed - 06 Feb 1943

MCNEILL, Donald

CERA, V23718, RCNVR

killed - 06 Feb 1943

MERRYWEATHER, Hugh

Coder, V12751, RCNVR

killed - 06 Feb 1943

MORIN, Joseph Georges Edouard Vincent

OS, V3985, RCNVR

killed - 06 Feb 1943

NINIAN, Thomas Maxton

Ord. Tel, V13776, RCNVR

killed - 06 Feb 1943

PATERSON, Robert Laurence

Sig, V24617, RCNVR

killed - 06 Feb 1943

RICE, Stanley Norman

Stoker, V31943, RCNVR

killed - 06 Feb 1943

ROBINSON, Elwin

Tel, V22987, RCNVR

killed - 06 Feb 1943

SHEPPARD, Thomas W

AB, D/JX 147250, RN

MPK - 06 Feb 1943

SMITH, Arthur John

PO Tel, V9368, RCNVR

killed - 06 Feb 1943

LS, V5282, RCNVR

killed - 06 Feb 1943

TANNER, James Arthur

AB, V22913, RCNVR

killed - 06 Feb 1943

VIKSTROM, Jack Richard

AB, V33099, RCNVR

killed - 06 Feb 1943

WATSON, Norman Russell

Stoker, V9654, RCNVR

killed - 06 Feb 1943

WILSON, Ernest

Lt, RCNR

killed - 06 Feb 1943
---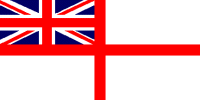 In memory of those who have crossed the bar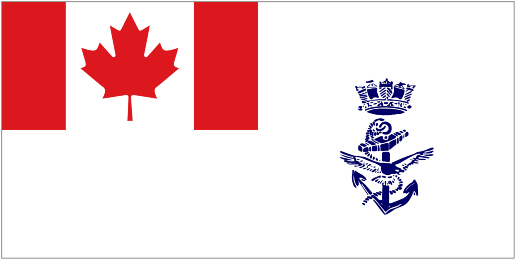 They shall not be forgotten
(s) - survived the sinking of HMCS LOUISBURG on 06 Feb 1943
---
Former Crew Members
(s) - survived the sinking of HMCS LOUISBURG on 06 Feb 1943
Anderson, C., L/Sig, RCNVR (s)


Ayres, OS (s)


Brewer, F., Sto, RCNVR (s)


Buckley, Andrew, LS, RCNVR (s)

Charlton, John, AB, RCNVR (s)


Cornell, James, L/SBA, RCNVR (s)


Crone, K.K., Tel, RCNVR (s)


Dupont, I.J., Tel, RCNVR (s)


Gibson, Lorne, AB, RCNVR (s)


Guersette, Joseph Rene, OS, RCNVR (s)


Hawes, James, Sto, RCNVR (s)

Heslam, Richard Murray, Lt (G), RCNVR

Jenkins, Gordon, AB, RCNVR (s)

Juillette, Charles, PO, RCNR (s)


Keenan, R., Stwd, RCNVR (s)


Keill, John, LS, RCNVR (s)


Latremouille, J.M., L/SA, RCNVR (s)


MacDonald, Donald, LS, RCNVR (s)


McCauley, J., Stwd, RCNVR (s)


McDonald, G., AB, RCNR (s)


McIntyre, A., PO, RCN (s)


McPhee, Daniel, PO ERA, RCNVR (s)


Mercer, Maxwell, CPO, RCN (s)


Morrison, H., Sto, RCNR (s)


Musselman, D., AB, RCNVR (s)

Oliphant, W., Sto, RCNVR (s)

Quinsey, W.J., AB, RCNR (s)


Ransome, Wilson, L/CK, RCN (s)


Regan, M., AB, RCNVR (s)


Reimers, I., Sto, RCNVR (s)


Rhodes, Hubert, AB, RCNVR (s)


Ritson-Bennett, W., AB, RCNR (s)


Ruthven, Albert, AB, RCNVR (s)


Senior, Arthur, OS, Royal Navy (s)


St. Laurent, James, OS, RCNVR (s)


Stewart, D., AB, RCNVR (s)


Tembley, R., OS (s)


Welsh, C., OS, RCNVR (s)


Willett, James A., L/Sto, RCNVR (s)
---
Photos and Documents
HMCS LOUISBURG

Article on 4 brothers who served in WW II - one, RenÚ Gauvin - lost when HMCS LOUISBURG was sunk

Courtesy of Rene Gauvin (nephew of RenÚ Gauvin)

Duncan Macgregor, Stoker, V19596, RCNVR

Photo taken in from of the family home on Hall Ave, Windsor, Ont.

Courtesy of William (Bill) Macgregor

Article on the sinking of HMCS LOUISBURG K143

The Toronto Globe and Mail - 17 Feb 1943

Source: Democracy at War (Canadian War Museum)

Drawing that appears in local newspapers on the loss of HMCS LOUISBURG K143

From the collection of Blanchard (Budd) Parks

Courtesy of Karla Kordyban

"A Gallant Ship"

Article on the loss of HMCS LOUISBURG K143

From the collection of Blanchard (Budd) Parks

Courtesy of Karla Kordyban

Article on 4 survivors from the sinking of HMCS LOUISBURG K143

From the collection of Blanchard (Budd) Parks

Courtesy of Karla Kordyban

Article on casualties and survivors of the loss of HMCS LOUISBURG K143

Article on the loss of HMCS LOUISBURG K143

Courtesy of Beverley Plume

Article from the Globe and Mail, 17 Feb 1943 on the loss of HMCS LOUISBURG K143

Courtesy of Beverley Plume

Article from the Family Herald and Weekly Star on the loss of HMCS LOUISBURG K143

Courtesy of Beverley Plume

Photos of LOUISBURG survivors and casualties - from the Daily Star 16 Feb 1943

Courtesy of Beverley Plume

Photos of HMCS LOUISBURG casualties from Toronto, ON

Courtesy of Beverley Plume

List of survivors of HMCS LOUISBURG K143

Courtesy of Beverley Plume

HMCS LOUISBURG K143 - Casualty list

Courtesy of Beverly Plume

Article on the loss of HMCS LOUISBURG - survivors tell their story

The Moncton Daily Time - 11 Mar 1943

Courtesy of Beverley Plume

LOUISBURG's Crew Wants to Stay as One

Courtesy of Beverley Plume

Articles on the loss of HMCS LOUISBURG K143

Letter of condolence from Freda Campbell, wife (widow) of LCdr William Campbell to Margaret Griffin, wife (widow) of AB Earle Griffin. Both AB Griffin and LCdr Campbell were killed when HMCS LOUISBURG was sunk on 06 Feb 1943.

Courtesy of Beverley Plume

Margaret Best (widow of Earle Griffin), Francis Carragher and Florence Lewis (widow of Erskine Lewis)

Francis Carragher survived the sinking of HMCS LOUISBURG on 06 Feb 1943. Both Earle Griffin and Erskine Lewis lost their lives that day.

Francis Carragher crossed the bar on 04 Jun 2012

Courtesy of Beverley Plume
---