They made the Ultimate Sacrifice
Hugh Merryweather, M.I.D.

Coder, V12751, RCNVR

Born: 17 Apr 1920, Fallis, Alberta

Died: 06 Feb 1943 at sea

Book of Remembrance
MERRYWEATHER, Hugh, Coder, RCNVR, MPK - 06 Feb 1943, HMCS LOUISBURG - Son of George and Helen Merryweather, of Edmonton, Alberta.
Coder Merryweather died when his ship, HMCS LOUISBURG, which was on convoy duty in the Mediterranean, was sunk by bombs and torpedoes from Italian aircraft.
Hugh's brother, Bruce Merryweather, also served in the RCNVR during the Second World War.
---
Citation for Mentioned in Despatches:
MERRYWEATHER, Hugh, Coder, V12751, Mention in Despatches (Posthumous), RCNVR, HMCS LOUISBURG - Awarded as per Canada Gazette of 8 January 1944 and London Gazette of 1 January 1944
"This Rating lost his own life by sacrificing his life belt to another rating when HMCS LOUISBURG was sinking. His gallantry was worthy of the highest traditions of the service."
---
Ships served in:
EDMONTON DIVISION RCNVR - Enlisted 10 Jul 1941. Commenced Active Service 10 Jul 1941 as a O/Coder, RCNVR
HMCS STADACONA - Drafted to STADACONA 19 Aug 1941 as a O/Coder, RCNVR
HMCS ST HYACINTHE - Drafted to ST HYACINTHE 06 Oct 1941 as an O/Coder, RCNVR
HMCS VENTURE - Drafted to VENTURE 09 Nov 1941 as an O/Coder, RCNVR
HMCS LOUISBURG - Drafted to LOUISBURG as an O/Coder, RCNVR
* Rated Coder 09 Apr 1942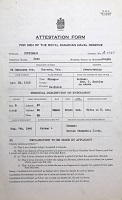 Documents from the Service File of Hugh Merryweather
---
Second World War Casualty Index