They made the Ultimate Sacrifice
Anthony Gallagher

Stoker 1st Class, V75077, RCNVR

Born: 09 Mar 1925, Vancouver, British Columbia

Died: 16 Apr 1945 at sea

Book of Remembrance
GALLAGHER, Anthony, Sto 1c, V75077, RCNVR, MPK - 16 Apr 1945, HMCS ESQUIMALT - Son of Martha Gallagher, of Vancouver, British Columbia.
Stoker Gallagher died when his ship, HMCS ESQUIMALT, was torpedoed and sunk by U-190 off the approaches to Halifax harbour.
Anthony's brother, Stoker Desmond J. Gallagher, also served in the RCNVR during the Second World War.
Ships served in:
HMCS DISCOVERY - Enlisted 16 Nov 1943. Commenced Active Service as a Sto 2c, RCNVR
HMCS CORNWALLIS - Drafted to CORNWALLIS 29 Jan 1944 as a Sto 2c, RCNVR
HMCS STADACONA - Drafted to STADACONA 08 Mar 1944 as a Sto 2c, RCNVR
HMCS ESQUIMALT - Drafted to ESQUIMALT 28 Mar 1944 as a Sto 2c, RCNVR
* Rated Sto 1c 12 Sep 1944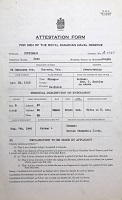 Documents from the Service File of Anthony Gallagher
---
Second World War Casualty Index