---
HMCS ESQUIMALT J272
Bangor Class Minesweeper
---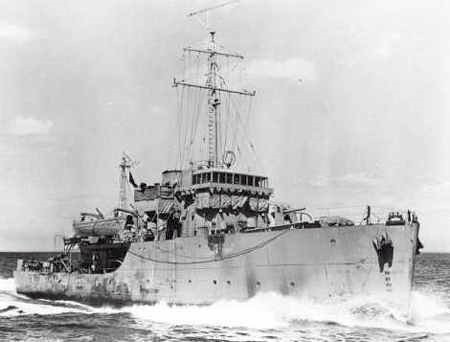 HMCS ESQUIMALT J272
Battle honours and awards: Atlantic 1943-44, Gulf of St. Lawrence 1942
Laid down: 20 Dec 1940

Launched: 08 Aug 1941

Commissioned: 26 Oct 1942

Fate: Sunk on 16 Apr 1945 by U 190
Commissioned at Sorel on 26 Oct 1942, ESQUIMALT arrived at Halifax on 21 Nov 1942. Chronically plagued by mechanical troubles, she underwent repairs there until 27 Mar 1943, and again throughout most of May 1943. She was then assigned to Newfoundland Force until Sep 1944, when she was transferred to Halifax Local Defence Force. Late in Sep 1944 she underwent a three-month refit at Halifax. While on A/S patrol on 16 Apr 1945, she was torpedoed and sunk by U 190 five miles off Chebucto Head, near Halifax, with the loss of 44 of her ship's company. ESQUIMALT'S survivors were rescued by HMCS Sarnia J309.
Historical note: U.190 was a IXC/40 type U-boat, built by Deutsche Schiff und Machinenbau AG Weser, Bremen, launched 8 Jun 1942, commissioned 24 Sep 1942, in service 32 months, with a record of sinking 2 ships, for a total of 7,605 tons.
---
Photos and Documents Ship's company photos
---
A Memory Stirred - Story of HMCS ESQUIMALT 16 Apr 1945
HMCS ESQUIMALT'S Final Survivor Joe Wilson - Last survivor of HMCS ESQUIMALT - Buried at Sea
Sailor was a true comrade in arms - Frank William Smith Sailor was one of 27 saved from the ESQUIMALT - AB Campbell
The Memory Project - Louis Henry (Lou) Howard - "Survivors Ahead, Survivors Ahead"
---
Commanding Officers
Lt F.J.L. Davis, RCNR - 16 Oct 1942 - 05 Feb 1943

Lt Paul Dalrymple Taylor, RCNVR - 06 Feb 1943 - 12 Mar 1944

Lt James Manley Scott Clark, RCNVR - 13 Mar 1944 - 14 Dec 1944

LCdr W. McIsaac, RCNVR - 29 Dec 1944 - 01 Feb 1945

Lt Robert Cunningham MacMillan, RCNVR - 02 Feb 1945 - 16 Apr 1945
---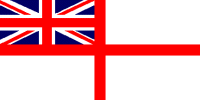 In memory of those who made the ultimate sacrifice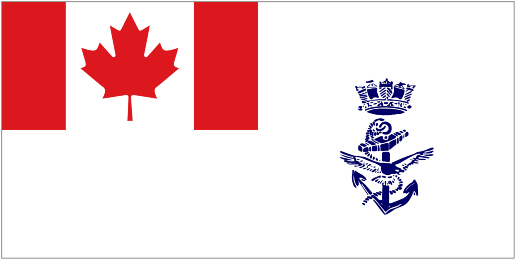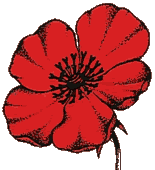 Lest We Forget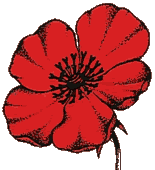 BELLAZZI, Joseph Oliver Fernand

Skipper, RCNR

MPK - 16 Apr 1945

Drafted to ESQUIMALT on 15 May 1944 as Skpr, RCNR

BERGE, Olaf Elmer

Sto, V73882, RCNVR

killed - 16 Apr 1945

BLAND, John Basil

Sto, V58685, RCNVR

MPK - 16 Apr 1945

Sto, RCNVR

killed - 16 Apr 1945

CLANCY, Gregory Joseph

Tel, V74066, RCNVR

MPK - 16 Apr 1945

CONN, James Ralph

L/Stwd, V67835, RCNVR

MPK - 16 Apr 1945

DEVINS, James Edward

Sto, A5544, RCNR

MPK - 16 Apr 1945

DOWNIE, Byron Ross

L/Tel, V14857, RCNVR

killed - 16 Apr 1945

DUCHARME, Joseph Roger Daniel

AB, V59462, RCNVR

killed - 16 Apr 1945

DUNLOP, Ronald Ewing

Motor Mech, V57236, RCNVR

killed - 16 Apr 1945

AB, V35874, RCNVR

killed - 16 Apr 1945

EDWARDS, Charles

AB, V77053, RCNVR

killed - 16 Apr 1945

FANNING, Huntley Allison

Electrical Art., V38246, RCNVR

MPK - 16 Apr 1945

FITZPATRICK, William

AB, V16717, RCNVR

MPK - 16 Apr 1945

GALLAGHER, Anthony

Sto, V75077, RCNVR

MPK - 16 Apr 1945

GRANAHAN, Edward John

L/Sig, V7566, RCNVR

MPK - 16 Apr 1945

L/SBA, V35221, RCNVR

MPK - 16 Apr 1945

HUGHES, David Anderson

L/Stores Ass't, RCNVR

MPK - 16 Apr 1945

ERA, RCNVR

MPK - 16 Apr 1945

JOHNSTON, Howard Elmer

MM, V12610, RCNVR

killed - 16 Apr 1945

LS, RCNVR

killed - 16 Apr 1945

KNOWLES, John Chesworth

PO, 4004, RCN

MPK - 16 Apr 1945

KYNMAN, Albert

CPO, A2440, RCNR

killed - 16 Apr 1945

LE DREW, Frederick

L/Sto, V26321, RCNVR

MPK - 16 Apr 1945

AB, V68160, RCNVR

MPK - 16 Apr 1945

LS, V6640, RCNVR

killed - 16 Apr 1945

MCINTYRE, Thomas James

L/CK, V83944, RCNVR

killed - 16 Apr 1945

MONACHAN, John Martin

AB, V47505, RCNVR

killed - 16 Apr 1945

PARKER, Jack Reginald

Lt, RCNVR

MPK - 16 Apr 1945

Drafted to ESQUIMALT on 16 Jul 1944

PARTINGTON, Richard

LS, V11325, RCNVR

MPK - 16 Apr 1945

PEDDIE, Roy Norman

Stwd, V91648, RCNVR

MPK - 16 Apr 1945

POOL, Ralph Bradford

Shpt 4c, V87252, RCNVR

MPK - 16 Apr 1945

PORTER, John Clifford

Ch Motor Mech, V17539, RCNVR

MPK - 16 Apr 1945

ROBERTS, James Elder

Wt (E), RCNR

MPK - 16 Apr 1945

Drafted to ESQUIMALT on 17 Jul 1944 as A/Wt (E)

CERA, A5075, RCNR

MPK - 16 Apr 1945

SMART, John Morris Gregory

Lt, RCNVR

MPK - 16 Apr 1945

SMITH, Kenneth Harry

AB, V70955, RCNVR

MPK - 16 Apr 1945

STAFFORD, John Hamish

L/ Coder, V37267, RCNVR

MPK - 16 Apr 1945

AB, RCNVR

MPK - 16 Apr 1945

TRUDEL, Joseph Mailly Rodrigue

AB, V57947, RCNVR

MPK - 16 Apr 1945

WARE, William John

Tel, V23827, RCNVR

MPK - 16 Apr 1945

AB, V88056, RCNVR

killed - 16 Apr 1945

WHITEHEAD, Bruce Mansell

Slt, RCNVR

killed - 16 Apr 1945

AB, V37720, RCNVR

killed - 16 Apr 1945
---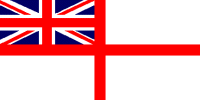 In memory of those who have crossed the bar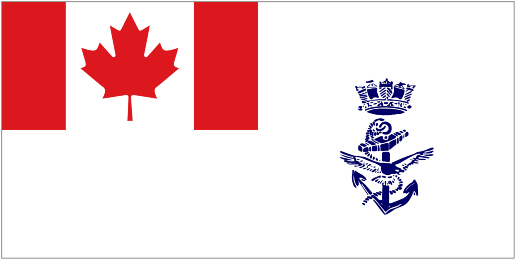 They shall not be forgotten
(s) - Survived the sinking of HMCS ESQUIMALT on 16 Apr 1945
| | | | | |
| --- | --- | --- | --- | --- |
| Aitkren, Robert (s) | Barber, Glen T. (s) | Bexrud, Kenneth (s) | | |
| Dempster, Edward (s) | | | | |
| | | Hook, William W. (s) | | |
| Kidd, Thomas G. (s) | | | | |
| | | | McGrath, Edward (s) | |
| | | Murphy, Herbert (s) | | |
| | Richard, Joseph A.F. (s) | | Sargent, Jack R. (s) | |
| Smith, Frank W. (s) | | | Ware, Jack E. (s) | |
---
Former Crew Members
Ball, Jordan Richard, SLt, RCNVR - 13 Mar 1944

Gilmour, Douglas Wilson, SLt, RCNVR - 26 Feb 1943

Hatch, William McLaren, SLt, RCNVR -21 Feb 1944

Johnson, Ernest Edward, SLt, RCNVR - 30 Jan 1943

Norton, George R.W., Skpr, RCNR - 15 Mar 1944
---
Photos and Documents
Edward John "Jack" Granahan

Edward John "Jack" Granahan was a leading signalman aboard the HMCS ESQUIMALT when it was hit on the starboard side by a gnat torpedo on April 16, 1945. While he survived the initial sinking of the ESQUIMALT, my Uncle Jack succumbed to the frigid waters of the Atlantic Ocean, within miles of the Halifax shoreline.

Courtesy of Sandra Granahan

Anthony Gallagher

This is a photo of Stoker 3rd Class Anthony Gallagher(19 years old) who perished in the sinking of HMCS ESQUIMALT, a Bangor class minesweeper torpedoed in the approaches to Halifax Harbour in April 1945 with only 2 weeks left in the war. He was the middle son of three boys born to Joe and Martha Gallagher. He also had two sisters and the family hailed from Vancouver, BC.

Source: HMCS Prevost Reflections Project

Survivors of the minesweeper HMCS ESQUIMALT, which was torpedoed by the German submarine U-190 on 16 Apr 1945, disembarking from the rescue minesweeper HMCS Sarnia, Halifax, NS on 16 Apr 1945.

Source: Lt Richard G. Arless / Canada. Dept. of National Defence / Library and Archives Canada / PA-157033

Click here to view the photo with each sailor numbered

Top of the photo, 3rd from the left, helping to carry the casualty off Sarnia has been identified as Maurice (Moe) F. Ahern (#3), HMCS Sarnia

Survivors of the minesweeper HMCS ESQUIMALT, which was torpedoed by the German submarine U-190 on 16 Apr 1945, disembarking from the rescue minesweeper HMCS Sarnia, Halifax, NS on 16 Apr 1945.

Source: Lt Richard G. Arless / Canada. Dept. of National Defence / Library and Archives Canada / PA-157021

Article on the loss of HMCS ESQUIMALT with photos of those from BC

Courtesy of Janice Wilkin

Newspaper article Stoker John Bland reported missing after sinking of HMCS ESQUIMALT

Source: Canadian Virtual War Memorial

Newspaper article on LS Herbert Knight who left his lifeboat to save others after HMCS ESQUIMALT was sunk

The Toronto Star, 10 May 1945

Newspaper article on the death of L/Cook Thomas McIntyre after the sinking of HMCS ESQUIMALT

The Globe and Mail, 09 May 1945

Newspaper article - Survivor stories from the sinking of HMCS ESQUIMALT

Courtesy of Geraldine Chase

Article on the loss of HMCS ESQUIMALT J272

From the collection of François Messier, AB, RCNVR

Courtesy of Denis Messier

Survivors of the minesweeper HMCS ESQUIMALT, awaiting rescue at sea off Halifax, NS, 16 Apr 1945

Source: Lt Richard G. Arless / Canada. Dept. of National Defence / Library and Archives Canada / PA-157029

Funeral of a victim of the sinking of the minesweeper HMCS ESQUIMALT, Halifax, NS, Apr 1945

Source: Lt. Richard G. Arless / Canada. Dept. of National Defence / Library and Archives Canada / PA-157149

AB Don White died when HMCS ESQUIMALT was sunk by U-190. He survived the sinking by died in the water of exposure while waiting to be rescued. His shipmate and best-friend, Arthur Schwenger left the Carley float he was on, swam to Don and held his head above water. He kept him afloat even after he lost consciousness - not letting him go until he died.

This letter is from Henry White, Don's father to Arthur Schwenger, thanking him for risking his own life to comfort his son during his final hours.

From the collection of Arthur Schwenger

Courtesy of Kelley King

Arthur Schwenger survived the sinking of HMCS ESQUIMALT. This is a telegram from Arthur Schwenger to his wife letting her know that he was alright.

From the collection of Arthur Schwenger

Courtesy of Kelley King

Letter from Art Schwenger that was written on Red Cross Hospital stationary. He was writing to his "darling wife" and you can see that it was censored with pieces cut out of it. In the letter, he refers to "Moocher" which was his pet name for his daughter Sharon.

From the collection of Arthur Schwenger

Courtesy of Kelley King

U-190 after it's surrender to Canada after the war

Reunion of crew and survivors from HMCS Sarnia and HMCS ESQUIMALT, 1996, Sarnia, Ont

(L-R) Frank Smith (ESQUIMALT), Albert Campbell (ESQUIMALT), Joe Wilson (ESQUIMALT, , John Sargent (ESQUIMALT), Ken Bexrud (ESQUIMALT), Lou Howard (Sarnia), unknown, Howard (Doc) Finkbeiner (Sarnia)

Courtesy of Lou Howard, MID, RCNVR

Reunion of crew and survivors from HMCS Sarnia, HMCS ESQUIMALT and U-190, 1996, Sarnia, Ont

Leslie Stemmler (Sarnia), Jack Ware (ESQUIMALT), Howard Finkbeiner (Sarnia), Werner Hirschmann, (U-190), Leo McDougall (Sarnia), Lou Howard (Sarnia)

Courtesy of Lou Howard, MID, RCNVR

1/72 HMCS ESQUIMALT built by Ryan Cameron for the new permanent display at the CFB ESQUIMALT Naval and Military Museum in honour of the crew of HMCS ESQUIMALT.

Courtesy of Ryan Cameron