They made the Ultimate Sacrifice
John Martin Monachan

Able Seaman Radar III, V47505, RCNVR

Born: 07 Feb 1925, Milltown, New Brunswick

Died: 16 Apr 1945 at sea

Book of Remembrance
MONACHAN, John Martin, AB, V47505, RCNVR, killed - 16 Apr 1945, HMCS ESQUIMALT - Son of Jane Monachan, of Toronto.
AB Monachan died when his ship, HMCS ESQUIMALT, was torpedoed and sunk by U-190 off the approaches to Halifax harbour. He was rescued by HMCS SARNIA but died before the ship reached Halifax. He was buried in the Mount Pleasant Cemetery, Toronto, Ontario.
Able Seaman John Martin Monachan joined the R.C.N.V.R. on September 07, 1942 at the age of 17, and was accepted for active service August, 1942, serving on minesweeper duties in the Atlantic. Born in Milltown, N.B., son of Mrs. June Monachan, Browning Ave., and the late George Monachan, he came to Toronto at an early age and attended William Burgess School. He was a member of St. Paul's Anglican Church, Bloor St., where he was boy soloist at one time, and later sang in the choir. He was a cable winder in civil life. He was born in Willtown, New Brunswick. He was awarded several gold medals for his singing. Besides his mother, he is survived by two brothers; Joel, an air-gunner with the R.C.A.F., and Alexander, with the tank corps in Germany, and nine sisters, Elizabeth, Margaret, Jane, Mary, Georgina, Marion, Agnes, Philomina, all of Toronto and Mrs. Isabella Aimes of Maine.
Ships served in:
HMCS YORK - Enlisted 07 Sep 1942. Commenced Active Service 11 Dec 1942 as an OS, RCNVR
HMCS NADEN - Drafted to NADEN 13 Feb 1943 as an OS, RCNVR
HMCS CORNWALLIS drafted to CORNWALLIS 19 May 1943 as an OS, RCNVR
* Rated RADAR III 07 Jun 1943
HMCS STADACONA - Drafted to STADACONA 24 Jul 1943 as an OS, RCNVR
HMCS ST CLAIR - Drafted to ST CLAIR 24 Jul 1943 as an OS, RCNVR
* Rated AB 11 Dec 1943
HMCS STADACONA - Drafted to STADACONA 05 Jan 1944 as an AB, RCNVR
HMCS ESQUIMALT - Drafted to ESQUIMALT 24 Feb 1944 as an AB, RCNVR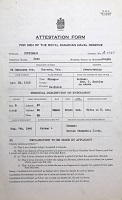 Documents from the Service File of John Monachan
---
Second World War Casualty Index