They made the Ultimate Sacrifice
Jack Gardner Berryman, M.I.D.

Leading Stoker (M), V16905, RCNVR

Born: 16 Feb 1924, Hamilton, Ontario

Died: 18 Mar 1945 at sea

Book of Remembrance
BERRYMAN, Jack Gardner, L/Sto, V16905, RCNVR, MPK - 18 Mar 1945, HMCS GUYSBOROUGH - Son of Edward H. J. and Daisy E. Berryman, of Hamilton, Ontario.
L/Sto Berryman died when his ship, HMCS GUYSBOROUGH, was torpedoed and sunk by U-868 in the Bay of Biscay with the loss of 53 of her crew.
Note: The (M) after Leading Stoker indicated he passed the Auxiliary Machinery Course and was qualified as an Auxiliary Machinery Watchkeeper.
---
Citation for Mentioned in Despatches:
BERRYMAN, Jack Gardner, Leading Stoker, V16905, Mention in Despatches (Posthumous), RCNVR, HMCS GUYSBOROUGH - Awarded as per Canada Gazette of 15 September 1945 and London Gazette of 14 August 1945.
"For outstanding courage, resolution and devotion to duty when their ship was sunk.
---
Ships served in:
HMCS STAR - Enlisted 01 May 1942. Commenced Active Service 01 May 1942 as a Sto 2c, RCNVR
HMCS YORK - Drafted to YORK 06 May 1942 as a Sto 2c, RCNVR
HMCS CORNWALLIS - Drafted to CORNWALLIS 16 Jun 1942 as a Sto 2c, RCNVR
HMCS CHARNY - Served in 23-29 Aug 1942 while in training at HMCS CORNWALLIS as a Sto 2c, RCNVR
HMCS STADACONA - Drafted to STADACONA 06 Sep 1942 as a Sto 2c, RCNVR
HMCS QUINTE - Drafted to QUINTE 07 Nov 1942 as a Sto 2c, RCNVR
HMCS STADACONA - Drafted to STADACONA 08 Dec 1942 as a Sto 2c, RCNVR
HMCS ANNAPOLIS - Drafted to ANNAPOLIS 01 Jan 1943 as a Sto 2c, RCNVR
* Rated Sto 1c 25 Mar 1943
HMCS STADACONA - Drafted to STADACONA 30 Jun 1943 as a Sto 1c, RCNVR
HMCS GUYSBOROUGH - Drafted to GUYSBOROUGH 20 Feb 1944 as a Sto 1c, RCNVR
* Rated A/L/Sto 01 Apr 1944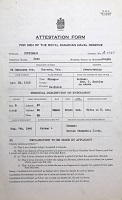 Documents from the Service File of Jack Berryman
---
Second World War Casualty Index