They made the Ultimate Sacrifice
Sydney James Shinewald

Telegraphist V42020, RCNVR

Born:

Died: 18 Mar 1945 at sea

Book of Remembrance
SHINEWALD, Sydney James, Tel, V42020, RCNVR, MPK - 18 Mar 1945, HMCS GUYSBOROUGH - Son of Jean Shinewald, of Winnipeg, Manitoba.
Tel Shinewald died when his ship, HMCS GUYSBOROUGH, was torpedoed and sunk by U-868 in the Bay of Biscay with the loss of 53 of her crew.
Telegrapher Shinewald joined the navy in June, 1942 at the age of seventeen. He trained at H.M.C.S. Chippawa, Winnipeg, in Toronto and Ste. Hyacinthe. Later he was transferred to Halifax where he was posted to the corvette H.M.C.S. Ville de Québec doing convoy duties for six months. Subsequently, he was assigned to H.M.C.S. Guysborough, a Vancouver-built Bangor Class ship doing minesweeping and anti-submarine operations. This ship's complement proceeded to England where it trained in preparation for its D-Day operations off the Normandy coast. Telegrapher Shinewald celebrated his twentieth birthday home in Winnipeg while his ship was being refitted in Halifax. Born in Winnipeg on January 04, 1925, he was the only son of Mr. and Mrs. Sault Shinewald of St. John's Block, 984 ½ Main Street. He received his education at Norquay, David Livingstone and Machray Junior High schools and the Jewish Workmen's Circle School. He was a member of the Y.M.H.A., the Y.M.C.A. and football and hockey teams which won city championships. Prior to enlistment Telegrapher Shinewald was employed successively by a wholesale dry goods firm, the Hudson Bay Company and a Manitoba shipping firm.
Ships served in: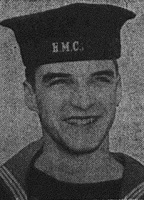 Photo of Tel Shinewald from a newspaper article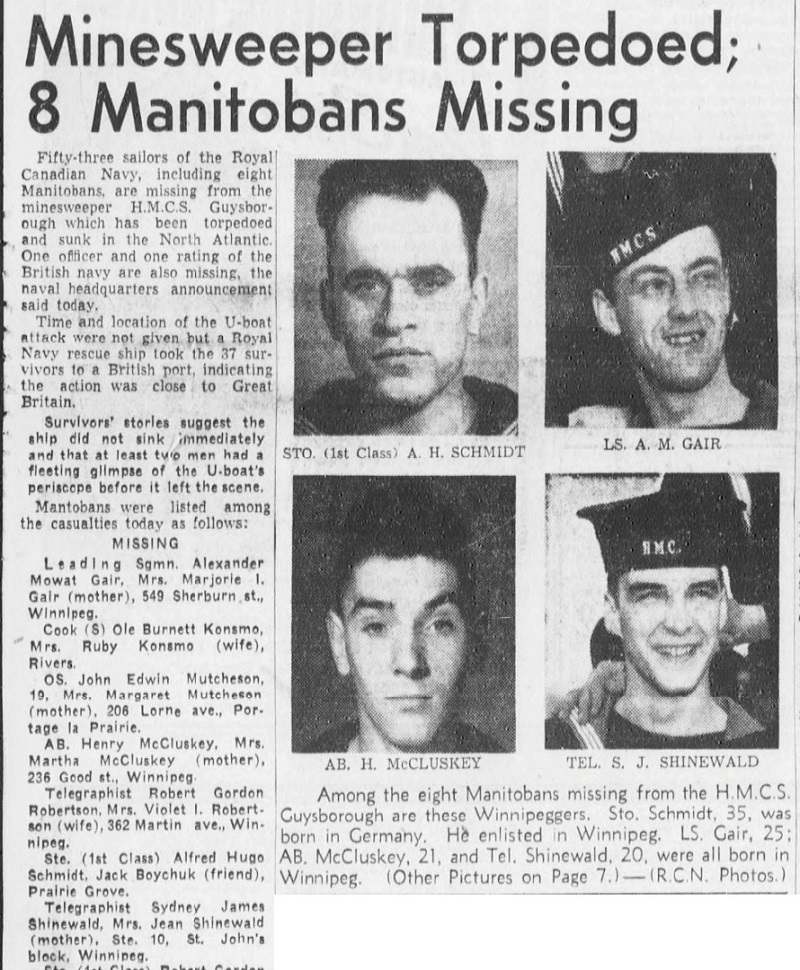 Article from the Winnipeg Evening Tribune
---
Second World War Casualty Index