They made the Ultimate Sacrifice
Robert Gordon Stevenson

Stoker 1st Class, V60554, RCNVR

Born: 16 Aug 1924, Emo, Ontario

Died: 18 Mar 1945 at sea

Book of Remembrance
STEVENSON, Robert Gordon, Sto 1c, V60554, RCNVR, MPK - 18 Mar 1945, HMCS GUYSBOROUGH - Son of Herbert and Nettie Stevenson, of Flin Flon, Manitoba; husband of Jean L. Stevenson, of Halifax, Nova Scotia.
Stoker Stevenson died when his ship, HMCS GUYSBOROUGH, was torpedoed and sunk by U-868 in the Bay of Biscay with the loss of 53 of her crew.
Stevenson was born at Emo, Ontario, and moved to Flin Flon in 1934 with his family. He was working at HBM&S when he enlisted and left a wife Jean at Halifax. Stevenson Peninsula on Molson Lake, Manitoba has also been named in his honour.
Ships served in:
HMCS UNICORN - Enlisted 06 May 1943. Commenced Active Service 07 May 1943 as a Sto 1c, RCNVR
HMCS CATARAQUI - Drafted to CATARAQUI 26 Jun 1943 as a Sto 1c, RCNVR
HMCS STADACONA - Drafted to STADACONA 07 Mar 1943 as a Sto 1c, RCNVR
HMCS CORNWALLIS - Drafted to CORNWALLIS 07 Jul 1944 as a Sto 1c, RCNVR
HMCS STADACONA - Drafted to STADACONA 09 Sep 1944 as a Sto 1c, RCNVR
HMCS PEREGRINE - Drafted to PEREGRINE 23 Feb 1945 as a Sto 1c, RCNVR
HMCS GUYSBOROUGH - Drafted to GUYSBOROUGH 25 Feb1945 as a Sto 1c, RCNVR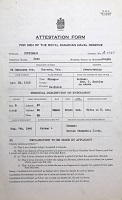 Documents from the Service File of Robert Stevenson
---
Second World War Casualty Index